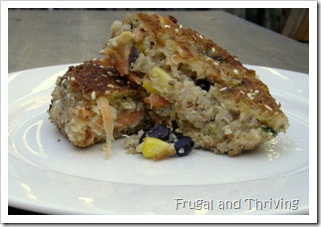 Quinoa is a so called super food that used to be a bit alternate but is now something you can buy in your local Woolies. It's easy to prepare, just soak it for a little while or rinse it under the tap then boil it in water until tender and translucent and the little tails are unwinding.
I make these patties quite moist – the upside is that they aren't dry after being cooked, the downside is that they are a pain to make up. If your patties aren't coming together and it's driving you mad, add some breadcrumbs to bind the mixture so that the patties form better.
Makes 12 patties.
Ingredients
3/4 cup uncooked quinoa
1 cup cooked black (turtle) beans
1/2 onion, finely diced
1 carrot, grated
1 zucchini, grated and excess moisture squeezed out
1/2 cup corn kernels
150g feta cheese, crumbled
1/2 tsp. cumin
2 eggs
3 Tbsp. flour
dried breadcrumbs and sesame seeds to coat
Method
Soak quinoa for 20 minutes. Drain and rinse. Add to a saucepan of water, bring to the boil and simmer for 15 minutes or so until translucent and the little tails are coming off.
Drain and cool.
In a bowl combine all ingredients except the breadcrumbs and sesame seeds. If the patties aren't coming together well, add some dried breadcrumbs to the mix a small amount at a time until the mixture sticks together better. Otherwise, if you want them on the wet side, give them a good, hard squish when forming the patties and be very gentle when coating with the breadcrumbs.
Scoop up small handfuls and squish the mixture, forming it into a patty shape. Roll in the breadcrumb sesame seed mixture.
Let stand in the fridge for 30 minutes or more to help the patties to set.
Add some oil (and butter if you like) to a frypan and fry over medium heat until golden on both sides.
Melissa Goodwin is a writer and the creator of Frugal and Thriving who has a passion for living frugally and encouraging people to thrive on any budget. The blog is nine years old and is almost like her eldest baby. Prior to being a blogger and mum (but not a mummy blogger), she worked as an accountant doing other people's budgets, books and tax.