Need to strrrrretccchhh a little meat to feed a lot?
This chicken pie is just the thing.
It's also a good way to use up the vegetable bits and bobs you have in the crisper.
Simply combine your chicken (either a breast, thigh or leftover roast chicken) and vegetables in a gravy, pop on a lid and you've got a tasty, inexpensive meal for the whole family.
To make the gravy, you can use a basic white sauce or a veloute sauce, which is made from stock rather than milk. Use your own homemade stock for an ultra-cheap meal. Flavour it with mustard or herbs and garlic or a splash of wine if there's some in the fridge.
Top the pie with store-bought puff pastry or shortcrust pastry for an easy meal. Or you could scrunch up some leftover filo pastry for a decorative, flaky top.
Alternately, if you have some spuds or sweet potato that need using up, or you're avoiding pastry, top your pie with mash for a delicious cottage-style pie.
Cheap One-Breast Chicken Pie
Ingredients
1 chicken breast, diced
1 small onion, diced
1-2 carrot, diced
1-2 zucchini, diced
a handful of button mushrooms, sliced
1 clove of garlic, crushed
1/2 tsp dried thyme
olive oil
2 Tbsp. butter
1 Tbsp. plain flour
3/4 cup milk or stock
1/2 tsp Dijon mustard
salt and pepper to taste
Pastry to top pie
Instructions
Preheat oven to 200°C. Grease a pie dish or baking dish.
Sauté chicken over medium heat in a little olive oil until browned and cooked through. Set aside.
Sauté onion in a little oil until it starts to soften. Add the carrot and cook for a further few minutes, add the zucchini and cook another few minutes. Finally, add the mushrooms. Add the garlic and thyme and stirring well, cook until the mushrooms are cooked and the vegetables are tender. Remove from pan.
Turn the heat down to low and melt the butter in the pan. Add the flour and stir for a minute or two to incorporate into butter and cook off some of the raw flour taste. Add the milk or stock a little at a time, stirring well, to make a white sauce. You may not need to add all of the liquid, just enough for pie consistency. Bring to the boil and then simmer stirring to thicken.
Flavour the sauce with the mustard. Return the chicken and vegetable mixture to the pan and season with salt and pepper. If the sauce is too thin, let it simmer for a few minutes to thicken.
Pour pie filling into greased pie dish. Top with pastry, cut a slit in the pastry to release any steam, and bake until the pastry is golden, approx 30 – 45 minutes. Let cool a minute or two before serving.
Serves 4 with an accompaniment like salad, bread or mash and veggies.
Notes
For a creamier version or to use up extra cream, substitute part milk for cream.
For a different flavour, add a splash of wine instead of the mustard.
Try oregano, basil or tarragon instead of the thyme or use fresh herbs for an even better flavour.
Add a little bacon for a flavour variation. Exchange the onion for leek. Use whatever veggies are in the crisper.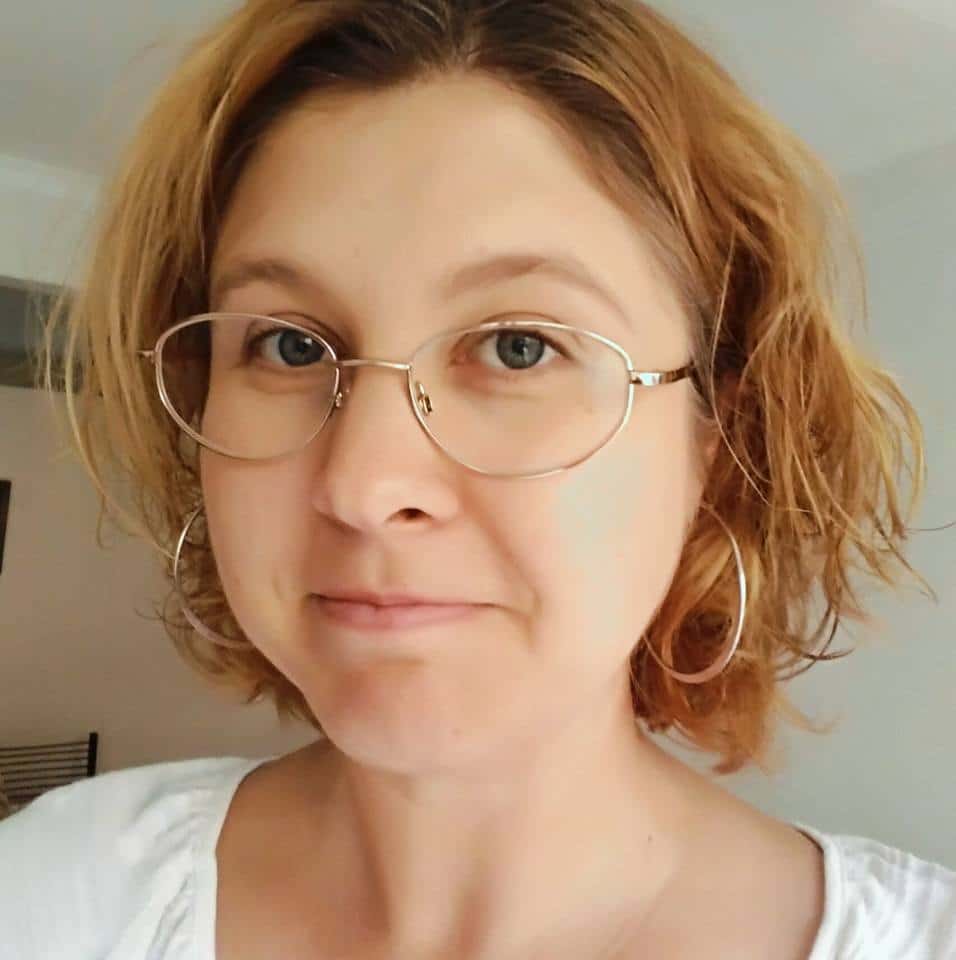 Melissa Goodwin is a writer and the creator of Frugal and Thriving who has a passion for living frugally and encouraging people to thrive on any budget. The blog is nine years old and is almost like her eldest baby. Prior to being a blogger and mum (but not a mummy blogger), she worked as an accountant doing other people's budgets, books and tax.