Old-Fashioned Tuna Casserole For a Frugal All-In-One Meal
This website may earn commissions from purchases made through links in this post.
This tasty old-fashioned tuna casserole is cheap and easy to make from pantry staples. Freeze in portions for easy mid-week family meals.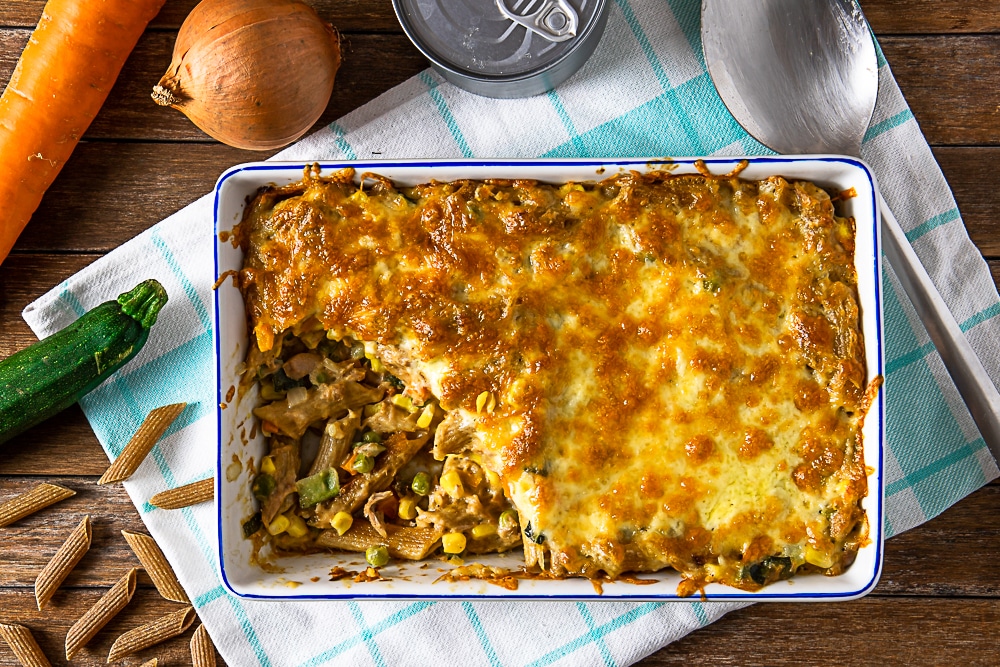 Tuna is a great budget staple to have in the pantry. If you have a tin of tuna in the cupboard, then you've always got a meal.
This dish uses several budget staples: tuna, pasta or rice, onion and frozen vegetables. You can even use evaporated milk if you don't have any fresh.
Add a bit of cheese and whatever fresh vegetables you have on hand and you've got a tasty, healthy and inexpensive family meal.
Tricks for Making the Best Creamy Tuna Pasta Bake
Much of the flavour in this dish comes from the water in the tuna can.
Rather than draining the tuna and wasting that liquid, the liquid flavours the dish. So it's important to use the right tuna.
For this dish you need tuna packed in spring water. Tuna packed in brine will make this dish too salty and tuna in oil will make it too oily.
When it comes to the milk portion of the recipe, you have several options. If you have leftover cream or sour cream that needs using up, add that.
By using up bits and bobs in your fridge, you're reducing waste, saving money and making a very creamy tuna casserole. If it's too creamy, you can water it down with a little milk.
If you don't have fresh milk, you can use tinned evaporated milk. This is always handy to have in the pantry for dishes like these.
For a milk-free option, you can use stock instead.
Tuna Casserole From Scratch
What makes this an old-fashioned tuna casserole?
It's made from scratch without soup mix. Many tuna bakes include canned soup, which isn't necessary and just adds a whole load of sodium that you don't need in your diet.
Instead, the flavour comes from the tuna, the veggies and the paprika and nutmeg.
What if you don't have nutmeg or paprika?
You can leave these out and it will still taste great. These spices add a depth of flavour but they aren't essential so no need to go out and buy stuff you won't use later on.
Tuna Bake Without Pasta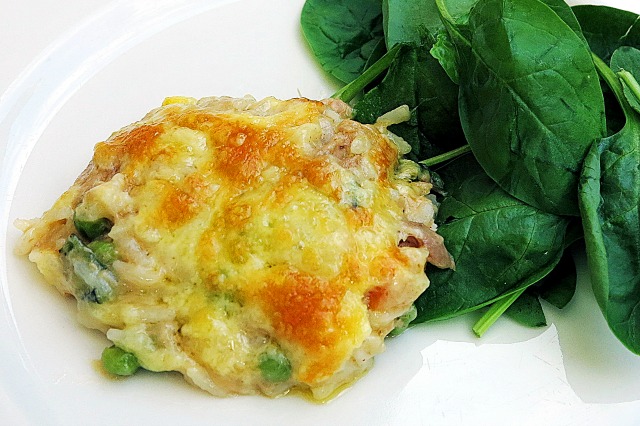 You can make this casserole with rice instead of pasta.
In fact, tuna rice casserole is my preferred version, however, as my son doesn't like rice, so we switch between pasta and rice so everyone is happy at some point.
When you make tuna bake with rice, the casserole is less likely to dry out as the rice doesn't absorb as much of the sauce as the pasta does.
Alternatively, if you're looking for a grain-free version, leave out the rice and pasta altogether and use more veggies. You'll end up with a classic 70s tuna mornay.
Best Side Dishes for Tuna Casserole
Because this is an all-in-one meal, you don't have to serve this with a side dish.
However, if you would like to add a side dish, you have a few options.
A green salad goes well with tuna bake, especially in the warmer months.
Another side-dish option is crusty bread or garlic bread.
Freezing Tuna Casserole
This tuna casserole recipe makes enough for us (family of four) for two meals.
The extra can be frozen for an easy mid-week meal at another time.
To freeze, place in an air-tight container, label and freeze. Alternatively, you can freeze flat in a zip-lock bag to conserve freezer space.
Defrost in the fridge overnight, place in a baking dish, top with cheese and reheat in the oven until piping hot and the cheese is melted.
If you have a bigger or hungrier family, you can stretch a single tin of tuna to feed more by increasing the amount of pasta or rice and vegetables you add to the dish.
Looking for more tuna recipes? Check out these ideas:
Yield: 6-8
Old-Fashioned Tuna Casserole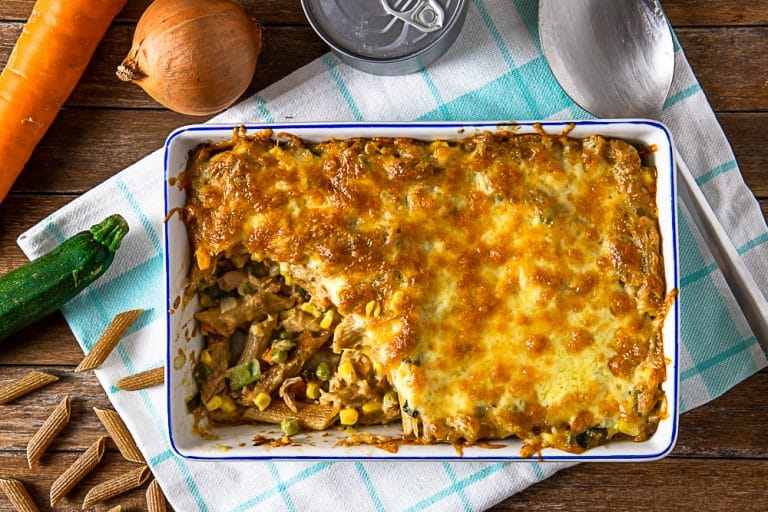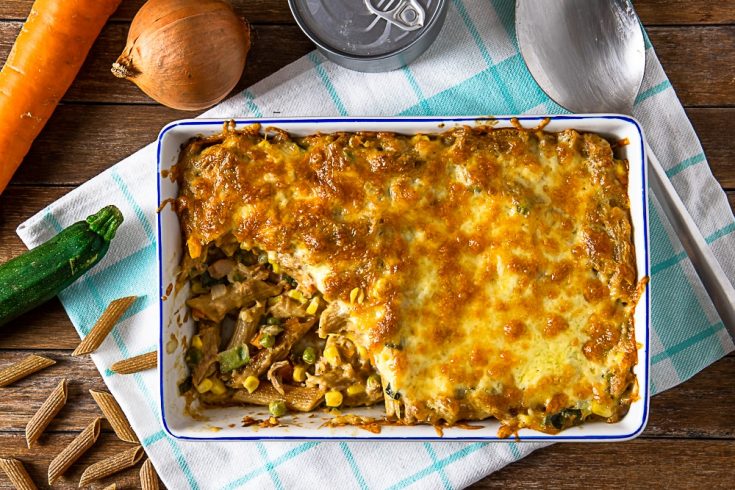 This tasty old-fashioned tuna casserole is cheap and easy to make from pantry staples. Freeze in portions for easy mid-week family meals. I usually get two meals from this dish for a family of 4.
Ingredients
200g uncooked pasta (or 1 cup of leftover cooked rice)
1/2 cup frozen peas
1/2 cup frozen corn
1 onion, finely diced
1 carrot, diced
1 zucchini, diced
2 Tbsp. butter
2 Tbsp. plain flour (rice or quinoa flour are good gluten-free choices)
1 440g tin tuna in spring water (not drained)
1 cup milk
pinch nutmeg
1 tsp. paprika
1 1/2 cups grated cheese
Instructions
Cook pasta or rice according to packet directions, less 5 minutes. With five minutes to go, add the vegetables and continue to cook for the final 5 minutes or until pasta/rice is cooked through.
Drain the rice and vegetables and using the same pot (scrape out any rice), melt the butter and saute the onions until translucent over medium heat.
Add the flour and stir for a minute. Pour in the liquid from the tuna tin, stirring.
Add milk, a bit at a time, stirring continuously, to make the sauce.
Stir in the spices, add the tuna, rice and vegetables and stir to combine.
Stir in 1/2 cup of cheese and heat until melted through.
Place the tuna mixture in a casserole dish, spreading evenly. Sprinkle the remaining cheese over the top.
Place in the oven at 180°C for 20 minutes OR under a hot grill, turning as necessary, until the cheese is melted and golden.
Serve with a side salad or some crusty bread.
Notes
Use any vegetables you have on hand. Green beans, broccoli, cauliflower or cabbage work well in this dish.
For a dairy-free option, use stock instead of milk.
For a pantry staple option, use evaporated milk.
Nutrition Information:
Yield:
8
Serving Size:
1
Amount Per Serving:
Calories:

328
Total Fat:

12g
Saturated Fat:

6g
Trans Fat:

0g
Unsaturated Fat:

4g
Cholesterol:

57mg
Sodium:

221mg
Carbohydrates:

29g
Fiber:

2g
Sugar:

3g
Protein:

27g
Nutritional information is calculated automatically using the Nutritionix database. Nutrition information can vary for a recipe based on factors such as precision of measurements, brands, ingredient freshness, serving size or the source of nutrition data. We strive to keep the information as accurate as possible but make no warranties regarding its accuracy. We encourage readers to make their own calculations based on the actual ingredients used in your recipe, using your preferred nutrition calculator.