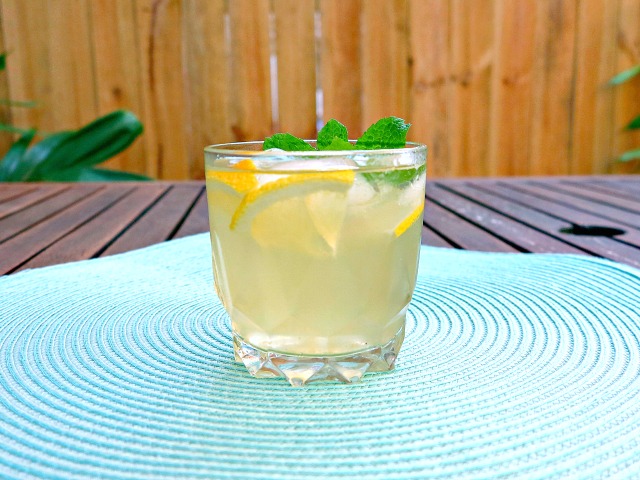 Icey cold homemade lemonade.
Condensation dripping down the glass.
The sweet-sour taste on your tongue.
Thirst quenched as the cool liquid slides down your throat.
Are you feeling it?
If you've got lemons and you've got sugar, then you've got lemonade in a matter of minutes.
Fast and frugal, it's a simple drink to make on hot summer afternoons.
And the taste is fresh and true – nothing like the artificial variety of lemonade.
While this recipe is super quick and easy to make, you can save even more time by making up a large batch of the sugar syrup (the sugar and hot water) and storing it in the fridge ready for when you need it. It can be used for summer cocktails, mocktails and punch as well as fresh lemonade.
Looking for more summer drink ideas?
Try this old-fashioned fermented ginger beer recipe. It's delicious and full of good bugs.
On the other hand, if sugar's not your thing, check out how to make plain water taste awesome.
Now, on to the recipe…
Homemade Old-Fashioned Lemonade Recipe
Ingredients
1 cup of sugar (More or less to taste. We prefer less).
1 cup of lemon juice
1 cup hot water
4 cups cold water
Method
Dissolve sugar in hot water.
Add the lemon juice to the cold water in a jug and stir to combine.
Stir in the sugar syrup, tasting as you go so you get the perfect balance of sour and sweet.
Chill and serve over ice. Garnish with lemon slices if you prefer.
Variations
Add mint or other herbs like lemon balm, thyme or basil. Muddle.
Add fresh or frozen raspberries or blueberries. Give them a little squish.
Add cucumber slices.
Use soda water or sparkling mineral water instead of plain water for a fizzy variation.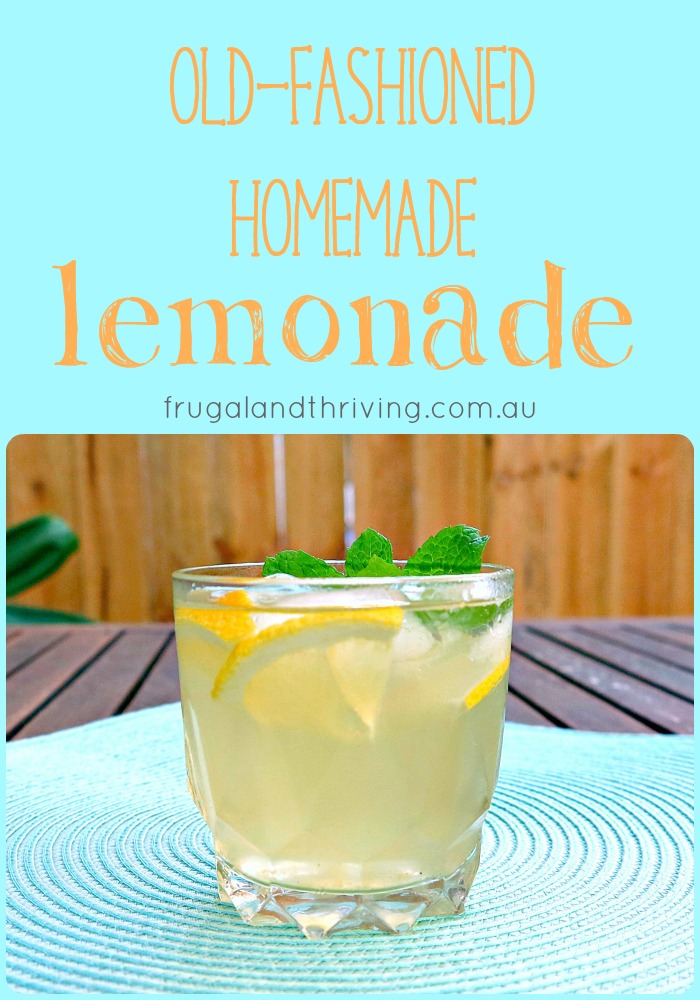 Melissa Goodwin is a writer and the creator of Frugal and Thriving who has a passion for living frugally and encouraging people to thrive on any budget. The blog is nine years old and is almost like her eldest baby. Prior to being a blogger and mum (but not a mummy blogger), she worked as an accountant doing other people's budgets, books and tax.