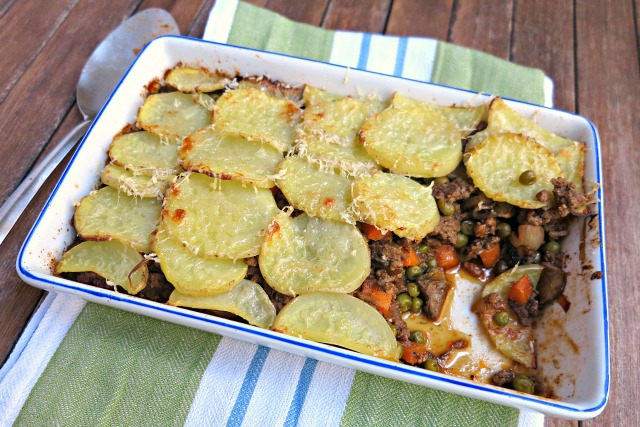 Whether you're stretching a little bit of food to feed the whole family or you're using up leftovers, this crispy potato topped cottage pie is sure to please. Tasty and inexpensive.

Cottage pie was on the menu plan the other night, but when I went to the fridge there was one solitary potato rolling around in the crisper (if you're wondering, I keep spuds in the fridge in summer – it's the only way to stop them from rotting in the QLD heat and humidity).
Undeterred, we had our cottage pie with a lovely crispy top rather than the usual mash, which of course makes it cheaper and less carb-full. And I have to admit, I prefer it this way.
There are a million different ways to make cottage pie, this is a method I used devised around the ingredients we had on hand, that was both easy and tasty.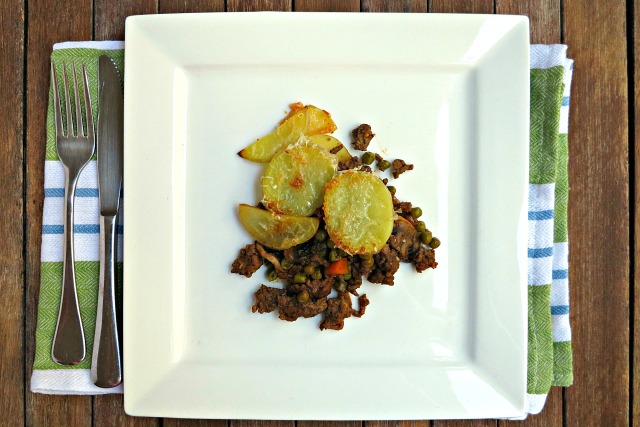 Crispy Potato Topped Cottage Pie
Ingredients
1 spud (or more if you have them)
500g beef mince
1 small onion, finely diced
1 carrot, finely diced
1 clove of garlic, minced
1 tsp mixed herbs
2 Tbsp tomato paste
1 cup beef stock
1 Tbsp Worcestershire sauce
1/2 cup peas
a handful of mushrooms, chopped
squirt or two of bottled tomato sauce (ketchup) to taste (optional)
1/2 cup grated cheese
Method
Wash and parboil potato until slightly under tender. Refresh in cold water and leave to cool.
Brown mince in a large frypan over high heat.
Add the onion and carrot and saute until tender.
Add the garlic and herbs and cook for a further minute. Stir in the tomato paste and cook for 1 minute.
Add the stock, Worcestershire sauce, peas and mushrooms. Stir, season and simmer for 20 minutes or until the stock has almost gone.
At this point, taste the mixture and add a little tomato sauce if preferred.
Meanwhile, preheat the oven to 200C. Slice the potato as thinly as possible. Pour the mince mixture into a greased baking dish, arrange the potato slices over the top and then top with the grated cheese. Bake for 20 minutes or until the potato is golden. Alternatively, place the baking dish under the griller until potato is golden.
For more mince recipes, check out:
Melissa Goodwin is a writer and the creator of Frugal and Thriving who has a passion for living frugally and encouraging people to thrive on any budget. The blog is nine years old and is almost like her eldest baby. Prior to being a blogger and mum (but not a mummy blogger), she worked as an accountant doing other people's budgets, books and tax.