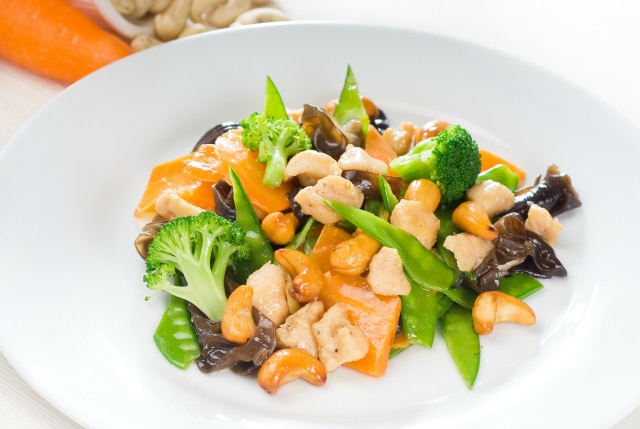 This is one of our favourite stir-fry combinations. I can't find if I've shared it or not previously, so maybe I haven't, although it's one we've been eating for years. My favourite flavour 'profile' is a sweet/salty combo, which is exactly what the Oyster sauce and honey give to this dish.
In the above picture I left out the cashews because the little fella was eating it too, but we normally have cashews in this dish.
I apologise for the lack of sauce measurements. I don't measure, just slosh it in. Add a little of both the oyster sauce and honey, a tablespoon or two to start, give it a good mix, taste and adjust. Add more honey if you like it sweeter, add more of both if you like your stir-fry saucey.
If you toss noodles through the stir fry, particularly rice noodles, they will absorb some of the extra sauce, giving them lots of flavour. I used Hokkien noodles in the picture above.
Below are the vegetable that I usually use, but as always, add what you have in the crisper. Mushrooms or snow peas make a nice addition. Serves 2 – 4 a flexible dish; add more or less depending on serving needs.
Ingredients
1 –2 chicken breasts, thinly sliced
1/2 – 1 onion, sliced
1 clove garlic, crushed
1/2 – 1 capsicum, sliced
1 small head of broccoli, cut into small florets
handful of snow peas, trimmed and halved
handful of mushrooms, sliced
1/2 capsicum, sliced
handful of unsalted cashews
slosh or two of oyster sauce
dribble or two of honey
rice or noodles (prepared according to packet directions) to serve
Method
Chop all ingredients first so that they are ready. The meat will be more tender if you cut it against the grain thinly, cook it very briefly at high heat until just cooked through (it will continue to cook once you remove it from the pan and you will be adding it back later, so no need to cook it to death now) and avoid boiling it in the sauce later. This goes with all types of meat in any stir fry, although you can cook beef or lamb so that it is still a little pink and it will be cooked through by the end. I defrost the beans by soaking them for a minute or two in boiling water from the kettle.
Heat a wok or pan to high, add a little oil (not olive it will burn) and stir fry chicken in batches until just cooked through. Remove from wok.
Turn down the heat a little and add onion and stir fry for a minute or two until tender. Add capsicum and garlic and stir fry for a further minute.
Add vegetables and continue to stir fry for a couple of minutes before adding the sauces, stirring, tasting and adjusting. Cook until the vegetables are at your preferred tenderness. Meanwhile, prepare rice or noodles.
Add the cashews and chicken stir until chicken is heated through. Serve with rice or noodles.