Easy Mushroom Carbonara with Bacon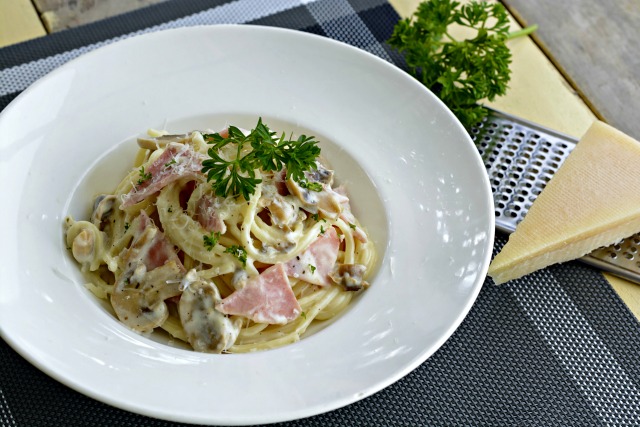 Tasty, restaurant quality pasta carbonara is really quick, easy and inexpensive to make at home. Admittedly it's not going to be the healthiest meal of the week, but it will taste awesome and is a great quick meal for busy nights. All in all, it takes about 20 minutes to get this meal on the table.
Purists will argue that this is not a 'real' carbonara recipe as it has cream in it, but I'm not a purist, I like to cook what I like to eat. I've tried to give amounts for the ingredients, but taste as you go and add as much flavouring as you like, which is how I cook.
The key to its great taste is fresh parmesan, not packet or freeze dried stuff in a jar. You pay a bit more, but because of it's strong flavour a little goes a long way, and it lasts months in the fridge, so it ends up being good value. You could use low-fat cream, but… the real stuff will taste heaps better and real, whole foods are nice and healthy as part of a balanced diet.
The recipe is for two, so double it or adjust to feed as many as required.
Ingredients
A good handful of fettuccini
1 – 2 rashers of bacon, chopped
a handful of button mushrooms, sliced (optional)
1 – 2 cloves of garlic, crushed
3/4 cup or so of cream
1/8 – 1/4 cup of freshly grated parmesan
1 egg
1 tbsp of fresh chopped parsley (optional)
Method
Cook pasta according to packet directions
Meanwhile, cook bacon over medium-high heat for a minute or two until lightly browned. If there is not a lot of fat in the bacon, you may want to add a little oil to the pan to cook.
Add the mushrooms and continue to cook for another couple of minutes to cook through, then toss in the garlic and cook for another minute.
Add the cream and bring to the boil. Simmer for a minute or two to thicken.
Add the parmesan and stir in until melted. Taste and add extra if you like.
Take the sauce off the heat and let cool for a couple of minutes. Stir the egg in well. The idea here is not to let the egg scramble. You don't want bits of egg floating around in your sauce, hence letting it cool a little first. The egg thickens and enriches the sauce. The residual heat from the sauce and the pasta will be enough to cook the egg without scrambling it.
Stir in the parsley and some freshly ground pepper. The sauce should be salty enough from the bacon and parmesan without having to add any extra.
Stir in the cooked pasta. If the pasta isn't hot enough, put it back on a low heat and reheat slowly stirring, so that you don't scramble the egg.
Serve alone or with a salad and crusty bread and a generous grinding of fresh black pepper.
Melissa Goodwin is a writer and the creator of Frugal and Thriving who has a passion for living frugally and encouraging people to thrive on any budget. The blog is nine years old and is almost like her eldest baby. Prior to being a blogger and mum (but not a mummy blogger), she worked as an accountant doing other people's budgets, books and tax.