Nothing compliments a hot summer afternoon as does a cold glass of homemade ginger beer.
I have vivid memories of sitting under the old magnolia tree at the back of my great aunts house, sipping homemade ginger beer during conversation pauses as we waited for the planes to roar over Mascot, so close it felt like you could touch them.
This ginger beer recipe is just like the ginger beer of my childhood, made using the old-fashioned fermentation method.
Ginger and sugar attract yeast and micro-organisms from the surrounding air. These micro-organisms feast on the sugar (leaving little sugar left) and turn that sugar into carbon dioxide, which is what gives the ginger beer it's fizz. The process is called 'lacto-fermentation' and produces a delicious and healthy soft drink, full of probiotics.
Who would have thought – a healthy soft drink!?
Making ginger beer in this way is a slow process but not a labour intensive one. First, you grow your starter or 'bug' by feeding, stirring and letting it sit comfortably on the kitchen bench. Once it's bubbly, you make your ginger beer, add you bug and again, let it your beer sit on the bench. Finally, once it's nice and bubbly again, you bottle your ginger beer, let it sit once more for the carbon dioxide to build up in the bottle (not too long though) and then refrigerate and enjoy.
So easy, very inexpensive, tasty and healthy. And you can use the same process to make a whole host of different flavoured soft drinks (I'm thinking passionfruit next time).
Today's post is on how to start your ginger bug. Check out part two for information about brewing and bottling your own ginger beer.
What you will need:
A glass jar large enough to hold 2 cups of water
A clean cloth/muslin
A rubber band
Fresh ginger root
Sugar (raw, white or rapadura)
De-chlorinated water (see below)
Starting your ginger bug
In a clean jar, add two cups of de-chlorinated water along with 1 tablespoon of sugar and 1 tablespoon of fresh ginger either grated or finely chopped. You can leave the skin on the ginger or peel it if you wish.
Give your ginger bug a good stir, cover with the cloth, secure with the rubber band and then let your bug sit on the kitchen bench away from direct sunlight.
To de-chlorinate water, either run your water through a standard water filter (which will remove most of the chlorine) or leave it in a wide mouth jar for a day or two with a cloth over it to keep dust out. The chlorine will evaporate out. Speed this process up by putting your jar in the sun (especially if your house isn't warm) or boil your water for a couple of minutes to de-chlorinate.
Alternatively, use rain water!
feeding your ginger bug
Your ginger bug needs a feed each day – it's actually the wild yeast and bacteria (we'll call them micro-organisms – bacteria gets a bad rap) in the air that you will be feeding.
Each morning, add 1 extra teaspoon of sugar and 1 extra teaspoon of grated or chopped ginger and give your bug a good stir. Then give it another good stir in the evening. The stirring will help incorporate air.
After 3 – 7 days of feeding and stirring (depending on the temperature in your kitchen) your ginger bug should be bubbling away nicely, ready to be made into ginger beer.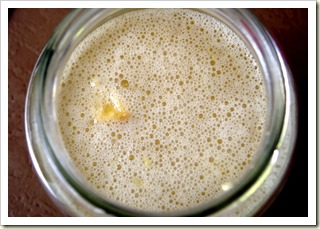 using your bug
To make 2 litres of ginger beer (recipe in tomorrow's post), you'll need to use 1 cup of ginger bug.
What do you do with the remaining?
You can either top the bug up with more de-chlorinated water and add some more sugar and ginger and keep feeding it and stirring it daily, ready to make your next batch of soft drink or, you can put a lid on it and let your bug sleep in the fridge.
When you want to make another batch, revive your bug by giving it a daily feed and stir and it will be bubbling away in a few days.
Now that you've got your bug started, tomorrow I'll share how to make yummy, naturally fizzy ginger beer.
Melissa Goodwin is a writer and the creator of Frugal and Thriving who has a passion for living frugally and encouraging people to thrive on any budget. The blog is nine years old and is almost like her eldest baby. Prior to being a blogger and mum (but not a mummy blogger), she worked as an accountant doing other people's budgets, books and tax.