7 Ways to Stretch One Chicken Breast to Feed a Family
This website may earn commissions from purchases made through links in this post.
Do you have to stretch one chicken breast to feed many? These seven easy recipe ideas will help you to stretch a little bit of meat and save money.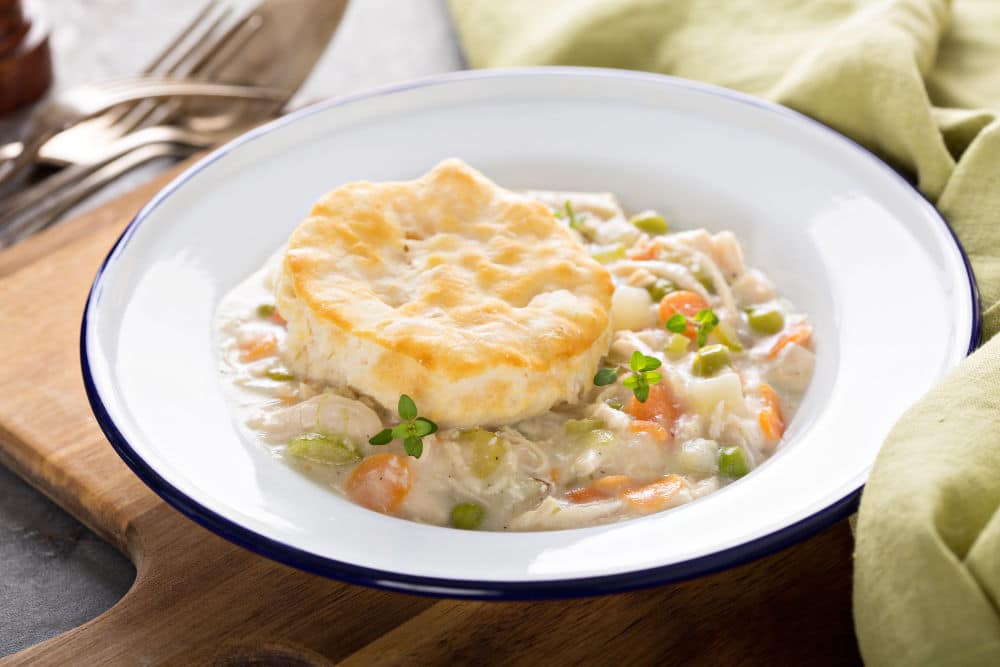 Meat is one of the more expensive items on the shopping list, so meat stretcher recipes save money while appeasing the meat lovers of the family.
On the other hand, stretching meat and eating less means that you can buy better quality. Free-range chicken or organic chicken costs more than regular chicken, but when it is the accompaniment rather than the main attraction of the dish, it becomes more affordable.
If you have a big family or teenage boys, you may need more than a single chicken breast, but the idea is the same – take a small amount of meat and stretch it to feed many.
How to Stretch One Chicken Breast
The key to stretching a little bit of meat to feed many is to pick recipes where the chicken can be bulked up with lots of vegetables and some grains or starches.
Pasta dishes are a great example, but they are not the only option! Here are 7 (plus a few extra) ideas for stretching one chicken breast.
1. Chicken Pie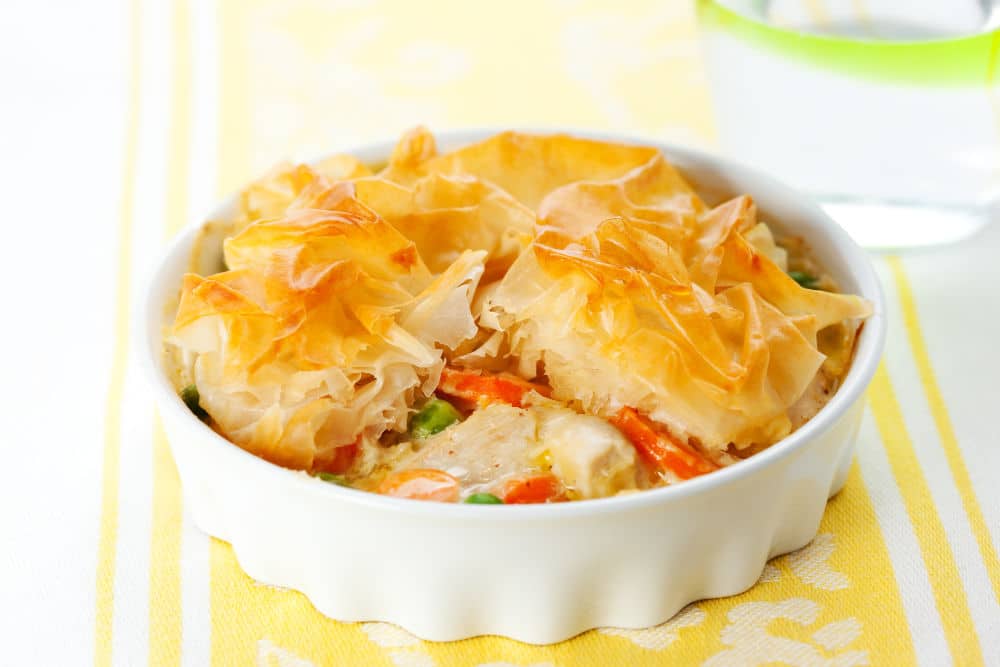 Chicken pie (or individual pastries) are cooked chicken and any available vegetables bound in a basic white sauce and then wrapped in pastry.
For a dairy-free version, use pureed cauliflower instead of milk in the white sauce, it tastes delicious (no one will even know if you don't tell them) and it boosts the vegetable quota. Or use a sauce made with stock instead.
2. Chicken Pizzas
Pizzas are always a favourite way to stretch ingredients. Keep a few pita bread rounds and some homemade pizza sauce in the freezer for a quick and easy meal when you don't feel like cooking.
Pizzas are a great way to use up leftover roast chicken as well.
3. Chicken Pasta
Add chicken to mac and cheese or pasta carbonara for a quick, easy and frugal meal. Our favourite is this chicken and pea pasta.
And not quite a pasta, but deserves an honourable mention because it is frugal (and a gluten-free alternative to pasta), is the risotto, like this chicken and asparagus risotto.
4. Chicken stir fry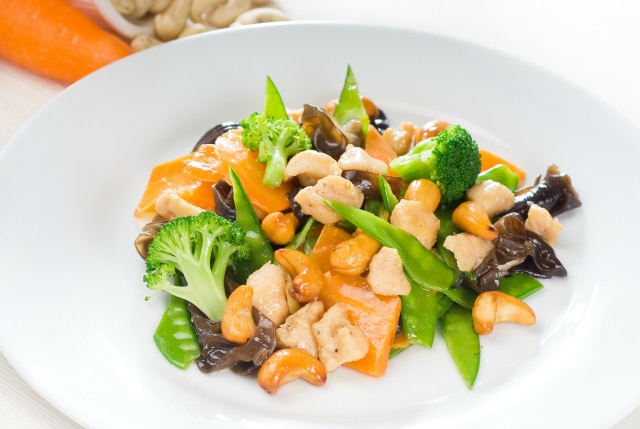 Stir fry is my favourite way to stretch any kind of meat – throw in a lot of vegetables, drizzle with a homemade sauce and serve with a starch: rice or noodles.
5. Chicken mornay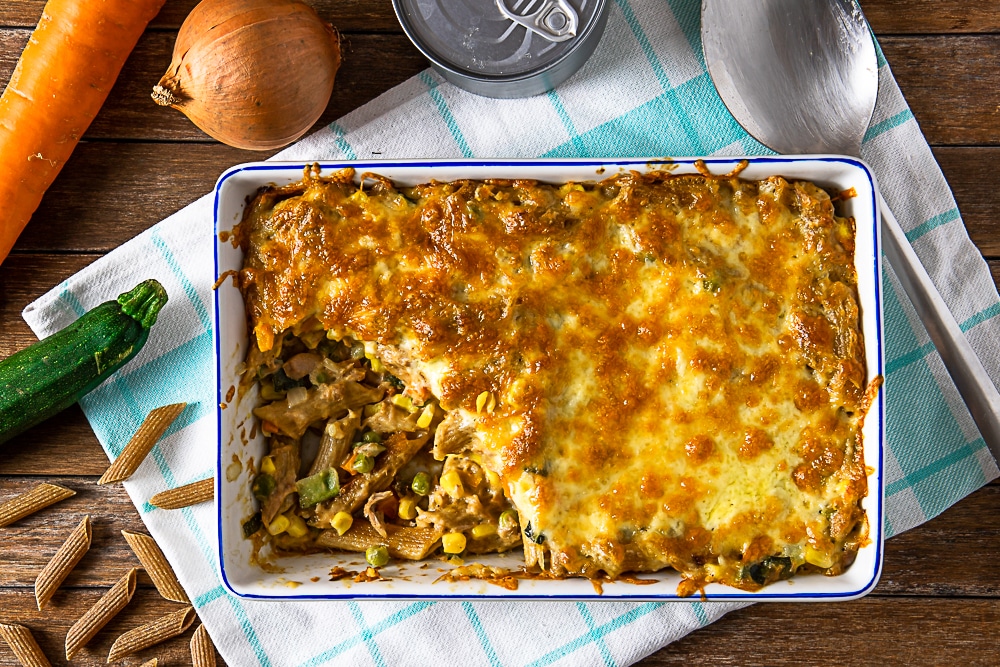 Chicken mornay is essentially chicken in white sauce (again, sub in cauliflower puree for a dairy-free alternative). To serve a mornay as a complete, one-pot meal, add in some vegetables and rice or pasta, like this tuna mornay.
Alternatively, fry up some mushrooms to add to your chicken mornay and wrap it in some crepes for chicken and mushroom crepes.
6. Chicken curry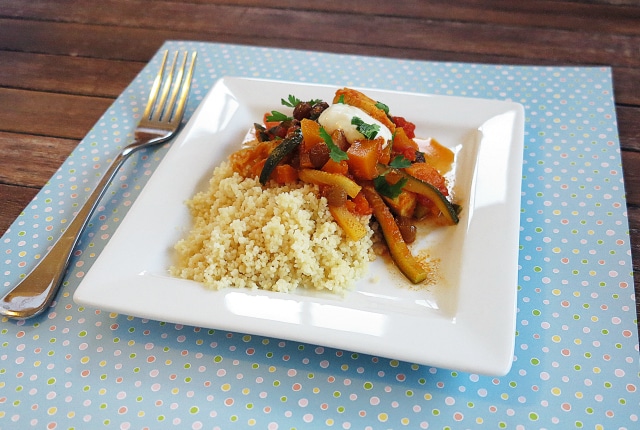 I'm a lover of curries. The trick to serving curry to young children is to tone down or eliminate the chilli. Here's a super easy chicken curry from one of my favourite recipe blogs, Recipe Tin Eats.
Other saucy chicken and rice dishes include this creamy chicken dish and this Moroccan inspired chicken dish.
7. Chicken quiche
Similar to a pie, quiche or frittata use eggs to bind the ingredients rather than a sauce. Serve with a side salad for a light summer meal, or some homemade chips for a more filling fare.  
And a Bonus: Chicken Burritos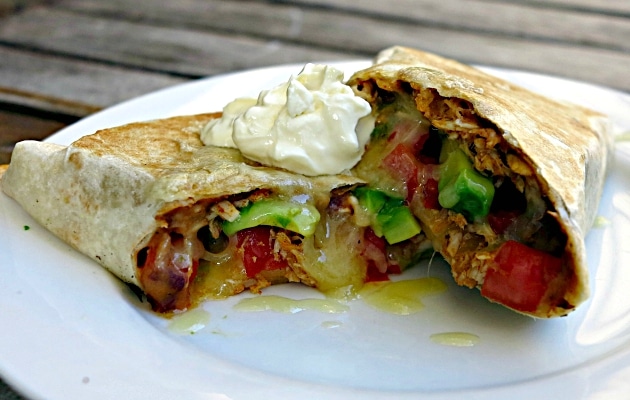 Burritos are a great way to use stretch a tiny bit of chicken. Because they also include beans, a burrito can be super filling, even with a tiny bit of chicken.
Here's my version of chicken and bean burritos.
Sustainable eating guides suggest that if we're going to eat meat, to eat less and use it as an accompaniment, rather than the main attraction of a dish.
These chicken-stretching recipes do just that, appeasing the meat-lovers in the family while saving money and eating more in a sustainable way.
What's your favourite way to stretch chicken?
Melissa Goodwin has been writing about frugal living for 10+ year but has been saving her pennies since she first got pocket money. Prior to writing about frugal living, Melissa worked as an accountant. As well as a diploma of accounting, Melissa has an honours degree in humanities including writing and research and she studied to be a teacher and loves sharing the things that she has learned and helping others to achieve their goals. She has been preparing all her life to write about frugal living skills.
JOIN THE NEWSLETTER