Mashed Potatoes and Cabbage – Traditional Winter Comfort Food
This website may earn commissions from purchases made through links in this post.
Otherwise known as Colcannon, this mashed potato and cabbage recipe mixes sauteed cabbage with deliciously buttery mashed potatoes.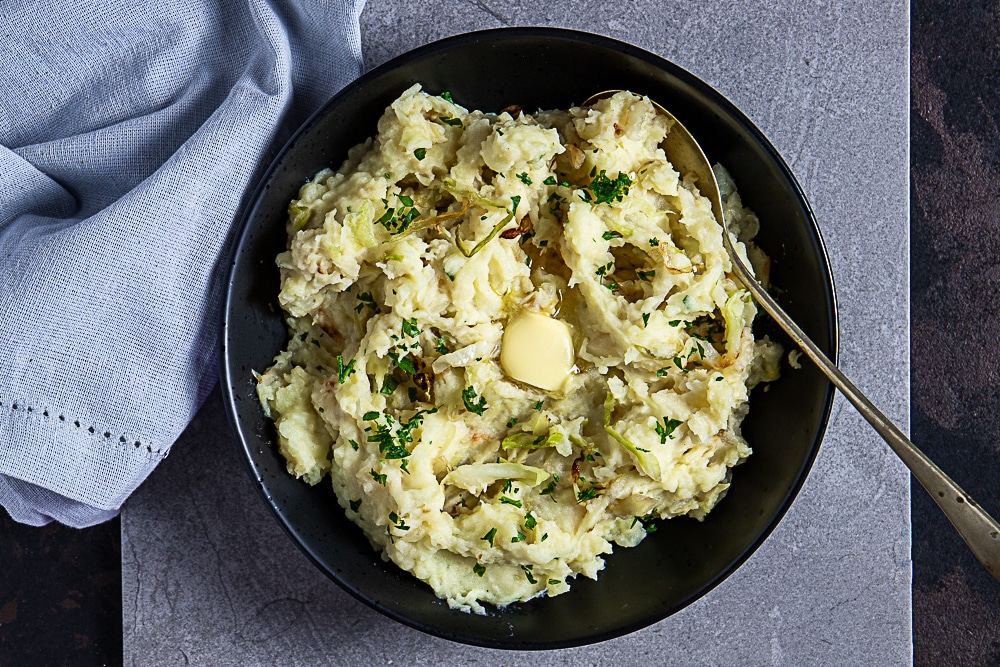 Looking for the perfect frugal winter side for sausages, rissoles or stew? Why not try this traditional Irish twist on mashed potato that incorporates sauteed cabbage.
Even the most ardent cabbage haters will enjoy cabbage when it's sauteed and then stirred through buttery mash.
How to make Mashed Potato
Mashed potatoes are easy to make. Peel and chop a couple of spuds, boil them until they are soft, mash them up with some butter, milk, salt and pepper.
The key to a good mash is butter and salt. So it's no diet food. It's the dish you eat when you need carby, buttery, salty comfort food.
For more details on how to make the perfect mash, check out this garlic mashed potato recipe.
The Best Way To Cook Cabbage to Make it Delicious
The traditional way to cook cabbage for Colcannon is to boil it…which is why generations of people have hated cabbage. Especially if it's boiled within an inch of its life like my nan cooked it. In the pressure cooker, no less.
The best way to cook cabbage to maximise flavour is to either saute it or braise it. Which you choose will depend on the texture you're going for.
If you want slightly crunchy cabbage in your mash, then saute it. Saute gives the cabbage a caramelised flavour thanks to the browning that occurs in the oil or butter you cook it in.
To saute you cabbage, heat a frying pan and add a little olive oil or butter and cook, tossing until it's the perfect doneness. How can you tell it's done? Taste it and let your tastes guide you. Is it softened without being limp and are parts golden brown? Then it's done.
Let's turn now to braising.
If you prefer a softer cabbage folded through your mash, without compromising on flavour, then braising is your cooking method of choice.
Braising is an underrated cooking method. But it's one of the best ways to cook vegetables, and cabbage shines when it's braised.
Braising is the combination of boiling or steaming and sauteing. You get the best of both worlds. The steaming softens the veg up nicely (if that's what you like) and the sauteing browns the veg, giving it that beautiful caramelised flavour.
To braise cabbage, add it to a hot frying pan with a little bit of water – about 1/4 of a cup. You don't need a lot, it's just to help the cabbage soften a bit. If you have some leftover stock in the fridge – chicken or vegetable, use that. It will give another level of flavour to your dish. Pop the lid on and let the cabbage cook for a couple of minutes.
You want to partially cook your cabbage. It will finish cooking as you saute it. So after a couple of minutes, take the lid off again and let the remaining water or stock evaporate.
Once the water has evaporated, add a little oil or butter, some salt and pepper and toss it for a few minutes, browning the cabbage slightly.
Remove from the heat and stir through your mashed potatoes.
Adding Onion to Colcannon
Some people like to add onion to their cabbage mash. To onion or not to onion, the choice is yours.
If you want to add onion, you have two options.
You can use spring onions. Slice them up and add them to the cabbage during sauteing right at the end so they only cook slightly. You can also top the mash with some of the raw green parts if you like them raw.
Alternatively, you can also add some sliced or diced brown onion if that's what you have on hand. You can braise it or saute it along with the cabbage.
What to do with Leftover Cabbage and Mash
Any kind of mash is perfect for bubble and squeak, which is basically a leftover mashed potato pancake with whatever leftover veg you have mixed in. With Colcannon, the veg is already mixed in.
Eat bubble and squeak for breakfast, topped with an egg and maybe some mushrooms and tomato relish. Or serve it for brunch or lunch.
An alternative, if you have a lot of mash leftover, is to use it to top cottage pie. If you menu plan, you can plan ahead and cook extra on purpose and save time on a meal later in the week.
What to Serve with Colcannon
Mashed potatoes and cabbage can be served as a side to many dishes. Sausages and mash are a classic pairing and it's hard to pass up a good old bangers and mash meal on a cold winter's night. Add a delicious homemade gravy and you're in comfort food heaven.
But this mash can be served as a side to any meat dish. These homemade rissoles are inexpensive and tasty and Colcannon would make a great accompaniment to them.
It would also be good alongside corned beef with white sauce or you can also serve it alongside any of your favourite stews.
Yield: 4
Mashed Potatoes and Cabbage Side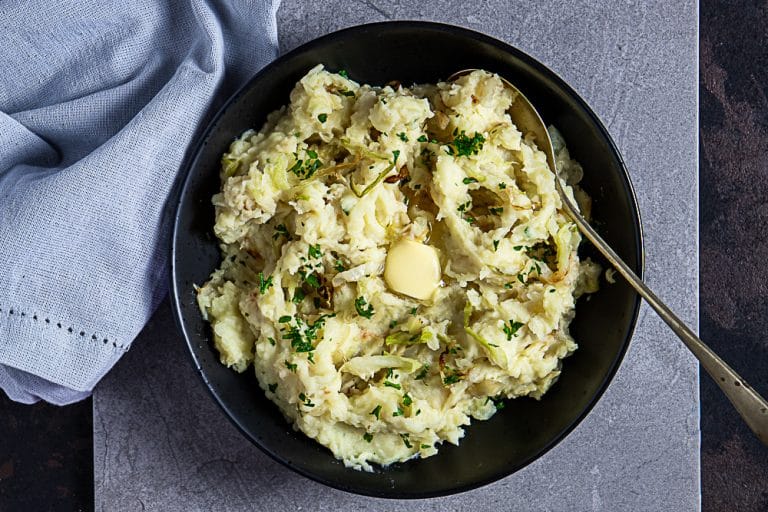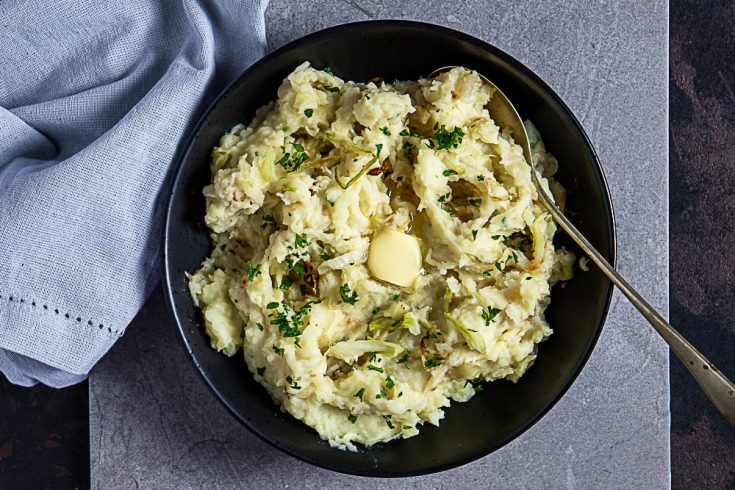 Otherwise known as Colcannon, this mashed potato and cabbage recipe mixes sauteed cabbage with deliciously buttery mashed potatoes.
Ingredients
4 large potatoes, peeled and chopped
1/4 green cabbage, finely sliced
60g butter + extra for cabbage
3-4 Tbsp. milk
salt and pepper to taste
Instructions
Add potatoes to a pot of water. Bring to the boil and cook until they are tender enough to fall off a fork when you stab them.
Drain potatoes and return to the pot. Heat for 1 minute or so tossing to dry out. Don't let them burn on the bottom at this stage. Remove from heat.
Add butter and milk and mash potatoes with a potato masher or fork until fluffy.
For the cabbage: Heat a frying pan over medium heat.
To braise the cabbage: Add cabbage and 1/4 cup of water or stock. Cover and cook for 4 minutes. Remove lid, add salt and pepper and a little oil or butter and continue to cook until cabbage is cooked through and golden and no water remains.
Alternatively, to saute: Add a little oil or butter to the frying pan and saute until golden and cooked to your liking. Add salt and pepper to taste.
Stir the cabbage through the mash. Season to taste.
Notes
To add onion: dice 1/2 a brown onion and cook with the cabbage. OR add a couple of sliced spring onions to the cabbage at the end of cooking so they cook slightly.
Use more or less butter to taste.
Nutrition Information:
Yield:
4
Serving Size:
1
Amount Per Serving:
Calories:

411
Total Fat:

13g
Saturated Fat:

8g
Trans Fat:

0g
Unsaturated Fat:

4g
Cholesterol:

36mg
Sodium:

225mg
Carbohydrates:

66g
Fiber:

7g
Sugar:

4g
Protein:

9g
Nutritional information is calculated automatically using the Nutritionix database. Nutrition information can vary for a recipe based on factors such as precision of measurements, brands, ingredient freshness, serving size or the source of nutrition data. We strive to keep the information as accurate as possible but make no warranties regarding its accuracy. We encourage readers to make their own calculations based on the actual ingredients used in your recipe, using your preferred nutrition calculator.
Melissa Goodwin has been writing about frugal living for 10+ year but has been saving her pennies since she first got pocket money. Prior to writing about frugal living, Melissa worked as an accountant. As well as a diploma of accounting, Melissa has an honours degree in humanities including writing and research and she studied to be a teacher and loves sharing the things that she has learned and helping others to achieve their goals. She has been preparing all her life to write about frugal living skills.
JOIN THE NEWSLETTER