how Google can help you pay your bills on time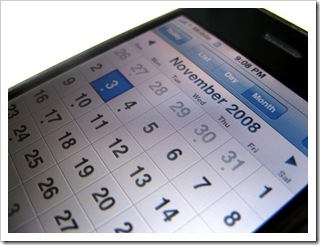 Lost bills? Forgotten payments? Late fees? Worried about how you're going to pay the bills that are due while you are overseas or on holidays?
Here's a system that allows you to keep track of your bills easily, automatically reminds you when bills are due and is accessible from any device, anywhere in the world.
Welcome to cloud computing for personal finance.
I recently overhauled our bill payment system because our old system stopped working for us and because I joined the 21st Century and got a Smartphone ("I don't think I'll use all those functions" I said to the sales lady. Oh, how wrong I was!)
Why use an an online calendar to keep track of bills?
There are several benefits to using an online calendar to manage your bills (and in fact, any other aspect of life you need a calendar for).
A digital bill payment system is  paperless. Less paper, less clutter and less filing.
Cloud computing is mobile and offers cross-device synchronisation. You can receive, schedule, be reminded about and pay bills on your mobile phone or tablet, even when you're away from home – no more late fees. You can also access your calendar and pay bills on other computers (like your work computer, for instance).
It's sharable. Share your calendar with your spouse or kids so that everyone is on the same page regarding finances as well as other events and commitments.
No need to back up. If your computer goes kaput, your bill payment system remains intact 'in the cloud'. If the whole internet goes kaput, well, there will be more pressing things to be concerned about.
Automatic reminders means that you never forget to pay a bill on time.
All-in-one system. Google calendar allows you to attach files to your scheduled 'events' which means you can attach copies of electronic bills to your bill reminder for easy reference when paying.
This tutorial covers how to use Google calendar for your bill tracking system.
There are other online calendars that you can use beside Google. However, Google is easy to use, updated regularly and they have other products that can be integrated with your calendar (like email, spreadsheets and documents), making it an all round useful product to sign up to (and no, I'm not affiliated or paid to say that).
integrating your online bill tracking system with your overall personal finance system
You may know that I use a system (described below) that balances automation with a bit of hands on management. While complete automation makes life easier, I think it's good practice to spend just a little time each week or fortnight dealing with your personal finance (paying bills, updating budgets) so that you stay aware and in control of your finances. The 'data entry' part of this system should only take a few minutes each week (it takes me about an hour once a month).
Here's part of the the system I use specifically for bill paying: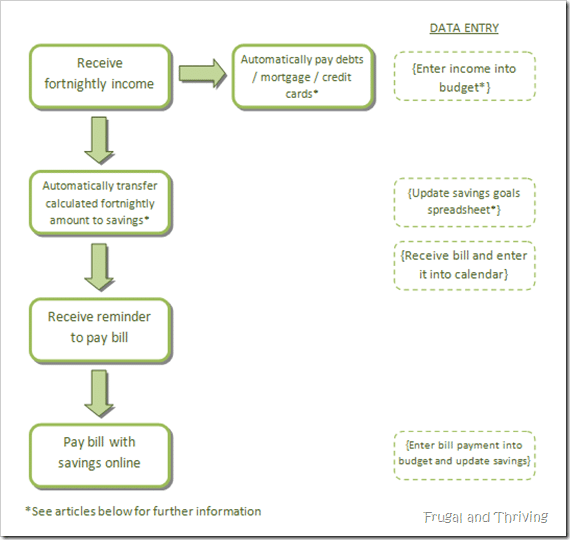 *The instructions to setup an automatic financial system are outlined in the free Debt Free eBook. You can also find information on automating your finances here.
*Information on setting up a budget in Excel can be found here.
*Information on setting up a savings plan can be found in these articles:
Now, onto setting up your bill tracking system in Google calendar.
set up your Google calendar
It only takes 10 minutes or so to set up your Google calendar. Once it is up and running, it takes just a minute to add a bill when you receive it – automatic reminders will ensure you remember to pay your bill, even if you never think to check your calendar.
1. Create a Google account
Creating a Google account gives you access to all of Google's products including their calendar. To create an account, go to the Google accounts page and sign up. This will also set you up with a Gmail account which you can use to receive calendar reminders (more on that soon).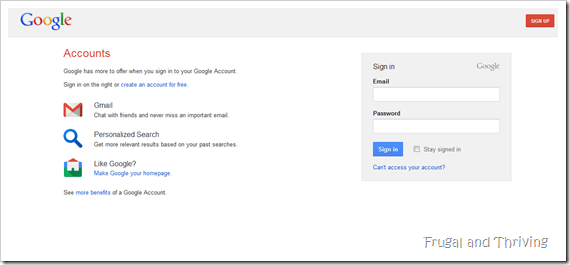 Once you have created an account, use the navigation bar at the top of your browser to navigate to Google calendar.

2. Set up your Google calendar
When you first use Google calendar, a wizard will take you through setting up your time zone and other preferences. These preferences can be changed at a later date. If this wizard doesn't appear, you can click on the settings button (the cog icon) and select Calendar setup.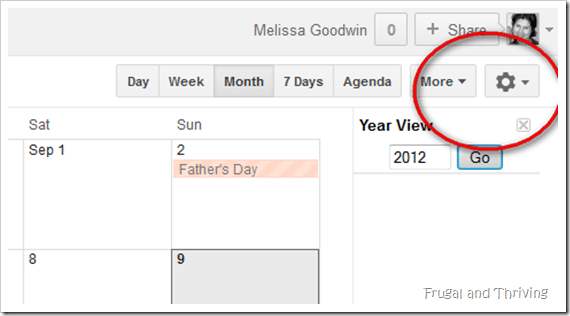 Next you're going to create a new calendar specifically for managing your bills and finances. You can create multiple calendars to manage different things.
At the left of the screen you will find 'My Calendars'. Click on the box next to it and select Create new calendar.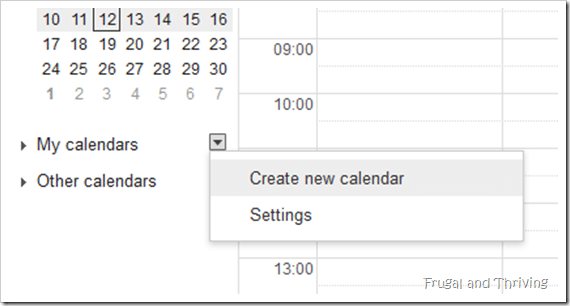 Give your calendar a name and description. Make sure your calendar is private by not clicking the box Make this calendar public. You can also choose to share this calendar with your partner. They will need a Google account also.
Click Create Calendar when you're done.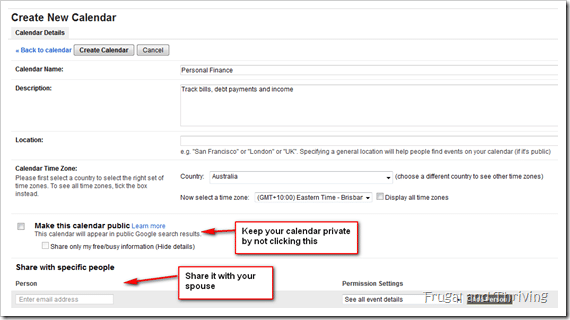 On the left of your calendar you will have Other calendars. Click on the Australian public holiday calendar to show public holidays on your calendar.
There's one more thing to do before you're finished setting up your calendar. Go to Settings >Labs an enable the Event Attachment add-on. This allows you to attach digital copies of your bills to your calendar reminders.

entering your bills and other payments
Now that you've set up your calendar, it's time to enter your bills and schedule reminders to pay those bills. Of course, this should be done when you receive a bill, unless you have regular payments like mortgage repayments that you want to add.
1.When you receive your bill
When you receive your bill, decide how you're going to pay it and when. If it's is BPAY, you will want to pay the bill at least three working days prior to the actual due date on the bill. Some companies require longer (especially if weekends or public holidays fall on or before the due date), so check your bill and your calendar.
You want to enter the day you intend to pay the bill in your calendar, prior to it's due date, not the day the bill is actually due.
2. entering your bill details into your calendar
When you receive a bill in either paper or electronic form, enter the details into your calendar by creating a New Event.
To do this, double click on the day you want to create your event. Fill in the following details:
The name of the bill to be paid
The day you intend to pay the bill
How often this bill repeats even if it's a yearly bill (see further)
The calendar it will appear in
A colour code for your bill
Reminders (see further)
Save your bill reminder.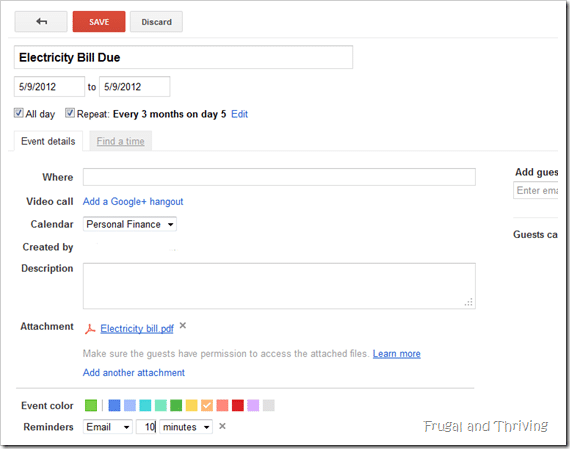 3. Attaching a copy of your electronic bill
Once you have saved your calendar event, double click on it again to re-open it and attach a copy of the bill to the event.
Click save again and you will be asked if you want to save Only this event or All events. Click Only this event.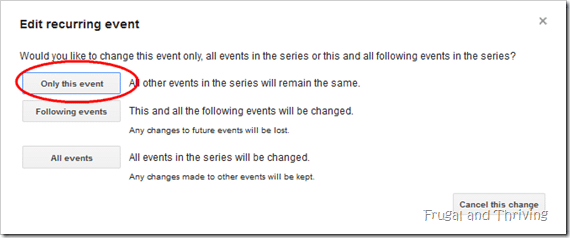 An attached copy of your bill is useful as a reference if you pay bills on another computer (at work, for instance) or on a tablet or phone, while your away from home or if you need your partner to pay a bill.
If your bill is on paper, add the details to the event's Description field for easy reference (or you can scan your bill and save it as a PDF, that way you're also preserving copies of bills without the need to file paper ones).
You can also put notes in the Description field about payment method and whether you have scheduled this payment with the bank, if that helps you. Less is more – don't add more detail than you need, just for the sake of it.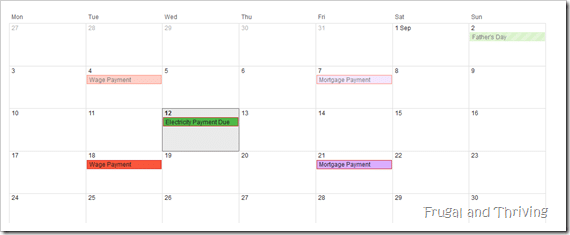 You can use different colours to code different items in your calendar: bills might be one colour, mortgage payments another, other debt repayments another colour and income another. This can help you manage your cash flow at a glance.
4. Setting your bills to repeat
When you enter the details of your bill, set the bill to repeat, even if it is a yearly bill. The reason for doing this is that your calendar will act as a reminder in the event that you fail to receive your bill.
I didn't receive our electricity bill last quarter (due to an address typo in the (new) company's system). Luckily my calendar reminded me that it was coming up and I called the company to chase up a copy. This prevented a late fee that we could have been charged, had we not paid our bill on time.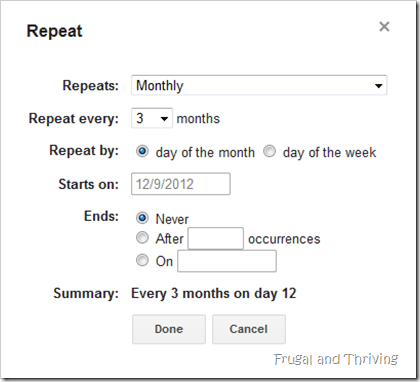 When you receive your next bill, you may need to adjust the date you want to pay it (depending on how a company cycles their payments). You can do this in the calendar view by simply clicking and dragging your bill reminder to a new day.
5. Adding reminders
Setting automatic reminders is at the heart of this bill payment system. If you forget to look at your calendar, an automatic reminder will ensure your bills get paid nevertheless.
There are several options for receiving reminders – choose the one that works for you.

Pop-ups
Pop-ups only work if you have both your web browser open and Google calendar open, so I find these type of reminders a lot less useful.
If you use Google Chrome, you can change the settings so that you get pop-up reminders even when Chrome is minimised. To do this go to Settings > Advanced settings > Privacy > Content settings > Notifications and enable Desktop notifications. You will still need to have Chrome open and be logged into your Google account for the pop-ups to appear.
Emails
Email notifications are sent to your Gmail address. Email notification is useful if you check your email every day or if you get email notifications via your desktop or mobile device.
What if you don't want to use Gmail?
You can filter and forward your emails from Gmail to your regular email address. That way you get your calendar reminders in the inbox you actually look at. Here's how to forward in Gmail.
Mobile device synchronisation
If you have an Android phone or tablet, you should have Google calendar already installed. You can manage accounts to sync with your current Google account via Settings > Accounts and Sync in your Android device.
You can also sync your calendar with an iPhone or iPad. You can find instructions on how to do this here.
SMS
Finally, you can have Google SMS reminders to your mobile phone (Optus, Telstra and Vodaphone customers only in Australia). Google does not charge a fee for this although your mobile phone provider may.
To set up SMS reminders go to Settings > Mobile setup in your Google calendar and fill in your details.
paying your bill
You can take your Google bill payment system one step further by using it to record payment receipt information. This gives you quick reference to payment information if there is ever a dispute about a payment. You can also see at a glance which bills have been paid and which haven't.
1. Adding your receipt information and updating bill status
After paying your bill via online banking, select and copy your receipt information displayed on your bank's website.
Open your calendar and double click your bill reminder (event) to edit it. Paste the receipt information in the Description field in your event.
Change the title of your bill reminder to paid (i.e.. Electricity Bill PAID) and save event. You will be asked if you want to save Only this event or All events. Click Only this event.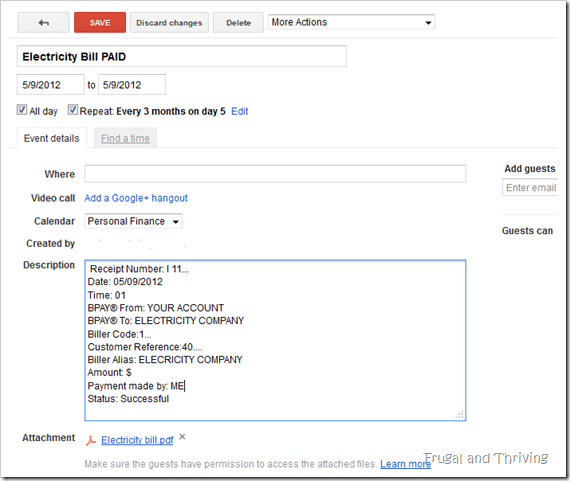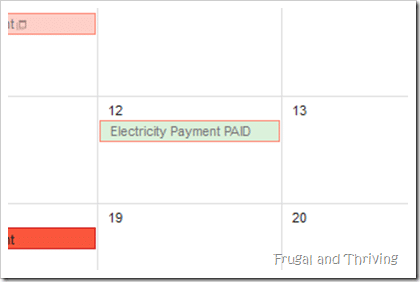 You now have a very portable, fully functioning bill tracking system so that you need never miss a bill payment again!
To conclude I want to stress that while all the instructions and diagrams make this system seem long and complicated, in actual fact it only takes a matter of minutes to set up – less to maintain.
Because it's an automated system, you don't need to enter bills all the time – just enter once, set to repeat, automate your reminders and review occasionally.
It's a system that saves you time, reduces stress and saves you money, without a lot of hassle or maintenance.
This article is part of the Frugal and Thriving newsletter. If you've arrived at this page via a search engine, your missing out on the all the other articles found in the newsletters. To read the rest of this newsletter and find out more, you can sign up for the free newsletter here. If you found the article useful, use the buttons below to share it.