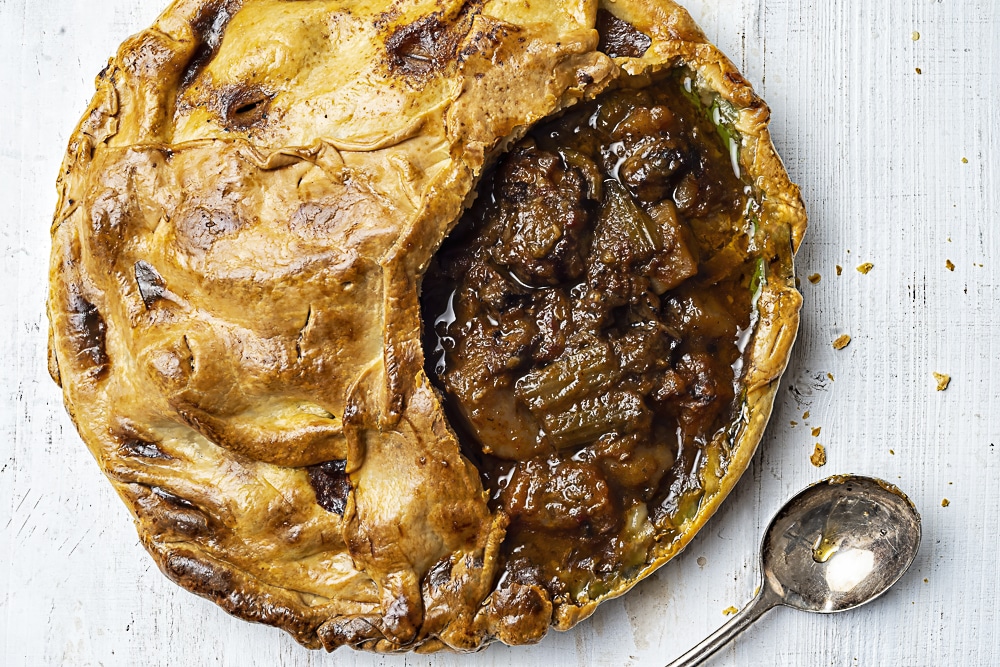 This isn't the cheapest meal I've ever made (nor the best photo, sorry), but for a mostly meat dish, it isn't too bad. A frugal meal for meat lovers. This pie is one of my husband's favourite meals and I cooked it this week for his birthday.
I purchased the meat for $8 per kilo. I could have got it a bit cheaper if I went to the wholesale butcher, but I've been really disorganised lately. All up, it cost around $16 with side veggies and serves 4, so $4 per serving for a family of 4.
However, we had casserole to spare, so meat pie and another meal of casserole (with some spuds and veg thrown in), bringing the cost down to around $2 per serve. A lot more frugal, especially for a meat dish.
This dish is a great slow cooker dish – make ahead the day before and bake it in a pie crust when you need it. I make this dish easy skipping the homemade pastry and just putting a piece of frozen puff pastry top on top, but you can find instructions on making easy shortcrust pastry here.
Make this dish go further by bulking it up with extra veggies. Grated carrot and zucchini will bulk it up without changing the flavour or texture (for those meat lovers in the family).
The recipe is adapted from the cookbook "Cooking Under the Influence: Food to Drink to" by Ben Canaider and Greg Duncan Powell.
Olf-Fashioned Beef Pie
Serves 4
Ingredients
1kg of shin (gravy) beef (or chuck) cut into medium sized cubes
2 Tbsp. of plain flour
splash olive oil
3 small onions, peeled and quartered
3 rashers of bacon, rind removed and roughly chopped
a handful of mushrooms halved
1 cup red wine
beef stock or water
Instructions
Preheat oven to 120°C.
Toss the beef in the flour. Heat the oil and brown in batches over medium to high heat. Transfer to a casserole dish.
Sauté onions and bacon until brown. Add to casserole dish along with the mushrooms.
Pour the red wine into the frypan and scrape up all the bits on the base of the pan. Let the wine simmer for about 10 minutes or until the liquid has reduced by half. Add to the casserole.
Pour the stock or water into the casserole so that the meat is just covered.
Slow cook covered in the oven for 2-3 hours. Allow to cool.
When ready to make the pie, preheat oven to 180°C.
Pour casserole into pie dish. If it's too liquid, you may want to thicken the casserole first by adding a slurry of cornflour and water and boiling it on the stove until thickened. Top casserole with pastry, trim, cut slits in the top and then bake for approximately 40 minutes or until golden brown. Let stand for 10 minutes before cutting.
Serve with mash and veggies.
Image by fkruger @ stock.adobe.com
Melissa Goodwin is a writer and the creator of Frugal and Thriving who has a passion for living frugally and encouraging people to thrive on any budget. The blog is nine years old and is almost like her eldest baby. Prior to being a blogger and mum (but not a mummy blogger), she worked as an accountant doing other people's budgets, books and tax.