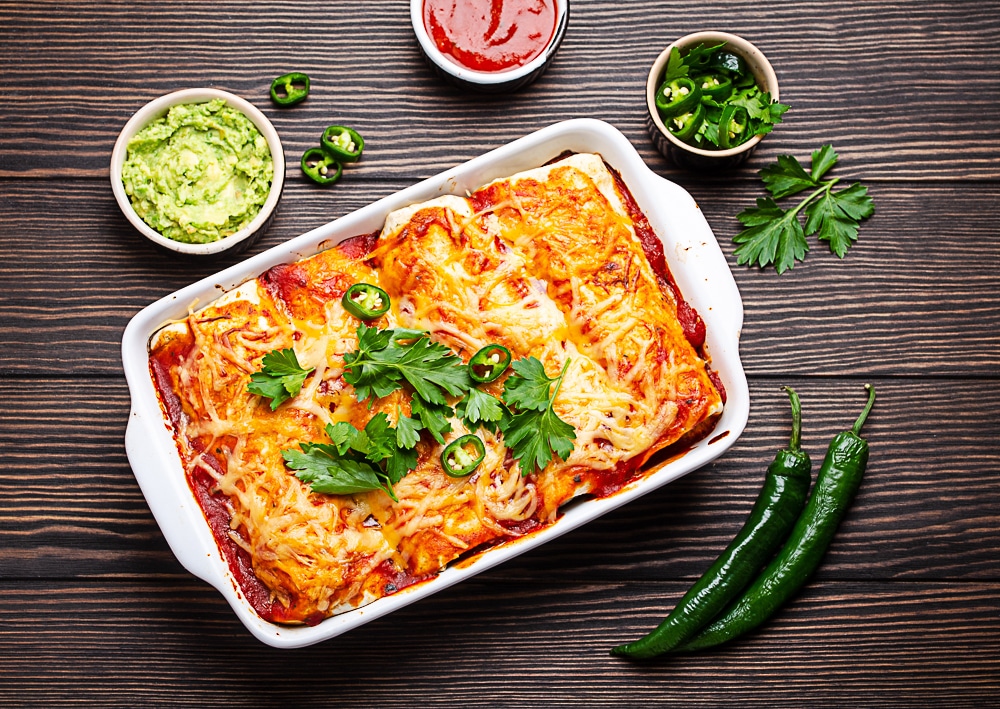 A common criticism of eating leftovers hinges on the misconception that they mean eating the same thing night after night.
But leftovers don't have to mean meal deja vu.
Instead, leftovers can be frozen in portion sizes for easy meals in the weeks to come or they can be refashioned into a completely different meal.
And there are some dishes, like slow-cooked casseroles, that taste that much better the second time around, once they've had time for the flavours to meld and develop.
In the first post in this series, I made a slow cooked pork shoulder. On the same night, I shred the leftover meat and freeze it in portions, then throw the bones back into the slow cooker to make stock.
And a leftover pork dish is written on the menu plan for a week or so later.
There are lots of ways to use up leftover slow-cooked pork, but our favourite way at the moment is to refashion it into enchiladas. These enchiladas are full of beans (much like my kids), and are filling, tasty, nutritious and because we're also using leftover meat, very inexpensive.
They are also a great way to use some of the pork stock.
I make five enchiladas – the kids usually share one, and DH and I have one each (they are that filling), leaving two leftovers for DH's lunches.
So we get leftovers from our leftovers.
The other great thing about this dish is that pulling out some homemade beans, pork and homemade sauce from the freezer makes this dish a quick and easy one to throw together on the night.
Other ideas for refashioning your leftover slow-cooked pork include:
Pork and gravy rolls
Pork and pasta ragout
Add it to mac and cheese
Add it to a stir fry
Add it to quiche, frittata, omelette or scrambled eggs
Make a leftover pork pie
Put it on pizza
Quesadilla filling
Cottage pie
Pork tacos or nachos
Add it to fried rice
An unbelievably incredible sauce to eat with leftover pork, by the way, is this Bourbon BBQ sauce.
But getting back to the enchiladas…
Traditionally, enchilada sauce is made from stock, not tomatoes – the red colour comes from the chillies. This is my cheat version using tomatoes. I leave the chilli out using paprika instead because the kids eat these too, but if you're a chilli fan, leave the chilli in.
And here's the recipe to make your own refried beans to go in the enchiladas.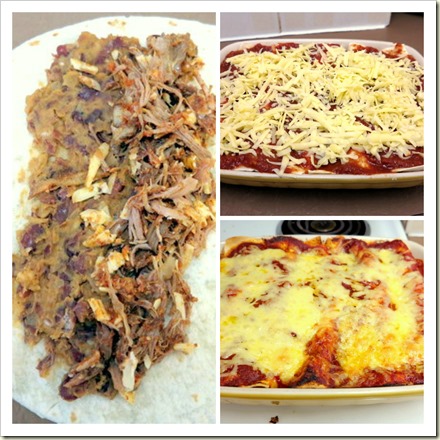 Slow Cooked Pulled Pork and Refried Bean Enchiladas
Ingredients
1 cup leftover slow cooked pulled pork
1 cup homemade refried beans
1 – 2 cups of cheese, grated
6 tortillas
2 cups enchilada sauce
Instructions
Preheat the oven to 180°C
Divide the refried beans evenly across the tortillas and spread it out, running in a line down the tortilla.
Divide the pork evenly between the tortillas, spreading it out over the beans.
Sprinkle a little cheese over the pork.
Grease an oven dish and spread a little of the enchilada sauce over the bottom of the dish.
Roll each tortilla up, placing them side by side in the baking dish.
Spoon the remaining sauce over the top. Sprinkle the top with cheese and bake in the oven until the cheese is melted golden and the enchiladas are warmed through.
Enchilada Sauce
Ingredients
1 small onion, diced
2 cloves garlic, minced
3Tbsp. chilli powder or paprika (for a milder sauce)
1 Tbsp. cumin
1 tsp. salt
1/2 Tbsp. oregano
1x400g tin of tomatoes or 1 cup tomato passata
1 cup pork stock (or any stock you have)
1 Tbsp. cornflour to thicken (optional)
Instructions
Saute onion in a little oil or lard until translucent.
Add garlic, herbs and spices and saute for a few more seconds.
Add tomatoes and stock. Bring to the boil and simmer for 10 minutes.
You can simmer for longer to reduce sauce to desired consistency, thicken with a little cornflour and water or just leave as is.
Using a blender or a stick blender, blend until sauce is smooth.
This gives us enough for two meals, freeze half for later.
Image by somegirl @ stock.adobe.com