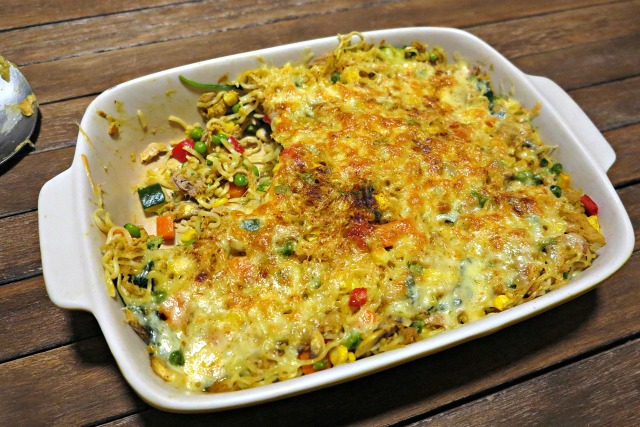 Tuna noodle bake is a great way to use up leftover vegetables and avoid food waste.

This isn't the prettiest dish in the world but it's cheap, tasty and full of vegetables.
What vegetables?
Whatever vegetables you have in the crisper and need to use up.
Personally, I would fill this dish with nothing but cabbage, but my family don't share my love of this brassica.
If you want to make this meal super quick and easy, just use frozen vegetables. Then there's no chopping or sauteing onion.
Instead, just boil the vegetables according to the packet until they are nearly done, then throw in the noodles. Drain. Toss in the tuna, curry powder and cheese and mix to combine. Then spoon into an oven-proof dish, top with more cheese and finish off under the grill.
This isn't so much a recipe as a suggestion – it hasn't been triple-tested and my measurements are never precise. Just eye-ball it according to what you have on hand, your personal tastes and how many people you're feeding.
One of the best ways to save money on the groceries and eat healthy on a budget is to PLAN inexpensive meals like this one. Check out the eBook Plan Cook Save for a super simple meal planning strategy that will save you time and money.
Tuna Noodle Bake
Ingredients
2 x packets of instant noodles, each broken into four
mixed vegetables of choice (I used carrot, zucchini, peas, corn, some mushrooms, capsicum and a handful of baby spinach)
1 onion, chopped
2 tsp curry powder
1 x 440g tin tuna
1/2 cup grated cheese
extra cheese and paprika for sprinkling on top
Method
Boil vegetables of choice until nearly cooked through. If you use onion, mushroom, capsicum etc. you will want to saute those separately.
Before the veggies are cooked, add the noodles in and cook through. Drain.
If using onions, heat a frying pan and sauté the onions in a little oil or butter until just tender. Add the mushrooms and capsicum and fry for another minute or two until cooked.
Remove onion mixture from heat and stir in the curry powder, tuna, cheese and noodles.
Place in a baking dish, sprinkle top with extra cheese and paprika and grill until cheese is melted and golden (alternatively, heat in the oven at 180°C). Serve hot.
Looking for other tuna recipes? Check out: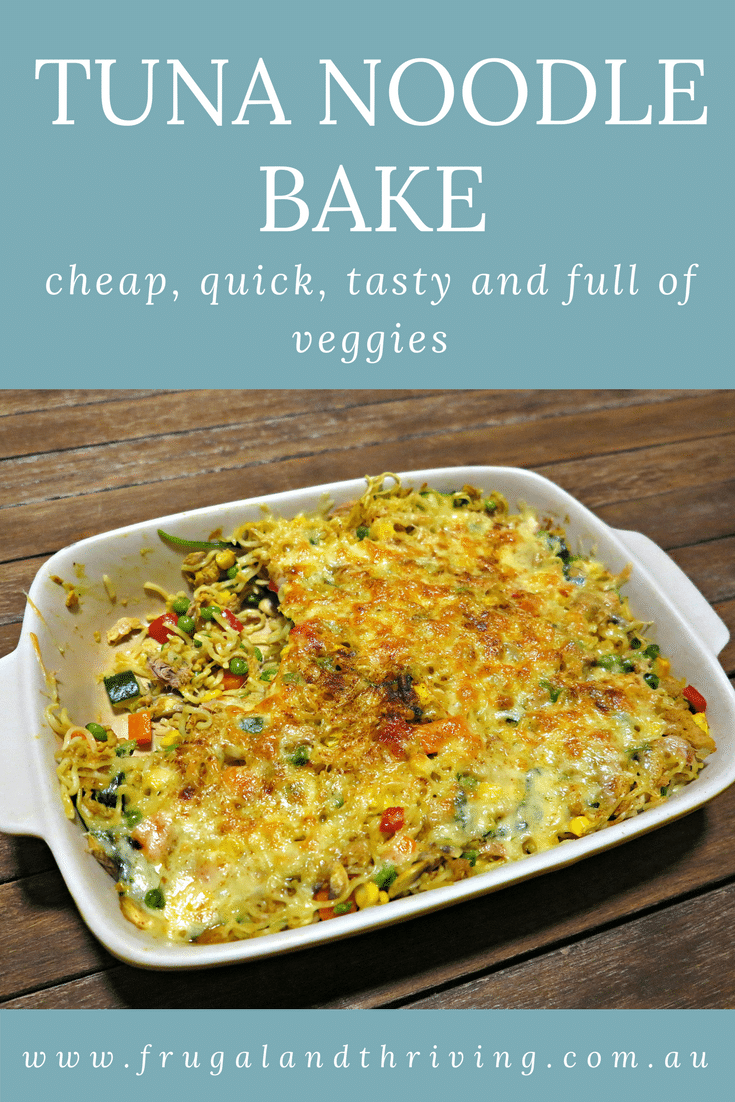 Melissa Goodwin is a writer and the creator of Frugal and Thriving who has a passion for living frugally and encouraging people to thrive on any budget. The blog is nine years old and is almost like her eldest baby. Prior to being a blogger and mum (but not a mummy blogger), she worked as an accountant doing other people's budgets, books and tax.