Basic Lamb Roast with Garlic and Rosemary + Ideas for Leftovers
This website may earn commissions from purchases made through links in this post.
How to cook a delicious lamb roast with vegetables and the best gravy.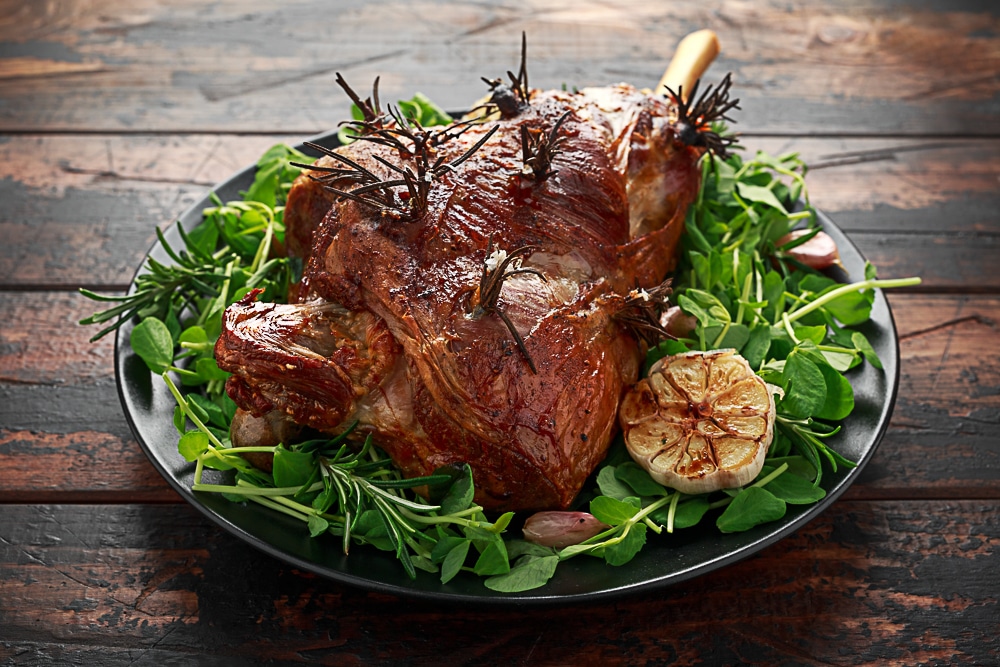 Lamb isn't the most frugal meat, but it's nice for a special treat and if you stretch your meat and eat leftovers the next day (maybe even over a couple of days) then you can enjoy lamb meals that end up being quite inexpensive.
How Big a Roast Should You Buy
When roasting a joint of meat to feed a crowd, the first question is: how much meat am I going to need?
To work this out, we need to start with portion size and work backwards.
When cooking a roast that will be accompanied with vegetables allow for 250g of cooked meat per person. Big meat eaters may eat up to 350g of cooked meat. Allow for around 100g for children.
I say cooked meat because meat shrinks by around 25% when it's cooked, so you need to factor in shrinkage when working out how much meat to buy. You also need to factor in the bone as well, because that adds to the weight of a joint.
To allow for shrinkage and the bone, calculate based on 350g per person. So if you're feeding 6 people, you will need a lamb roast (bone-in) that weighs around 2.1kgs.
If you're not entertaining but feeding your family and trying to stick to a budget, fill your plate with lots of vegetables and eat meat as an accompaniment. This is not only healthier, but it will save you money because it allows you to stretch your meat to make multiple meals throughout the week. See below for ways to reimagine leftover roast lamb.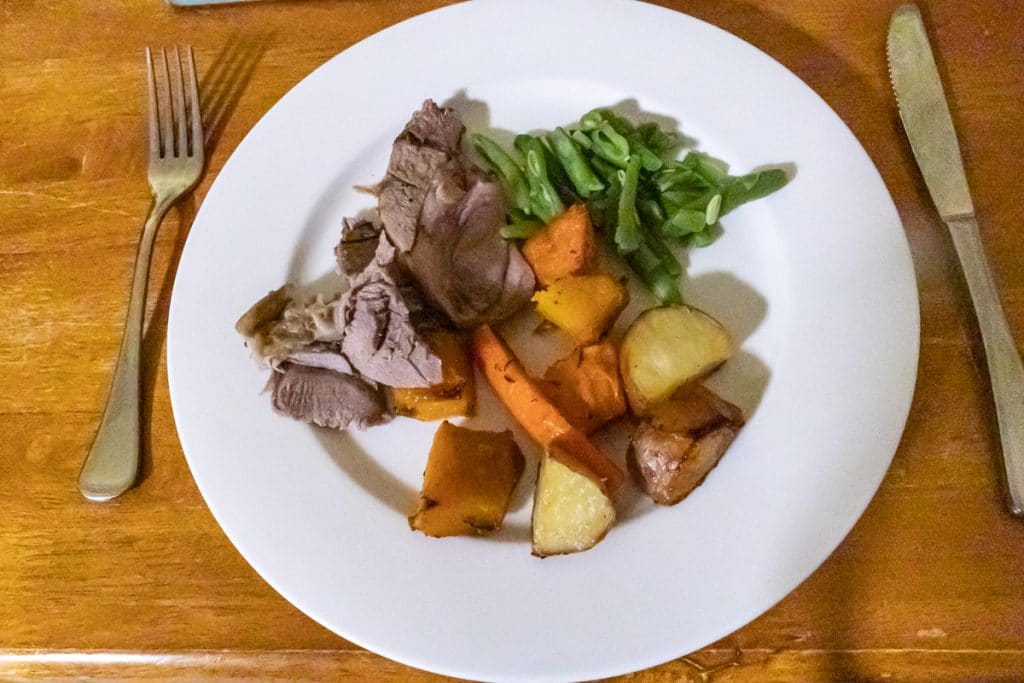 How to Prepare a Lamb Roast
This is the way my family has been cooking roasts for generations.
First, preheat the oven to 180°C. Grab a baking dish that can also go on the stove so you can make gravy in the dish after the roast is cooked.
Rub a little olive oil into the lamb roast and season with salt and pepper. Then cut small slits into the lamb with a sharp knife for the rosemary and garlic (see picture below).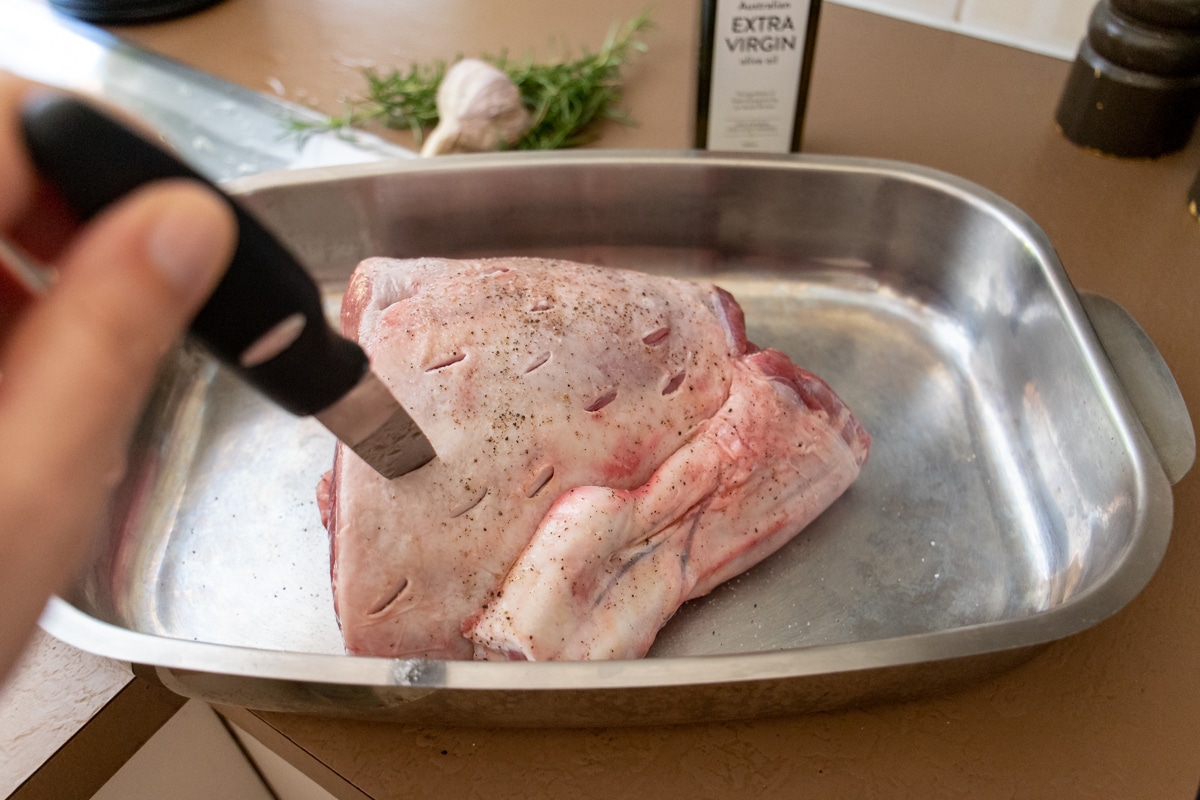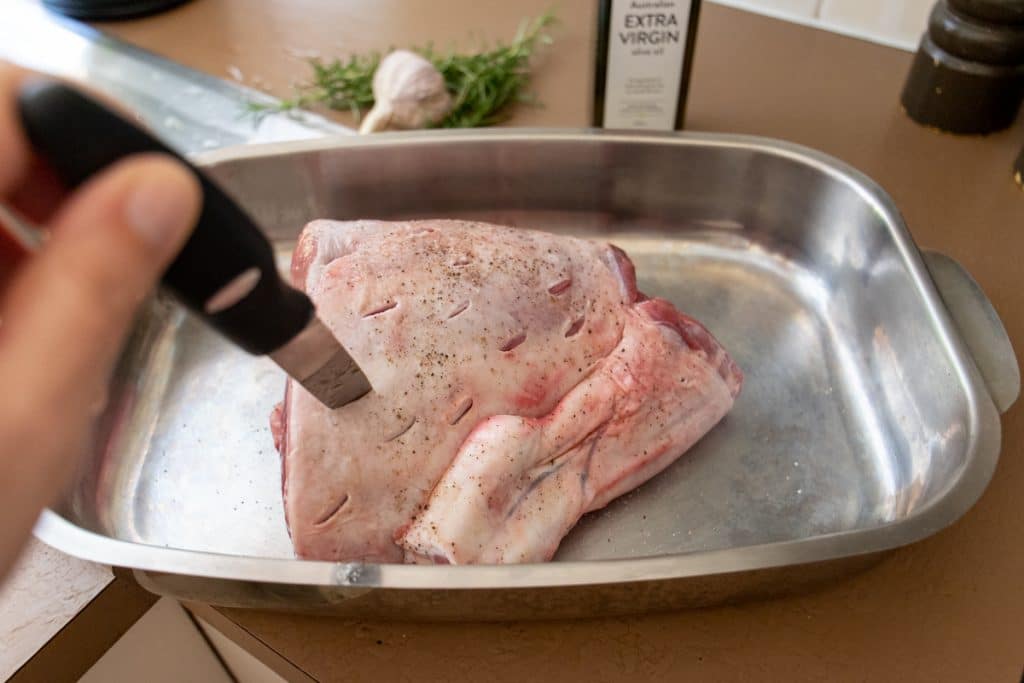 Cut a couple of rosemary twigs into short lengths. Also peel and slice garlic into slivers, enough for one sliver per cut in the lamb.
Then stuff each cut with a sliver of garlic and a twig of rosemary.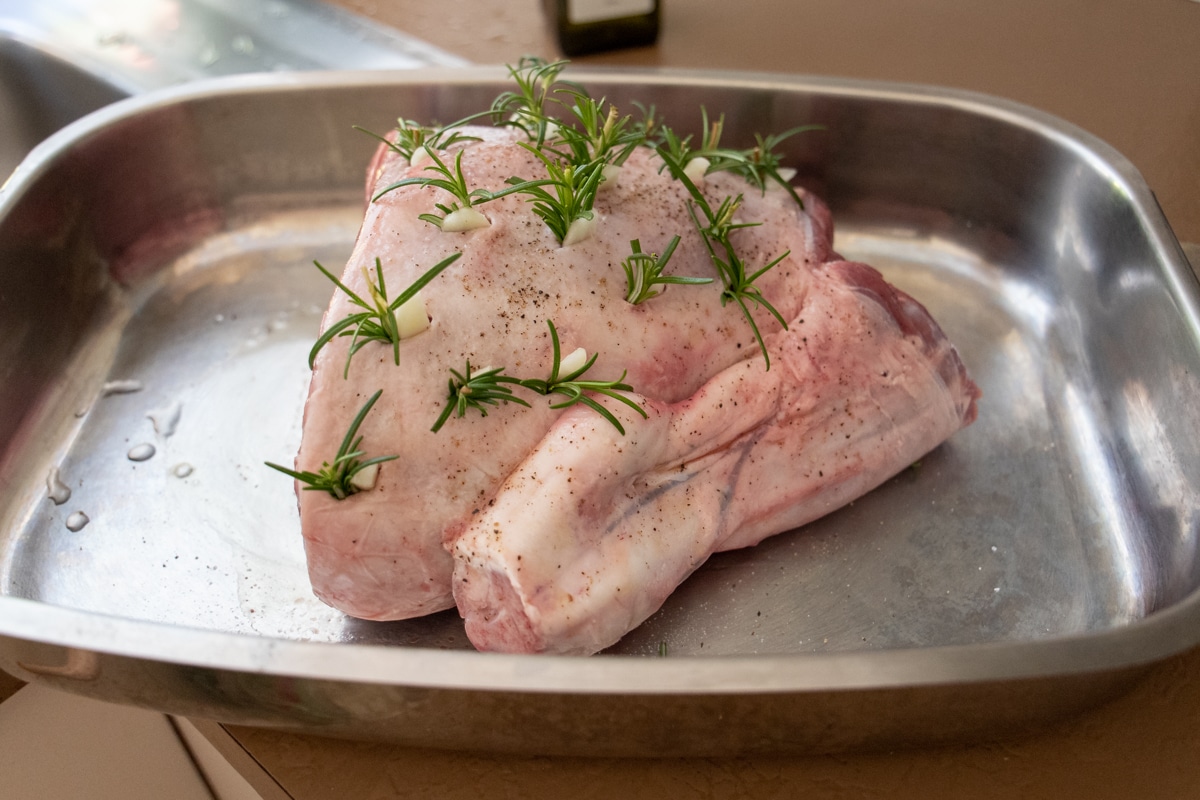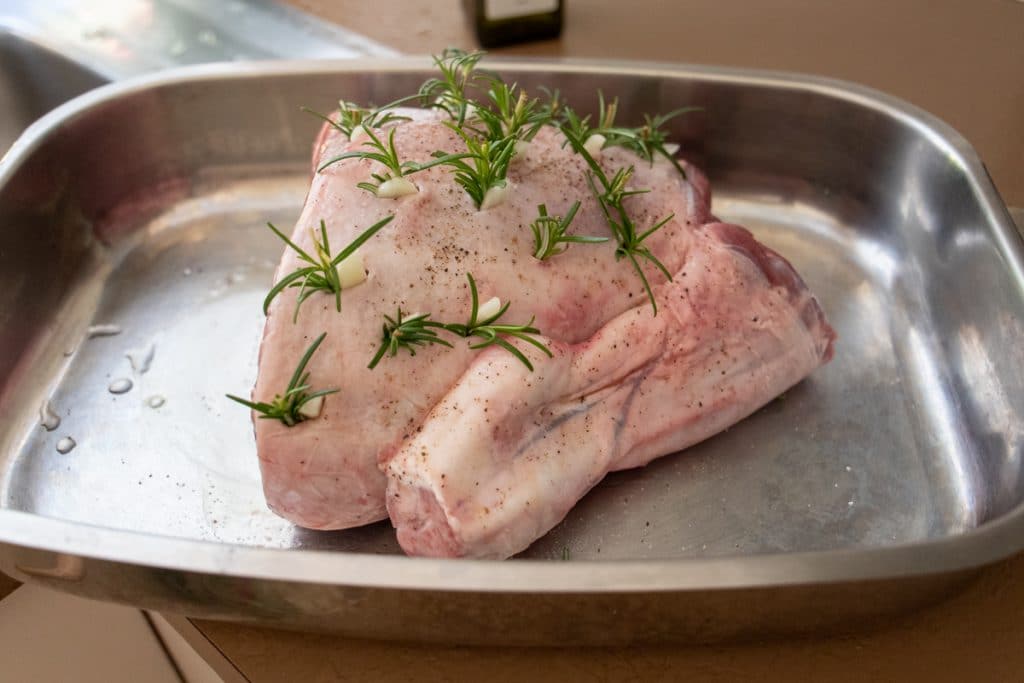 How Long To Cook a Lamb Roast
For lamb that is cooked to 'medium' doneness, cook it for 25-30 minutes per 500g at 180°C or until the internal core temperature is 65°C-70°C when tested with a thermometer.
If you like your lamb rare (internal temp of 60°C), cook it for 20-25 minutes per 500g and for well done (internal temp of 75°C), cook it up to 35 minutes per 500g.
To test the doneness of your roast without a thermometer, press a fleshy part of the roast to feel how springy it is. Medium doneness should feel about the same as when you press the fleshy part under your thumb when touching your thumb to your ring finger with gentle pressure (see image).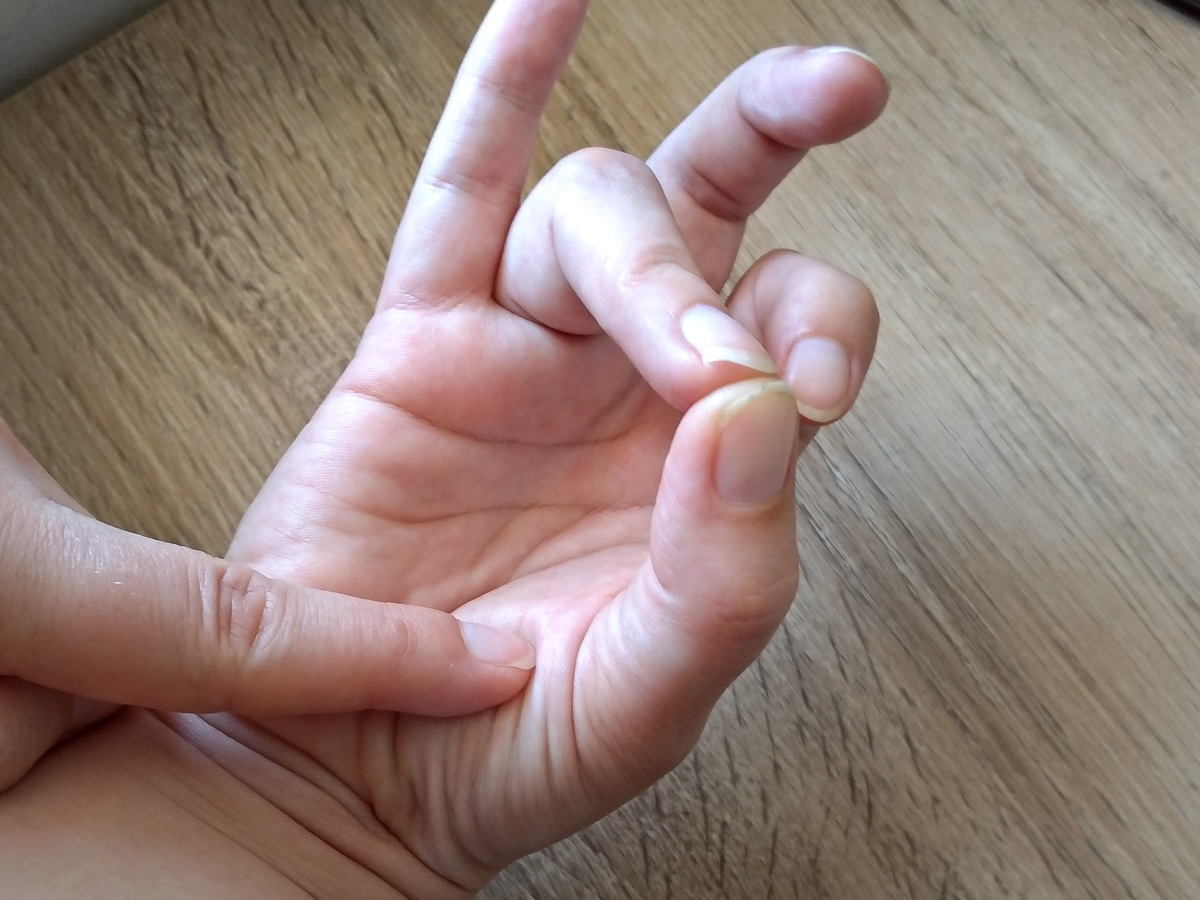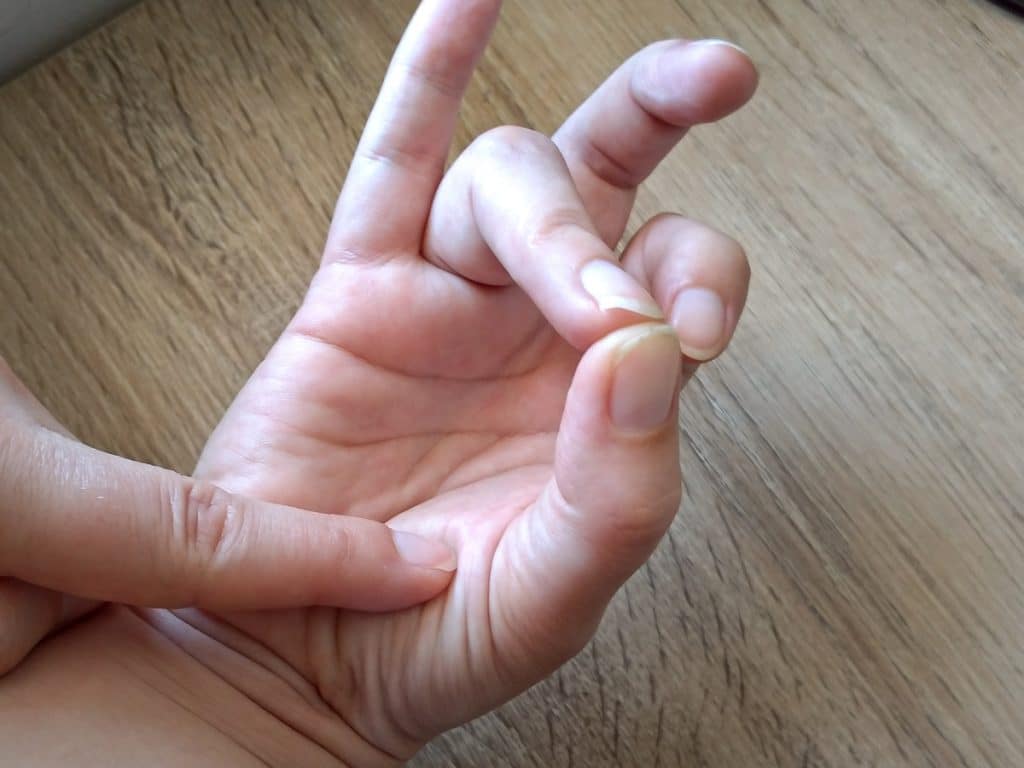 | | |
| --- | --- |
| Doneness | Finger Test |
| rare | index finger to thumb |
| medium rare | middle finger to thumb |
| medium | ring finger to thumb |
| well-done | little finger to thumb |
Let your roast rest for 10-20 minutes before carving.
Cooking Vegetables with Roast Lamb
Vegetables take less time to cook than a whole roast, so I add them in part-way through the cooking.
Big chunks of vegetables take about an hour to cook, so if a roast needs two hours to cook, I add the vegetables to the pan around halfway through so the lamb and vegetables are ready at the same time.
You can par-boil vegetables beforehand and this will reduce the time in the oven they take to cook.
Or you can use the method I use to get soft-on-the-inside but crisp-on-the-outside veggies without extra pots and pans and mucking around.
Instead of par-boiling add the vegetables an hour or so before the roast is ready. Turn the vegetables once or twice during their cooking time.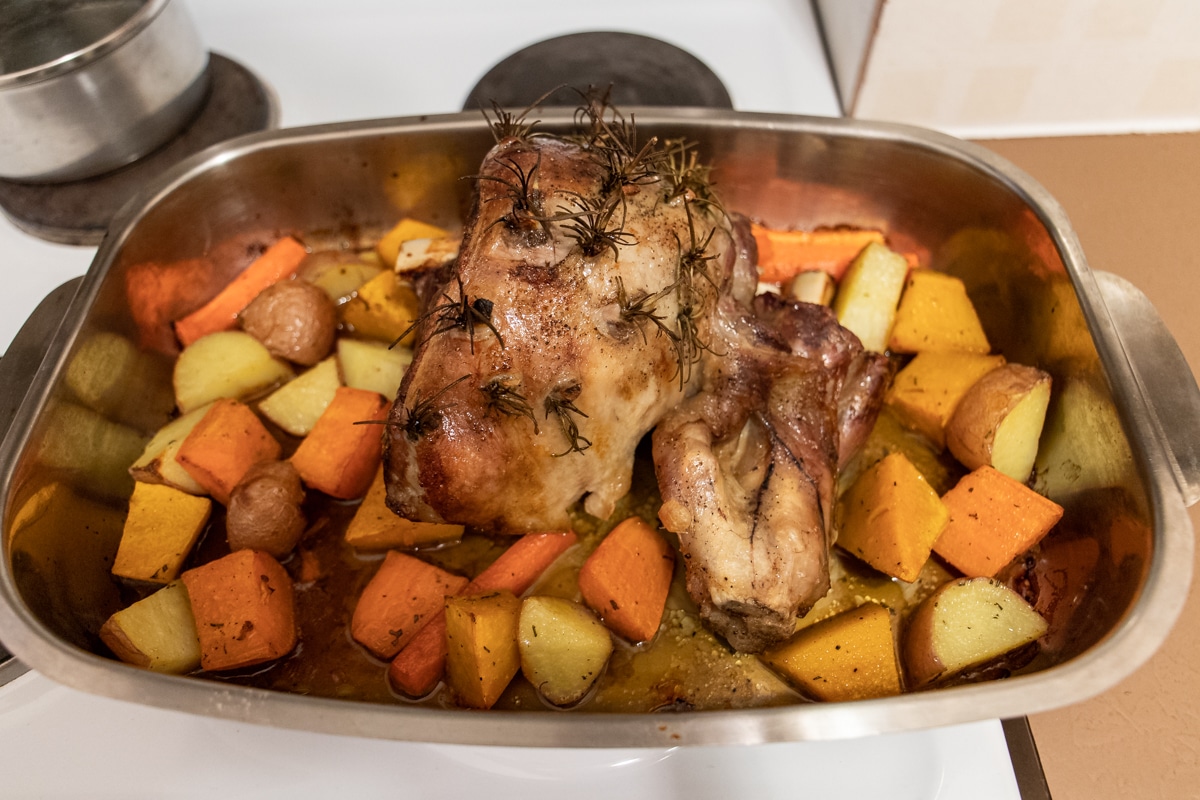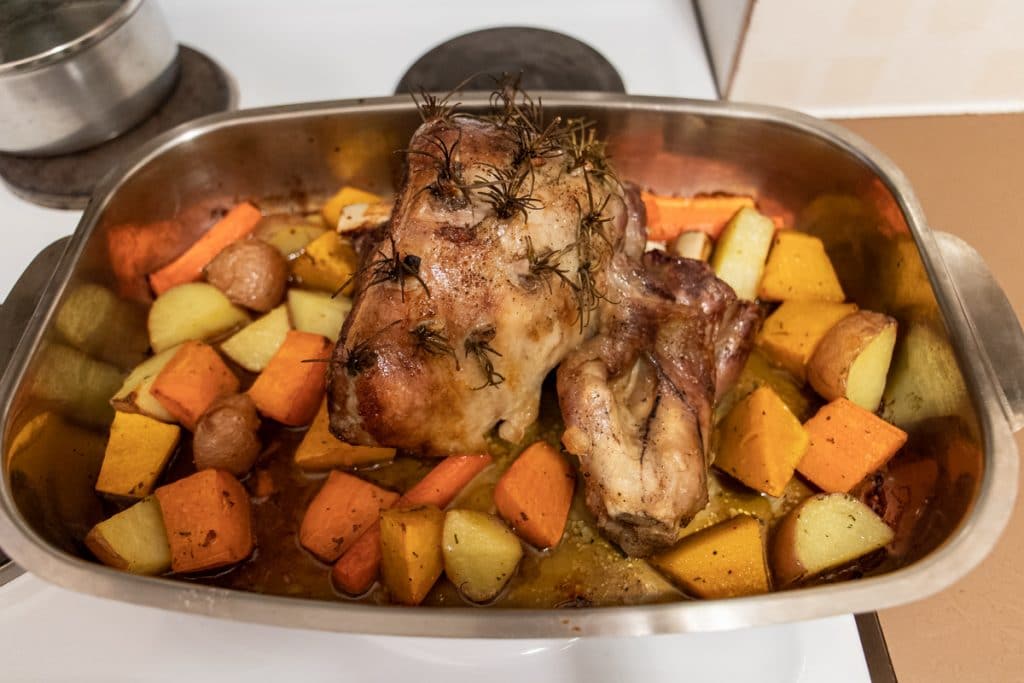 While making the gravy, set the lamb aside to rest. Cover it with a large upturned bowl to avoid foil and reduce waste.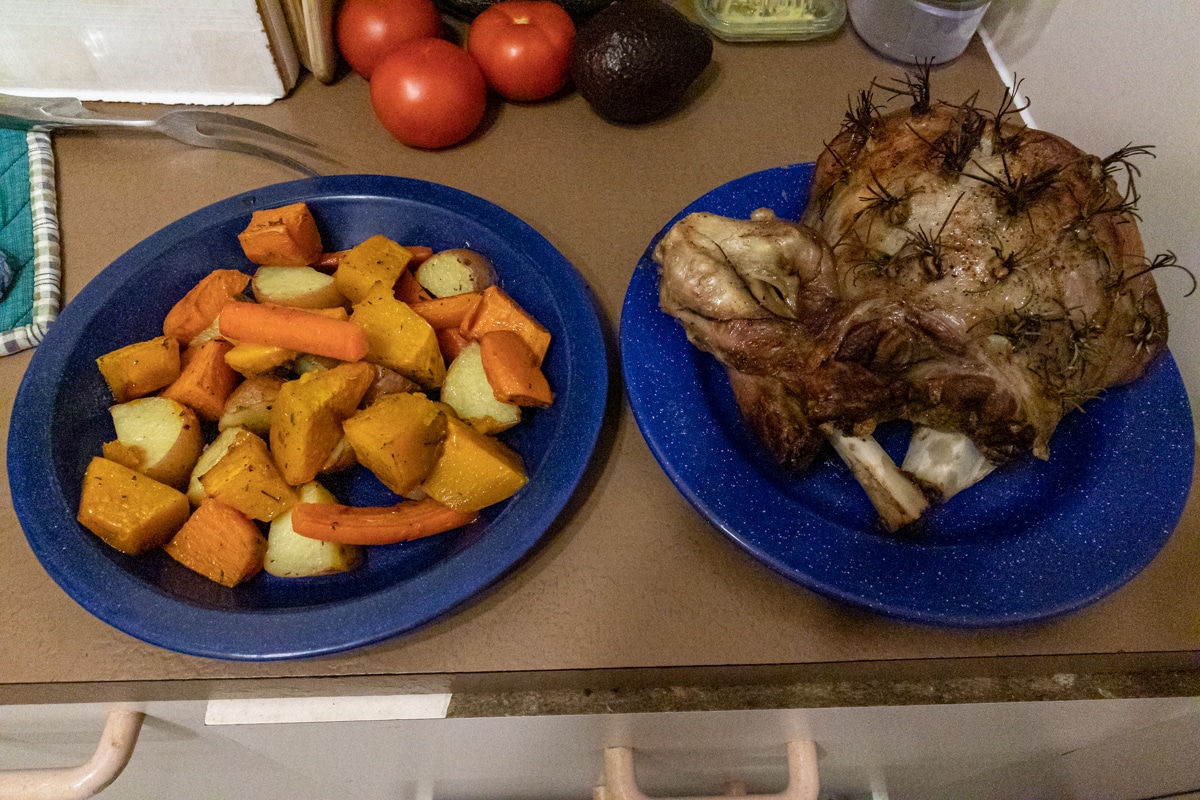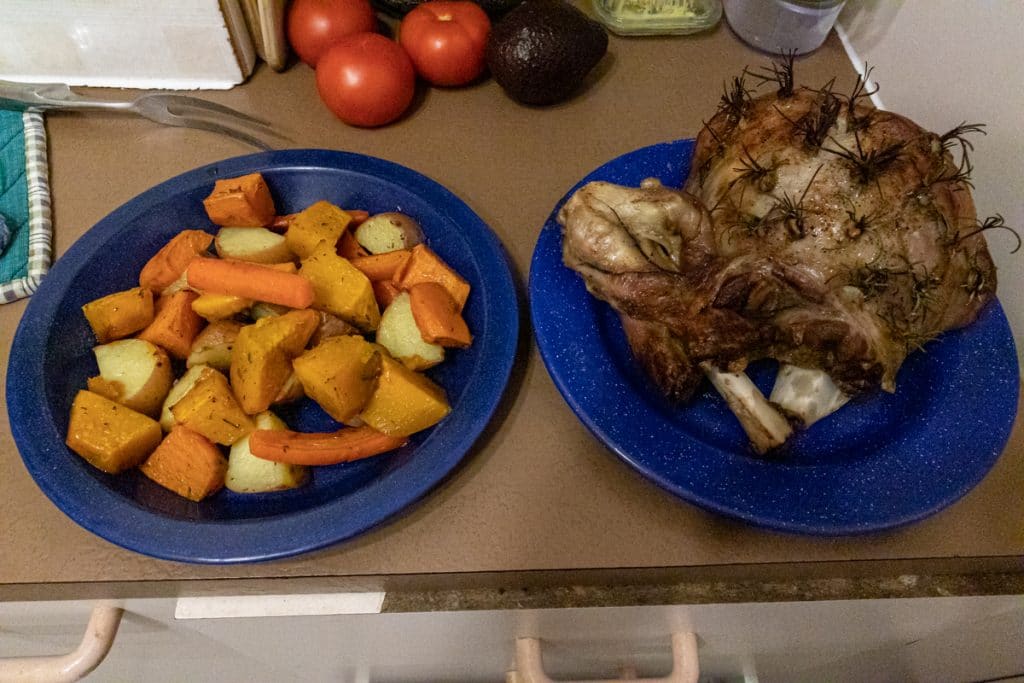 Crank up the oven to 210°C and place the vegetables onto a greased baking tray (I used a metal plate).
Finish the vegetables off in the oven at high heat for 10 minutes or so to crisp up the outside and brown the corners a little.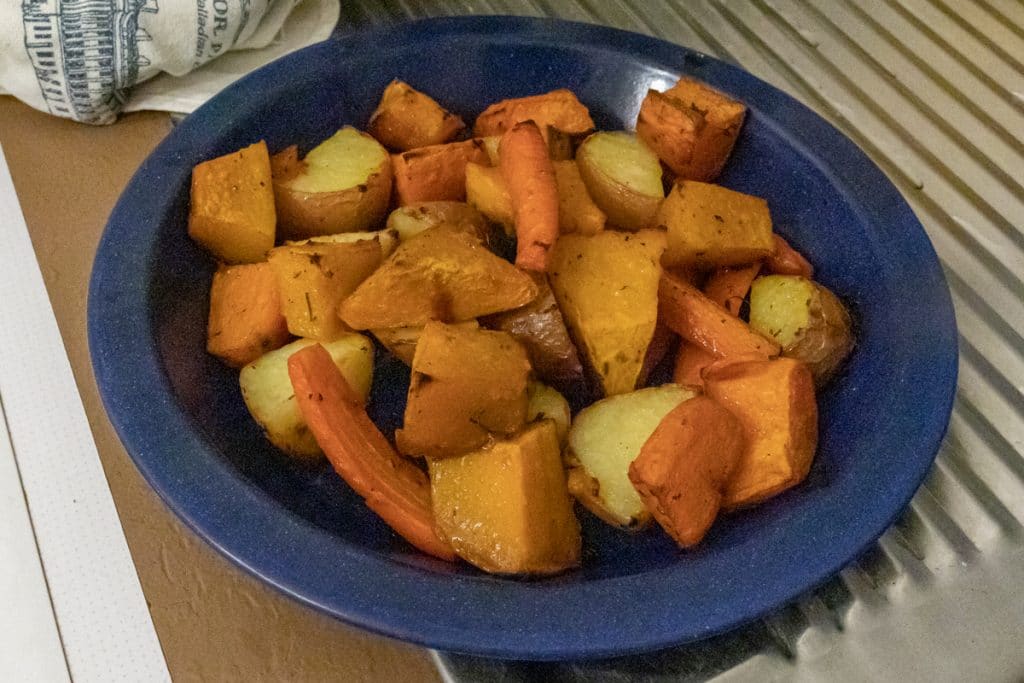 My photos won't win any prizes because it's Saturday night and I'm trying to get dinner on the table, but you get the idea.
A good roast needs a great gravy. For instructions on how to make the best gravy from pan juices, check out this article.
What to Do With Leftover Lamb
Of course, you may not be feeding a crowd, you may just be looking to stretch a roast over a few days to save time in the kitchen and money as well.
The last time I purchased a lamb leg from our supermarket, a roast was $12 a kilo while lamb chops were around $16 – $25 a kilo.
So a roast, especially if you stretch it over a couple of days, ends up being a lot less expensive.
Shepherd's pie is a great way to use up leftover lamb. This Shepherd's Pie recipe also uses up leftover vegetables and gravy, making it soooo easy.
To make slow cooker lamb and barley soup, add the bone to a slow cooker and fill with water and cook on low for 8 hours (high for 4 hours), to make a stock.
Then add any remaining meat, barley and vegetables and cook until the barley and vegetables are tender.
Other ways with leftover lamb include:
pizza with lamb and maybe feta
lamb pie
tagine with leftover lamb
roast lamb and gravy rolls
hummus wraps with lamb and salad
lamb ragu
salad with strips of leftover lab
lamb stir fry
quick lamb curry
How Long Can You Store Leftover Lamb
Cool leftover lamb quickly and put in the fridge as soon as possible. Once, refrigerated, use leftover lamb within three days.
You can also freeze leftover lamb for up to two months. Defrost before using.
Easy Roast Lamb with Garlic and Rosemary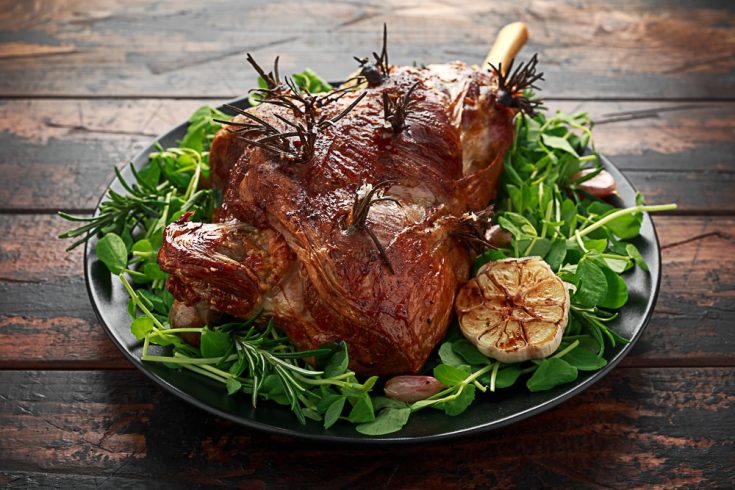 Lamb isn't the most frugal of meats, but if you roast a shoulder and use the leftovers to make multiple meals, you can stretch a little bit of meat over many days.
Total Time
1 hour
10 minutes
Ingredients
1 leg or shoulder of lamb
2 fresh rosemary sprigs cut into 2 cm lengths
2 –3 cloves of garlic, peeled and sliced
2 Tbps. olive oil
Instructions
Preheat oven to 200°C (180°C fan-forced)
Using a sharp knife, pierce the skin at intervals.
Rub the lamb with a little oil and sprinkle with salt and pepper.
In the cuts, push a slice of garlic and a sprig of rosemary.
Roast for approximately 20 – 25 minutes per 500g for medium done or until the internal temperature is about 62°C when a meat thermometer is pushed into the fleshy part of the roast (the bone will give a false reading).
Let the roast rest for around 15 minutes (while you make the gravy) before carving.
Notes
Shoulder of lamb is more economical than a leg.
If you don't have a thermometer, cut the meat down to the bone with a sharp knife to see if it's done to your liking.
Nutrition Information:
Yield:
4
Serving Size:
1
Amount Per Serving:
Calories:

61
Total Fat:

4g
Saturated Fat:

2g
Trans Fat:

0g
Unsaturated Fat:

2g
Cholesterol:

20mg
Sodium:

19mg
Carbohydrates:

1g
Fiber:

1g
Sugar:

0g
Protein:

6g
Nutritional information is calculated automatically using the Nutritionix database. Nutrition information can vary for a recipe based on factors such as precision of measurements, brands, ingredient freshness, serving size or the source of nutrition data. We strive to keep the information as accurate as possible but make no warranties regarding its accuracy. We encourage readers to make their own calculations based on the actual ingredients used in your recipe, using your preferred nutrition calculator.