Prepare Ahead Lemon and Thyme Roasted Vegetables
This website may earn commissions from purchases made through links in this post.
Eat healthy all week by prepping ahead these lemon and thyme roasted vegetables. Make them the star or use them in different dishes.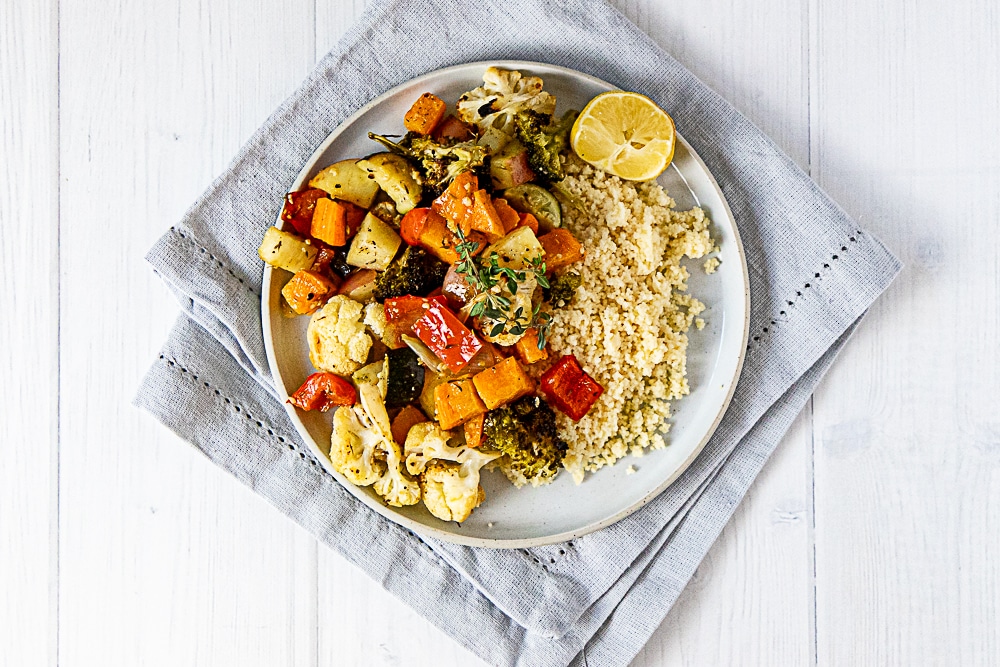 Roasting vegetables are one of the best ways to cook veggies.
They don't lose as many nutrients as they do when boiled and they taste amazing – the browning that happens in the oven giving them that caramelised taste.
And you can create dozens of different flavour profiles depending on the seasonings you add to your roasted vegetables.
The recipe below shares one of my favourite flavour combinations: lemon and thyme roasted vegetables.
Having pre-cooked vegetables in the fridge means you can create a wide variety of easy, healthy meals throughout the week.
So this article also shares tips and tricks for preparing, cooking, storing and reheating roasted vegetables.
What Vegetables are Good for Roasting
You can roast just about every vegetable available. The thing to keep in mind, however, is that different vegetables will cook at different times.
To make sure all the vegetables cook evenly, you want to do one of three things.
EITHER parboil some of the denser vegetables (marked with an * below) and drain well before roasting so that these vegetables are partially cooked OR put them in the oven first and cook for 10 minutes before adding the more delicate vegetables.
You can also cut the denser vegetables smaller than the more delicate vegetables so they take less time to cook.
Vegetables to roast include:
potato*
sweet potato*
carrot*
parsnip*
pumpkin
zucchini/squash
cauliflower
broccoli
capsicum
onion
asparagus
cherry tomatoes
mushrooms
Brussels sprouts
Preparing Cooking and Storing Roast Vegetables
When it comes to preparing roast vegetables ahead of time, you have two options.
You can either cut the vegetables and store them ready to be cooked on the day.
Or you can pre-cook them ahead of time and reheat them when you're ready to eat them.
To cook roast vegetables, grease a baking tray with a little oil. Toss vegetables in olive oil and selected seasonings if using and spread them out in a single layer on the baking tray. Make sure there is some space around the vegetables as this will stop them steaming and becoming soft and soggy.
Roast vegetables in a hot oven until crispy and cooked through.
Don't forget, if you have denser vegetables like potato, cut them smaller so they cook the same time as the more delicate vegetables, OR parboil them OR place them in the oven for five – 10 minutes before adding the delicate vegetables (see above).
Roast vegetables can be stored in an airtight container in the fridge for up to five days.
Reheating Roasted Vegetables
Reheat roast vegetables in the oven, not microwave to prevent them from going soggy.
To reheat, preheat the oven to 180°C and place cooked vegetables on a baking tray in a single layer, spreading them out so they aren't touching.
Cook in the oven for 10 – 15 minutes or until heated through.
How to Use Roasted Vegetables
There are lots of ways to use up roasted vegetables. In fact, if you prep a tray of veggies on a Sunday, you can turn them into a different meal every day of the week.
Here are some ideas:
served with couscous, polenta or rice
roast vegetable frittata or quiche
veggie Pizza
vegetable burrito with feta cheese or pita with hummus
use as a side to meat or chicken
puree with stock to make a roast vegetable soup
mix with a white sauce or gravy and top with pastry for a roast vegetable pie
serve with greens as a roast vegetable salad
make a roast vegetable lasagne
Yield: 3 cups
Lemon and Thyme Roasted Vegetables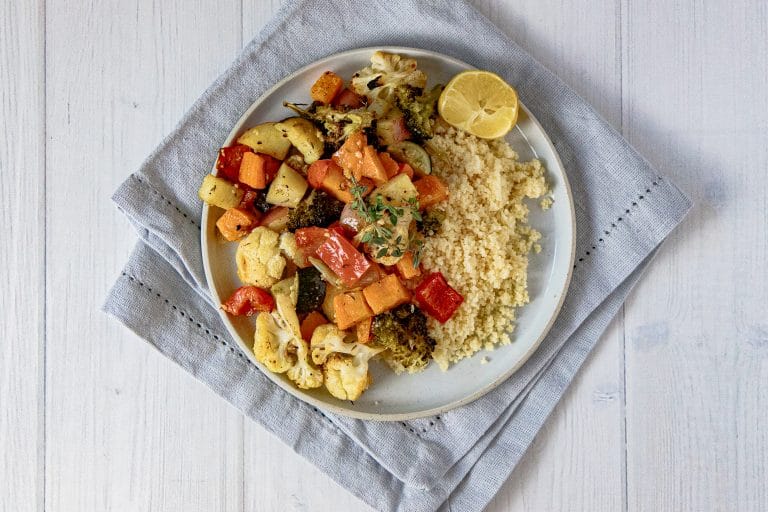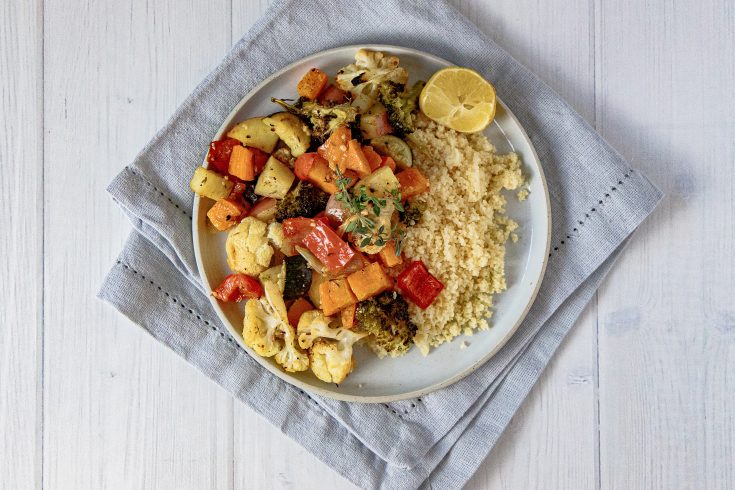 Eat healthy all week by prepping ahead these lemon and thyme roasted vegetables. Make them the star or use them in different dishes.
Ingredients
3 cups of mixed vegetables* cut into bite-sized pieces
olive oil to drizzle
juice of half a lemon
fresh or dried thyme
1 – 2 cloves of garlic, crushed
salt and pepper to taste
Instructions
Preheat the oven to 220°C (420°F). Drizzle the baking dish with a little olive oil.
Parboil, or pre-bake the potato and carrot for a couple of minutes in salted water. Drain well (see note).
Toss the vegetables with lemon juice, thyme, garlic, a drizzle of olive oil and salt and pepper to taste.
Add vegetables to the baking tray, spacing them evenly across the tray in a single layer, not too crowded. If you need to, use two trays.
Bake the vegetables for 20 - 30 minutes or until cooked through, tossing vegetables halfway through.
Notes
You can use any combination of vegetables from the following: potato, sweet potato, pumpkin, carrot, zucchini, cauliflower, capsicum, onion, broccoli, asparagus, parsnip, cherry tomatoes, mushrooms
Denser vegetables like potatoes will take longer to cook than more delicate vegetables. You can either parboil the denser vegetables (boil them for a couple of minutes until they are partially cooked) OR put them in the oven for 5-10 minutes before the delicate vegetables OR cut them much smaller than the delicate vegetables so they take the same time to cook.
Nutrition Information:
Yield:
4
Serving Size:
1
Amount Per Serving:
Calories:

104
Total Fat:

4g
Saturated Fat:

1g
Trans Fat:

0g
Unsaturated Fat:

3g
Cholesterol:

0mg
Sodium:

146mg
Carbohydrates:

17g
Fiber:

4g
Sugar:

10g
Protein:

2g
Nutritional information is calculated automatically using the Nutritionix database. Nutrition information can vary for a recipe based on factors such as precision of measurements, brands, ingredient freshness, serving size or the source of nutrition data. We strive to keep the information as accurate as possible but make no warranties regarding its accuracy. We encourage readers to make their own calculations based on the actual ingredients used in your recipe, using your preferred nutrition calculator.
You might also like:
JOIN THE NEWSLETTER