These zucchini and sweet potato fritters are great for a light dinner or lunch. Tasty and healthy.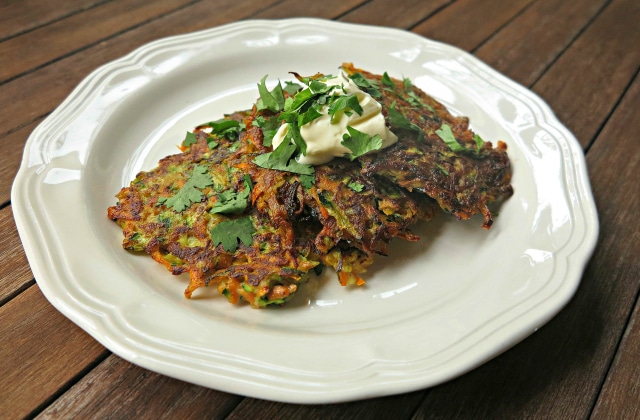 I have normal kids.
Like most kids, they don't like eating their vegetables.
Especially the three-year-old.
And like most mums, I'm getting pretty good at sneaking vegetables in.
I do have a few vegetarian meals that the kids will eat and fritters are one of those dishes.
Maybe it's because the vegetables are grated. I don't know why, but my children can do vegetables without all the moaning and complaining if they're grated. And that must be a common thing as the Vegie Smugglers book is practically founded on grated vegetables.
But these fritters aren't just for kids.
With the herbs and the garlic, they also make a very adult meal.
But still a very cheap and healthy meal!
Save time by not peeling the sweet potato – sweet potato skin is delicious and very nutritious.
I like to use Panko breadcrumbs to bind the fritters. Most recipes use flour, but the breadcrumbs give the fritters a crisp texture, rather than the traditional fluffy pancake texture. For a gluten-free alternative, almond meal also works well.
We often like to 'load' our fritters with a dollop of sour cream and some fresh toppings like chopped avocado, chopped fresh tomato, fresh coriander and for me – I like things a little fiery – some jalapeno peppers.
Zucchini and Sweet Potato Fritters
Ingredients
3 medium zucchini, grated
2 small sweet potato, grated
2 small green onions (shallots), finely chopped
2 small garlic cloves, crushed
1 tsp. herbs according to taste (we like thyme or oregano or mixed herbs)
1/4 cup fresh Parmesan cheese, grated
1 egg
1/4 cup of breadcrumbs
olive oil, for frying
Instructions
Heat oil in fry pan over medium-hot heat.
Squeeze the extra liquid out of the grated zucchini and sweet potato and place in a bowl.
Add all other ingredients and mix well to combine.
Place spoonfuls of the mixture into the hot pan and fry on each side until golden.
Serve hot with your favourite toppings.
More zucchini recipes: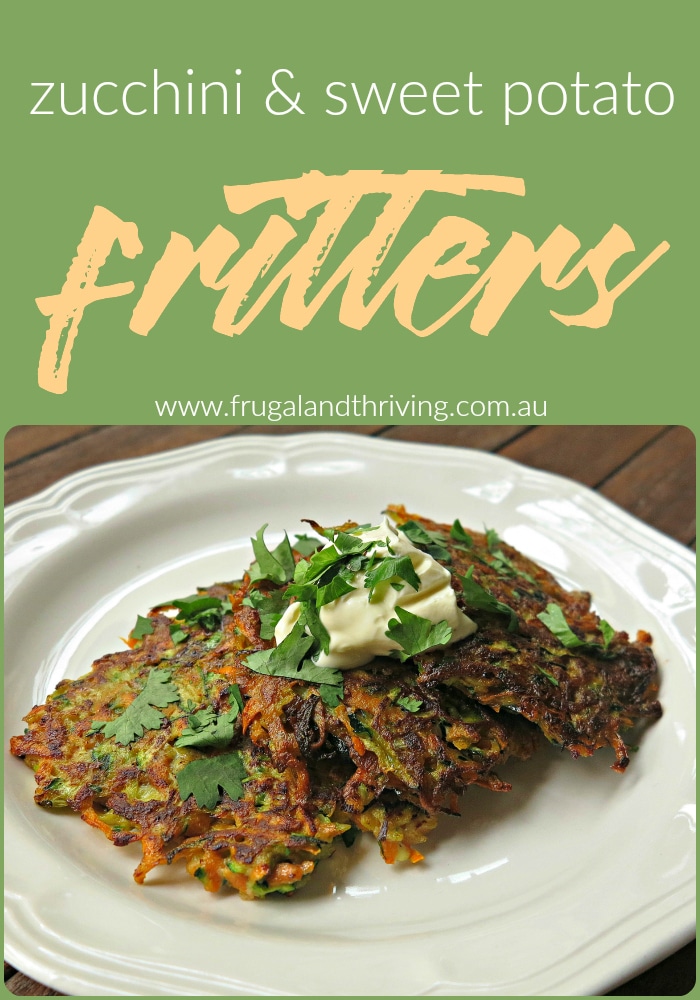 Melissa Goodwin is a writer and the creator of Frugal and Thriving who has a passion for living frugally and encouraging people to thrive on any budget. The blog is nine years old and is almost like her eldest baby. Prior to being a blogger and mum (but not a mummy blogger), she worked as an accountant doing other people's budgets, books and tax.