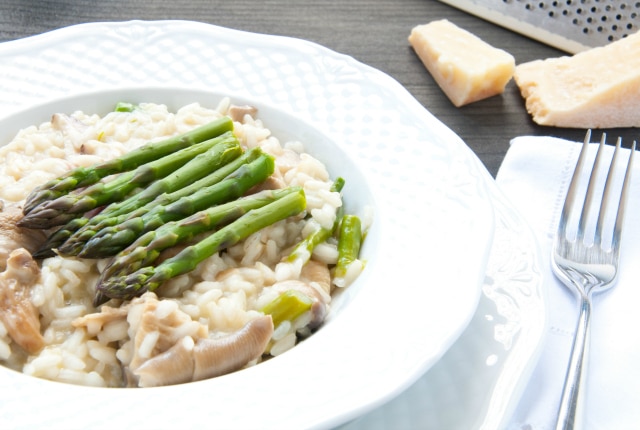 Another risotto dish, another asparagus dish. Cheap and tasty. Leave out the chicken to make this a vegetarian dish. I love asparagus season and try to cook with it as much as possible while it's fresh and cheap.
Ingredients
1 bunch of fresh asparagus, cut into bite-sized pieces
1 chicken breast, sliced (leave out for a vegetarian version)
a handful of mushrooms (optional)
1/2 onion, finely diced
1 clove of garlic, minced
3/4 cup rice
zest and juice from 1/2 lemon
500mls warmed chicken or vegetable stock
drizzle of cream (optional)
1/2 cup parmesan, grated
Method
Steam asparagus until just tender. Set aside.
Brown chicken in batches over high heat until just cooked through. Set aside with asparagus.
Heat a little olive oil or butter in a saucepan and sauté onion over medium heat until translucent. Add garlic and cook for a further minute. Stir in rice so that it is coated with the oil.
Stir in lemon zest and juice until absorbed. Add the stock, a ladle at a time and stir through until absorbed. Continue to do this until the rice is al dente or cooked to your liking. You may need more or less stock.
Add the cream if using and stir in the parmesan cheese. Season to taste, then gently stir in the chicken and asparagus before serving. Serves 2-3.
Melissa Goodwin is a writer and the creator of Frugal and Thriving who has a passion for living frugally and encouraging people to thrive on any budget. The blog is nine years old and is almost like her eldest baby. Prior to being a blogger and mum (but not a mummy blogger), she worked as an accountant doing other people's budgets, books and tax.