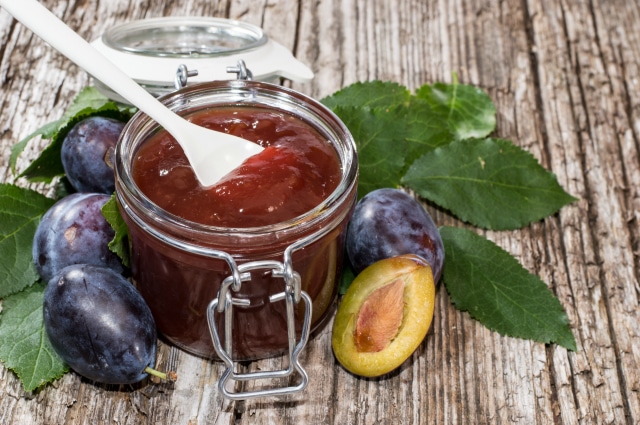 The thing about being an urban homesteader is that you probably don't have room to grow a lot of your own food.
That's certainly the case for us, living in a small townhouse with a small, south-facing courtyard.
But even though we may not be growing and picking our own abundant harvest, that doesn't mean we can't preserve it.
Plums are in season at the moment, and they are very inexpensive, either at the greengrocer (where I picked up a 1 kg bag for $2.50) or at the local farmer's market.
If you're lucky, you might know someone with a plum tree. Or you could use this new site to find people selling, sharing, bartering or giving away their homegrown produce.
Today's recipes is a basic plum jam. You could add spices by placing them in a square of muslin and boiling them with the jam. I plan to make a plum, rhubarb and vanilla jam later in the week (note: I made this, it was absolutely delicious!), using pretty much the same recipe as below, just stirring in the vanilla (extract – the bean is a bit beyond our current budget) at the last minute.
I've seen recipes that have equal weights of plums and sugar, but that's way too sweet for my tastes. So I've halved the sugar amount (I use raw sugar, by the way, and the jam turns out fine). You can always taste the jam as it's cooking and if it's too tart, add in more sugar.
Basic Plum Jam
Ingredients
1 kg plums, stoned and quartered (weight after stoned)
1/2 cup water
500g sugar (more or less to taste)
2 Tbsp. lemon juice
Method
Simmer the plums and water in a large pot for about 20 – 30 minutes or until they are soft and starting to break down.
Add the sugar and lemon and stir until dissolved. Bring to the boil and then simmer until set, skimming off any scum.
Ladle jam into hot, sterilised jars, leaving a little bit of head room, and seal well while hot.
Process jam in a water bath (you can find instructions here)
Tips
To Test the Set of the Jam:
Place a small plate in the freezer before starting your jam. As the jam begins to thicken, place a tiny amount on the saucer and then let it sit for a minute or so. Push your fingernail or spoon through the jam, it should wrinkle a little. A clean line should remain where you've pushed your finger or spoon through the jam. If so, it's set. If not, put the plate back in the freezer and continue to simmer the jam for another 2 minutes or so and then test again.
To Sterilise Jars:
Wash your jars and lids in HOT soapy water and rinse well. Place the jars on a tray in an oven set at 130°C until dry. Place lids in boiling water. Pour hot jam into hot jars and seal immediately.
You can use pectin instead of lemon juice to help set the jam – this will change the flavour of the jam slightly. Alternatively, you can break open the plum stones and place the pips inside in a muslin bag and simmer in the jam to help it set.
Processing:
Food safety standards recommend all home preserves be processed properly. High acidic foods like jam can be processed in a water bath. You can find instructions on how to do that here. For processing times and more information, check out the USDA website.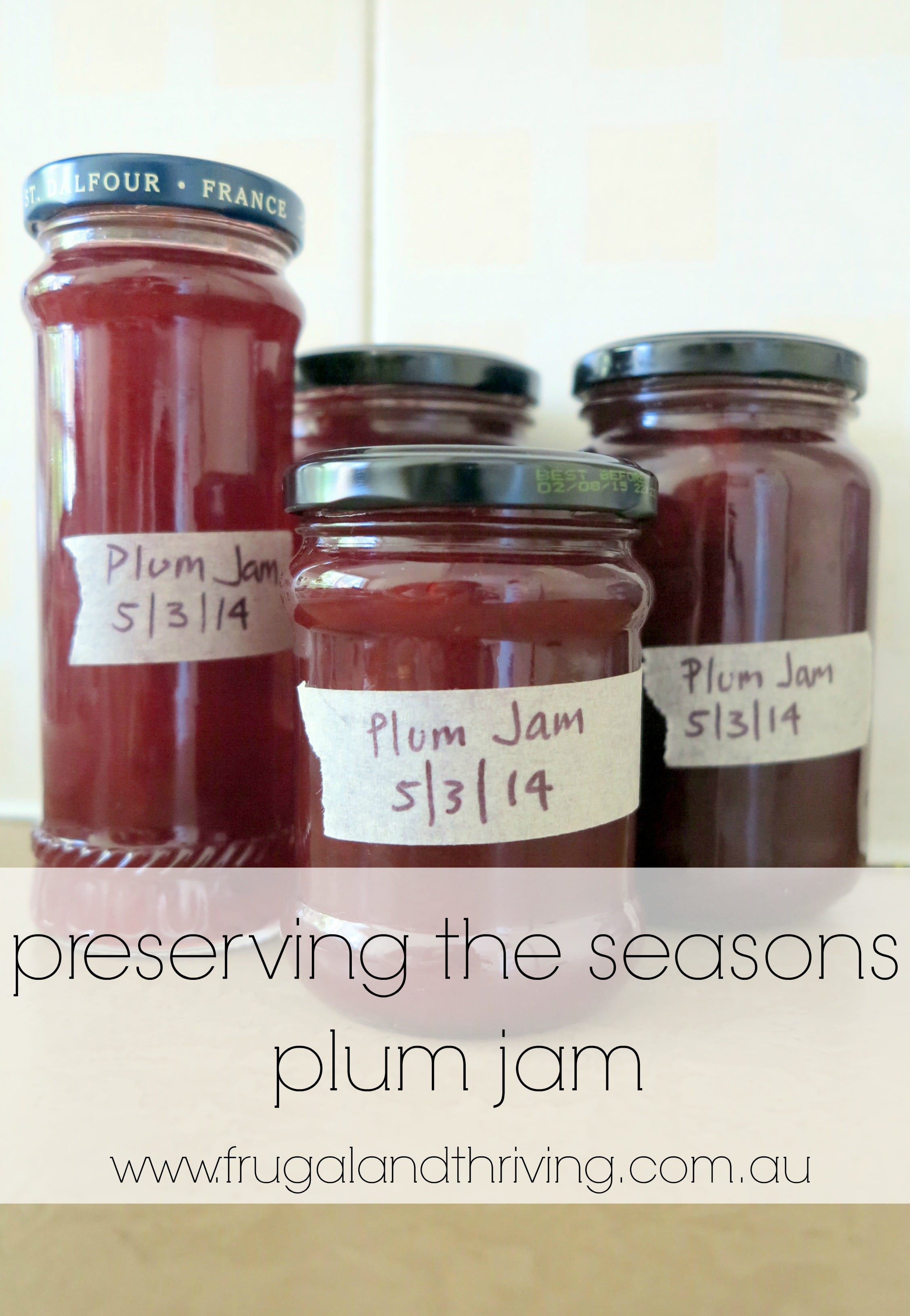 Melissa Goodwin is a writer and the creator of Frugal and Thriving who has a passion for living frugally and encouraging people to thrive on any budget. The blog is nine years old and is almost like her eldest baby. Prior to being a blogger and mum (but not a mummy blogger), she worked as an accountant doing other people's budgets, books and tax.