Make a useful gift with these free bag making tutorials.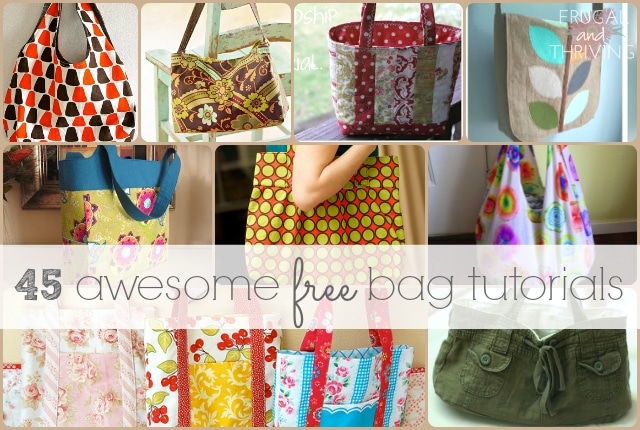 Bags are a great project for a beginner sewer. The patterns are usually easier than, say, clothing and you don't have to worry so much about getting the fit right. They are also super useful and make a great gift!
Are you a beginner sewer or even an intermediate sewer looking to take your sewing to the next level? Check out this article on learning new skills for a great resource that will fast-track your learning.
Please note: Some authors ask that you don't use their patterns and tutorials to make bags for commercial purposes, so check out their site for copyright details.

45 Awesome Bag Tutorials
Sew your own gorgeous bags using one of these free tutorials
Looking for more free bag making tutorials? Check out the companion article here. This will give you nearly 100 to choose from!
Melissa Goodwin is a writer and the creator of Frugal and Thriving who has a passion for living frugally and encouraging people to thrive on any budget. The blog is nine years old and is almost like her eldest baby. Prior to being a blogger and mum (but not a mummy blogger), she worked as an accountant doing other people's budgets, books and tax.