40 Frugal and Easy Handmade Father's Day Gifts From Kids
This website may earn commissions from purchases made through links in this post.
Frugal and easy handmade gifts Father's Day gifts from kids that they can make themselves or with a little help from an adult.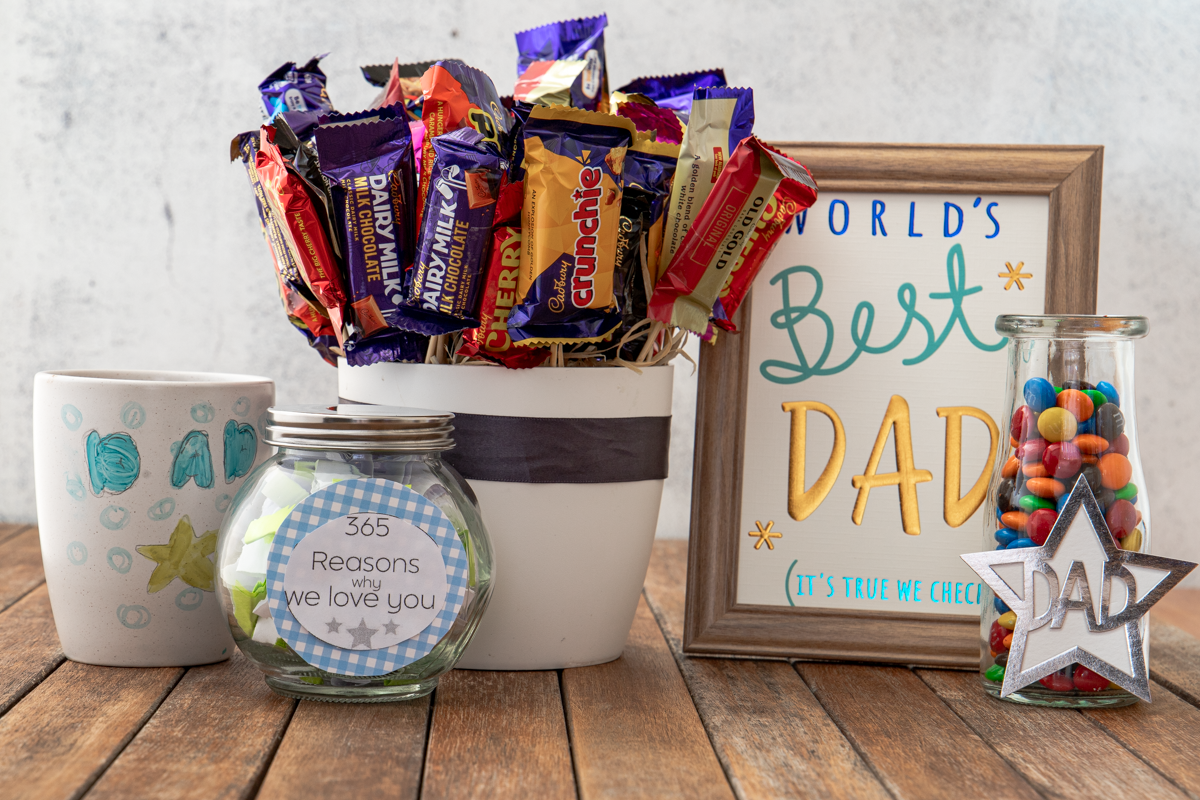 Father's Day is just around the corner, and what better way to make dad (or a significant carer) feel special than the kids giving him a heartfelt gift they made themselves?
Not only are DIY gifts more personal and meaningful, but they also show dad that you put in the time and effort to create something special just for him.
Handmade gifts:
are special and something to be treasured, especially as the kids get older
reduce or eliminate consumerism while still celebrating dad and having fun
are fun for kids to make – they love to see dad open their handmade gift
can be better for the environment, depending on what you make
If you're looking for frugal and easy ideas that kids can make, look no further!
I have compiled a list of 40 fantastic Father's Day gifts that are not only budget-friendly but also simple enough for little ones to make themselves or with a little help from an adult.
These gifts range from personalised photo frames and hand-painted mugs and plates to custom-made coupons, lots of food treats, and other Father's Day crafts for kids. Whether your child is into crafts or simply loves spending time with dad, the following are some of the best ideas on the net for kids to make for dad.
Pictured above are some of the ideas our kids have made themselves. My kids are a bit older – younger children might need some help. The framed quote is a Father's Day card in an inexpensive frame. My daughter made the '365 days' label using Canva (free). The star that is stuck to the M&Ms bottle was recycled from an old Father's Day card.
When Is Father's Day In Australia?
While many countries celebrate Father's Day in June, Father's Day is celebrated in Australia on the first Sunday in September each year.
In 2023, it falls on Sunday, the 3rd of September.
How to Make Father's Day Special on a Budget
You don't need to break the bank to make dad feel special on Father's Day. Here are some frugal ideas for Father's Day on a budget:
Cook dad a special breakfast or his favourite dinner
Plan some fun activities like a picnic, hike, or a game in the park
Write dad a heartfelt message
Spend quality time with dad doing what he likes to do
How to Save Money on Your Father's Day Gift
Homemade gifts are a great way to save money on Father's Day and give dad something that will hold sentimental value for many years to come.
You can keep costs low by scouring second-hand stores for items to upcycle and checking out discount stores for low-cost craft and food items to jazz up your thrift finds for a gift dad will love.
Before you hit the thrift stores, check out the ideas below for inspiration.
For more Father's Day gift ideas, check out: