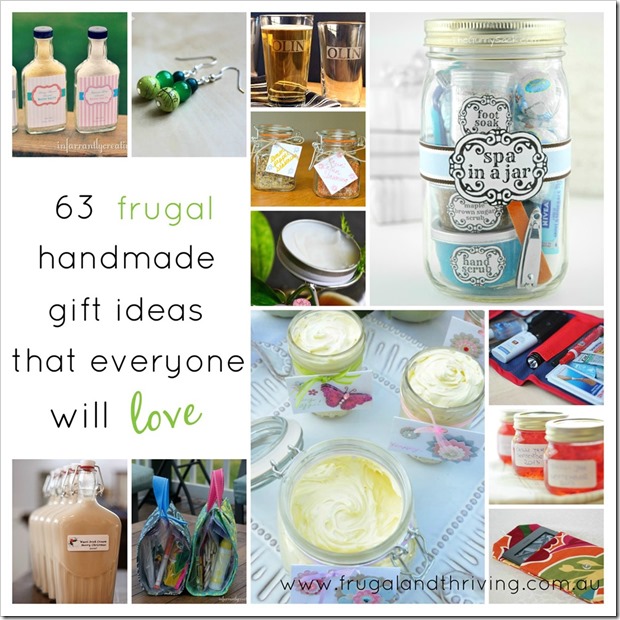 You may have already started making your Christmas gifts, but if not, it's time to get your Christmas crafting on.
I've gathered just a few frugal DIY gift ideas from around the web. Make the gifts exactly as they are in each tutorial, or use them as a springboard for creating your own unique DIY gifts.
For instance, the DIY spice mixes may give you a great idea for a hamper, but you might create your own mixes, using the spices you already have in the pantry. Or you might make a bath salt blend using the essential oils you have on hand.
Combining different frugal gift ideas into one hamper is a nice way to make a substantial yet still frugal gift.
Buying a whole heap of materials for handmade gifts can add up. To reduce the cost of making gifts recycle containers and glass jars, use up scraps of material from other projects, make the most of items you have around the house and scour second-hand stores and discount stores for appropriate supplies. This post on saving money when crafting has further ideas on how to make wonderful presents without spending a fortune on materials.
Food Gifts
Food gifts are always useful. They are particularly nice if you package a few items up into a hamper. If you've got a pantry full of preserves that you've made during the year, then homemade food hampers are super quick and easy and very inexpensive.
For more inspiration see:
Bath and Body
For more inspiration see:
Homewares
For more inspiration see:
Accessories
For more inspiration see:
For men
For more inspiration see:
For the young ones
For more inspiration see:
Are you making Christmas gifts this year? I'd love to hear about what you're making in the comments below.