Easy DIY Tea Hamper for Under $30 – Great Gift for Tea Lovers
This website may earn commissions from purchases made through links in this post.
Do you have a tea lover in your life? Give them a frugal DIY tea hamper full of things they will love. A DIY hamper is a practical and inexpensive gift.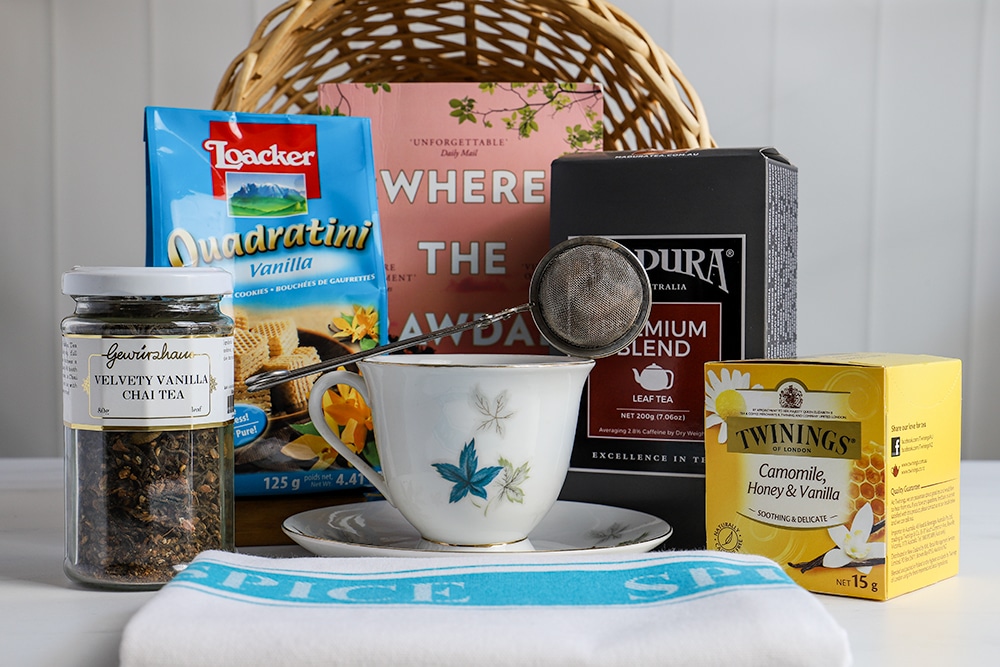 Are you looking for a frugal gift for someone who likes their cuppa? A tea hamper, full of their favourite teas, might just be the perfect gift for them.
Add in a vintage second-hand cup and a good book or magazine and you've got the making of a relaxing afternoon tea.
What's more, you can put together a tea gift hamper from items you pick up on sale at the supermarket and op-shop finds, making this a frugal gift.
Giving a thoughtful and well received gift doesn't have to be expensive when you make up a hamper of items your recipient will love.
What to Put in Your Tea Gift Basket
Below are some ideas for what to put in your tea gift basket. You don't need to put all of them in, consider what your recipient would like and use.
The supermarket has many different varieties of teas and you can get them on sale, saving you money. But you can also check out speciality tea stores like T2.
A nice touch is a special teacup. You can pick a vintage cup up cheaply from an op-shop. Mine cost AU$2.50. I did find that some 'vintage' cups in the op-shops were selling for AU$15 – exactly the same price as brand new ones at Myer. So If your budget is a little higher, you can pick up a new cup if you prefer.
A tea ball is great for single cup leaf tea and you can pick one up for a couple of dollars at the supermarket, discount store or kitchenware store.
A good novel can be either bought cheaply from second-hand bookstores or from discount stores like Big W for between AU$5 and AU$16.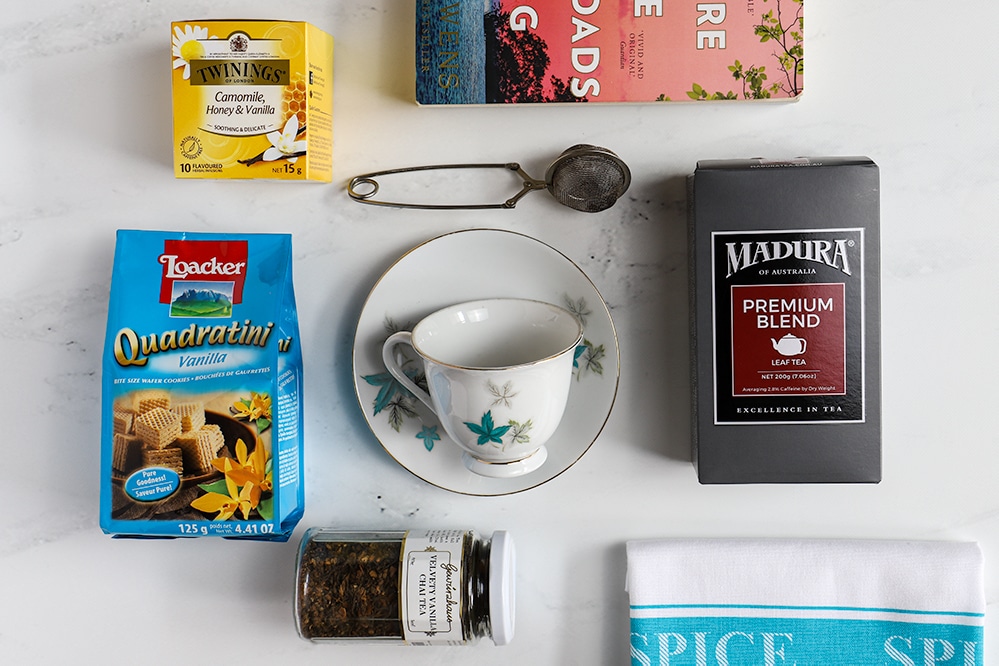 Here are some ideas for a tea hamper:
A variety of teas
A special teacup
A tea leaf ball
Small teapot
Biscuits (cookies) or homemade shortbread
A tea towel (you can DIY your tea towels from discount or second-hand fabric)
A book or magazine
Fluffy socks
A tea cake
Ice tea mix
A notebook and pen
A printable tea quote in a second-hand frame
Saving Money on Your Tea Hamper
Save money on items for your tea hamper by keeping an eye out for sale items at the grocery store and discount stores.
A gift stash can save you heaps. Here's more information on how to create a gift stash.
Another way to save money on a hamper is to look for second-hand items to go into it. A second-hand teacup or a teapot are two examples.
Second-hand gifts don't have to be tacky. Here are 15 second-hand gift ideas that people will love.
A third way to save money on tea hamper items is to strategically re-gift things you've been given but won't use.
I say strategically because you need to keep two things in mind when regifting.
The first is to not re-gift to the person who gave you the gift in the first place. That would be awkward.
The second is that you don't want to be the person who gives unwanted gifts. So match the gift to the person and give it to someone you know will like and use it.
The chai tea I have in the photo isn't so frugal to buy but as a re-gift it is. I know someone who will appreciate it much more than I will. It's a win-win situation – someone gets a lovely present they will enjoy and good tea doesn't go to waste.
Presenting Your Gift Hamper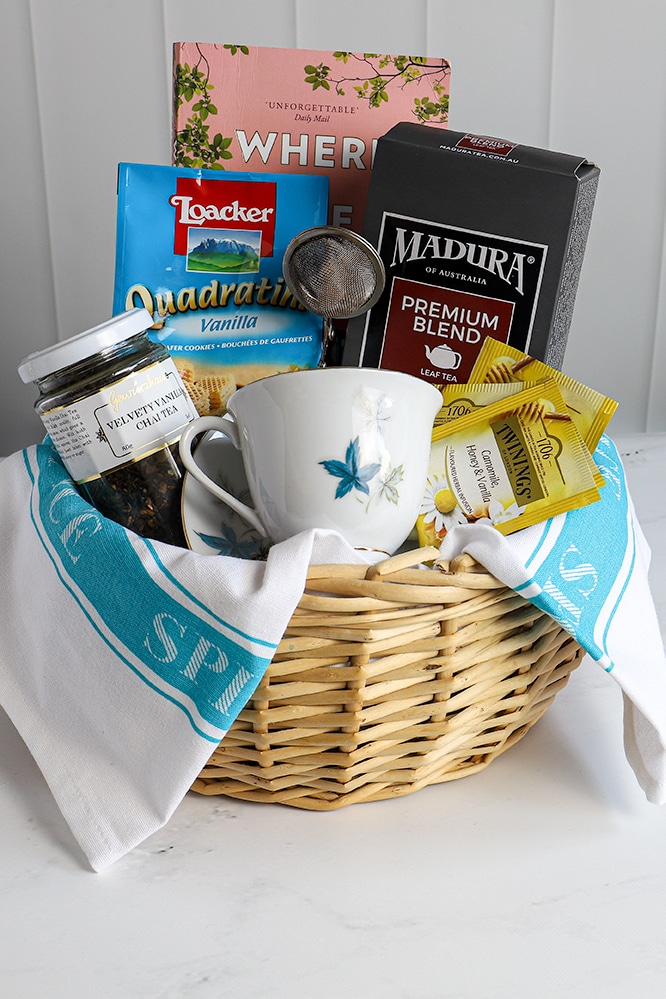 You can wrap your tea hamper in a variety of containers. A few suggestions include:
a basket
a gift bag
a gift box
an old shoebox that has been prettied up with paper
a small wooden crate
a serving tray
a storage container
a tote bag or handbag
The best place to find baskets, bags and boxes inexpensively is a second-hand store. The basket pictured above was a couple of dollars from the op-shop.
For more tips on wrapping your gift hamper, check out the article: How to Make a Personalised Gift Hamper for any Occasion.
Great gifts don't have to cost a fortune. A DIY tea hamper is the perfect frugal gift for the tea lover in your life because you can personalise it to be full of things you know they will love.
For more hamper ideas, check out Easy DIY Gift Basket Ideas for Under $40.
You might also like: