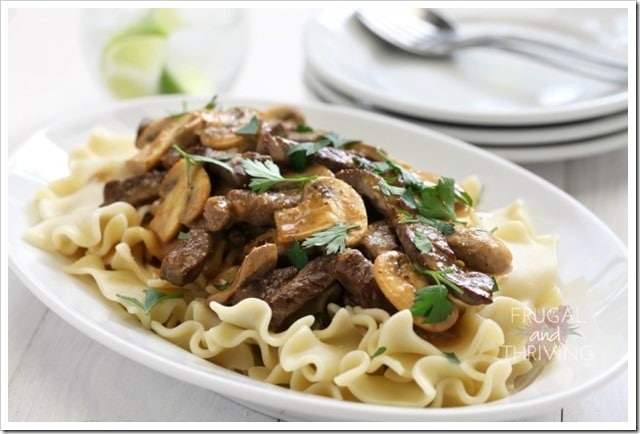 Proper stroganoff doesn't come from a packet. Take the time to make this dish from scratch and you won't regret it! It's an incredible dish and packet mixes don't do it justice.
Having said that, it's not much more work to make this delicious dish from scratch, but you do need to have a few basic ingredients on hand. A well-stocked pantry is key to being able to whip this dish up at the last minute.
We tend to eat kangaroo more than beef these days. It's a more sustainable meat and it's supposed to be very high in iron. And beef and my digestion aren't the greatest of friends. You can use chicken instead of red meat if you prefer.
To save time, double this dish and freeze for later. Just remember to put aside what you want to freeze before you add the sour cream, as it doesn't freeze as well. Reheat the defrosted stroganoff, stir in some sour cream and fresh parsley and you've got a home cooked meal in minutes.
Traditional Beef Stroganoff
Ingredients
500g beef cut into strips
1/4 cup of plain flour
salt and pepper
olive oil
1 small onion, sliced
300g mushrooms, sliced
a splash or two of dry white wine (optional)
2 tsp. paprika
2 tsp. tomato paste
1 tsp. Dijon mustard
1/4 cup stock (chicken, beef or vegetable)
2 Tbsp. sour cream
1 Tbsp. chopped fresh parsley
Instructions
Toss beef strips with flour, salt and pepper.
Heat oil to medium hot and brown the beef in small batches. Remove from pan.
Add a little more oil and cook the onion for a couple of minutes until soft. Add the mushrooms and cook for another minute or two.
Add the wine if using and scrape up any flour from the bottom of the pan. Alternately, use a little stock instead.
Add paprika, tomato paste, mustard and stock and simmer for one minute.
Return the meat and the juices to the pan and simmer while the pasta cooks or until beef is cooked through. Turn off the heat and add the sour cream and parsley and stir until just heated through.
Serve on rice or pasta.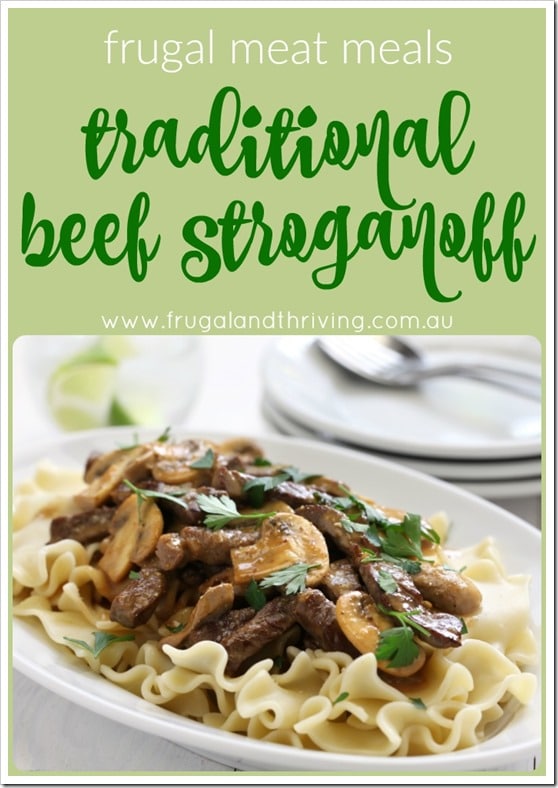 Melissa Goodwin is a writer and the creator of Frugal and Thriving who has a passion for living frugally and encouraging people to thrive on any budget. The blog is nine years old and is almost like her eldest baby. Prior to being a blogger and mum (but not a mummy blogger), she worked as an accountant doing other people's budgets, books and tax.