Creamy Rosemary Mushroom Sauce (For Toast, Steak, Chicken or Pasta)
This website may earn commissions from purchases made through links in this post.
A delicious vegetarian rosemary mushroom sauce packed full of umami flavour thanks to a special, tongue-twisting ingredient. Eat on toast, meat, or pasta.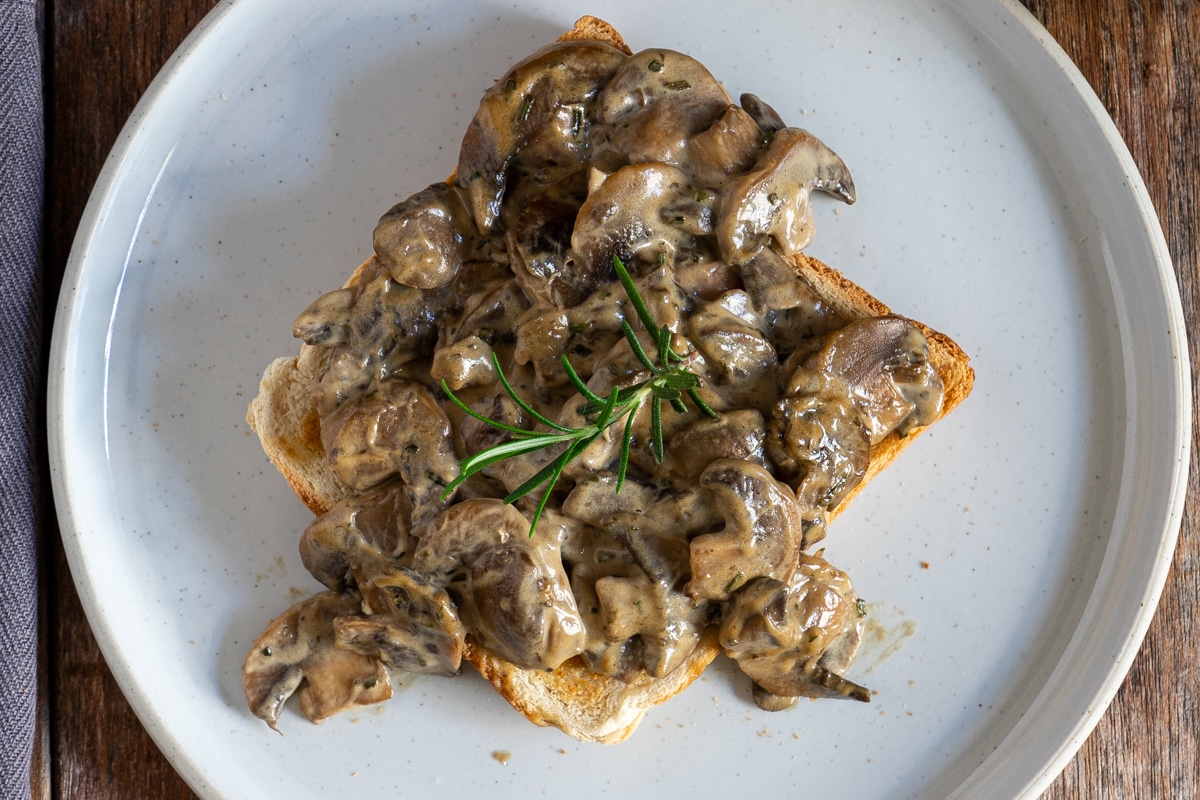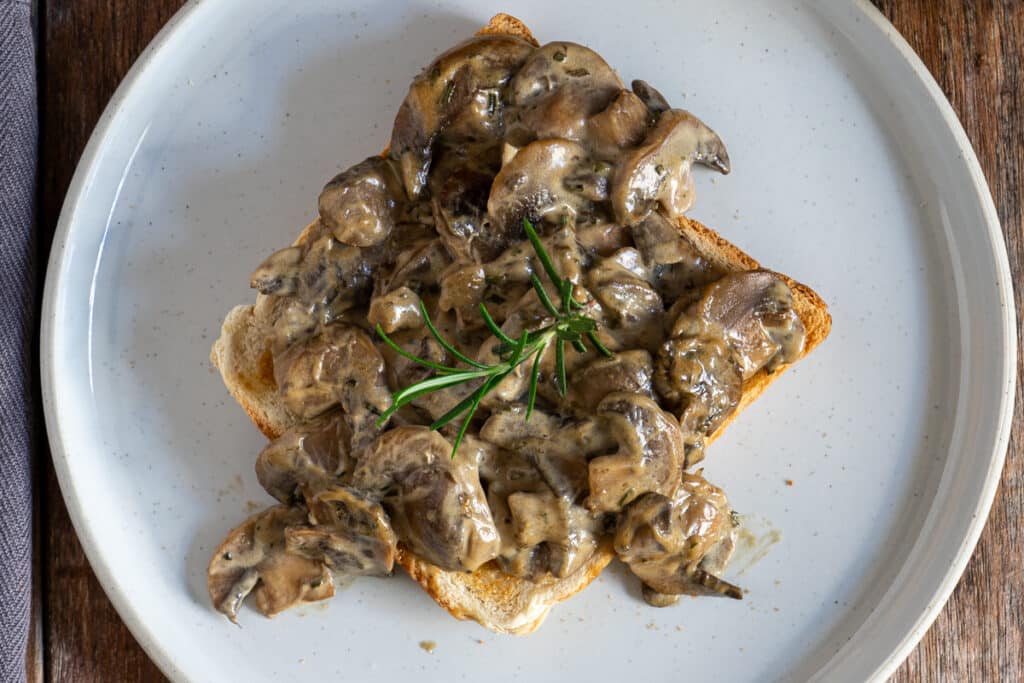 I started cooking this recipe when I was a uni student on a tight budget that didn't stretch to include meat.
While not the cheapest vegetable in the market (fungi, but you know what I mean), mushrooms do make a tasty and more economical substitute for meat.
The original recipe from an old book included white wine, but wine was also beyond my budget, so I left it out and have been cooking it without wine since.
The recipe is not only tasty and easy to make, but it's also super versatile. I share the different ways to serve it below.
Ingredients and Cost
Starting with a base of fried mushrooms and rosemary, this recipe builds flavour by adding Dijon mustard and Worcestershire sauce, then finishing it with sour cream for creaminess with a hint of tang.
While mushrooms have plenty of umami flavour on their own, Worcestershire sauce takes this dish to another level. However you pronounce it, it adds a depth of flavour that transforms the dish.
The cost per serve for this dish on toast is $2.46 and to buy all the ingredients from scratch is around $18.35 Australian (August 2022) with leftover mustard, bread, Worcestershire, and sour cream. Prices will fluctuate depending on the season and the cost of the mushrooms.
This cost also includes dried rosemary, but if you grow rosemary (an easy herb to grow), the cost of the rosemary is practically zero.
How to Serve this Sauce
This sauce makes a great vegetarian meal on its own, served on some toast, crusty bread, mashed potato, or soft or grilled polenta.
It's also great on top of steak, chops, roast chicken thighs, and chicken breast. You can even wrap them in a crepe for a very retro meal.
We sometimes do a combined chicken and vegetable tray bake, but instead of marinating the chicken in pesto or other rubs, we cook it naked and top it with this mushroom sauce.
You can also turn this into a pasta sauce; see how below.
How to Turn Mushroom Rosemary Sauce into a Sauce for Pasta
Turn this into a pasta sauce by making it, well, saucier.
You have two options here. One involves white wine; one doesn't.
If you want to use white wine, add about half a cup when you add the Dijon mustard and Worcestershire sauce. Stir it and let it simmer for a couple of minutes to reduce slightly, concentrating the flavour.
Then add in about one cup of cream. Stir until warmed through, then add your cooked pasta and toss to combine. Serve with a grating of parmesan cheese and a good grind of fresh black pepper if you like.
For the non-wine version, add one to one and a half cups of cream when you add the mustard and Worcestershire. Simmer on low for a few minutes to thicken slightly. Taste and add a splash more Worcestershire if your taste buds say it needs it.
Making Ahead, Storing, Reheating
This sauce can be made ahead and stored in the fridge for up to two days. Transfer to an airtight container and let cool slightly before storing in the refrigerator.
Reheat very gently, so the sour cream doesn't split.
This sauce does not freeze well.
Using Up the Leftovers
Leftover mushroom sauce can be eaten in any of the ways listed above – I love it on toast.
Use leftover sour cream in baking instead of milk, as in these berry muffins. Other ideas include:
To use up leftover mushrooms, you can add them to:
The mustard and Worcestershire last for ages in the fridge or pantry and can be used to flavour a wide variety of dishes.
Yield: 4 serves
Creamy Rosemary Mushroom Sauce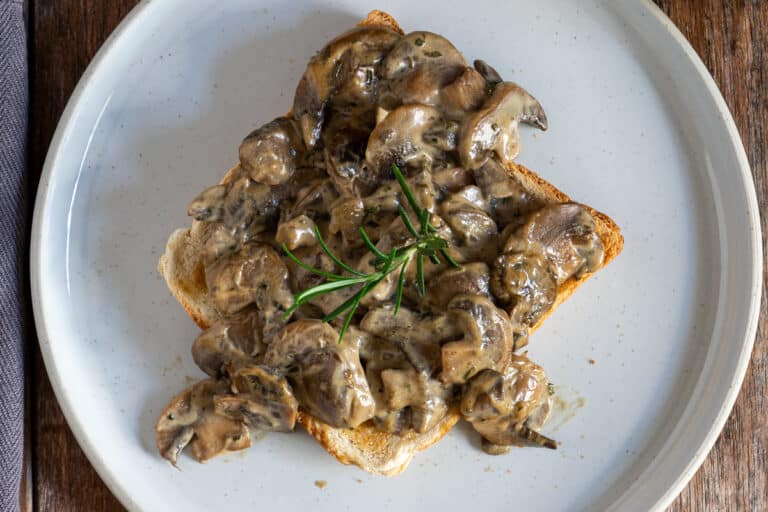 Ingredients
500g white or button mushrooms, sliced
1 Tbsp. chopped fresh rosemary*
1/2 cup (120g) sour cream
2 tsp. Worcestershire sauce
2 tsp. dijon mustard
drizzle of oil for cooking
Instructions
Heat a little oil in a frying pan over medium-high heat.
Cook mushrooms and rosemary, stirring, for a few minutes until softened.
Remove from the heat and stir in the sour cream, dijon, and Worcestershire sauce.
Turn the heat to low, and heat for one minute until warmed through. The sour cream can split if the heat is too high.
To turn into pasta sauce, leave out the sour cream and stir in 1 to 1 1/2 cups of cream with the Dijon and Worcestershire. Heat on low to warm through and thicken slightly. You can also add 1/2 cup of white wine when adding the mustard and Worcestershire, cook to reduce slightly, and then add the cream.
Notes
* Substitute 1 teaspoon of dried rosemary for 1 tablespoon of fresh.
Nutrition Information:
Yield:
4
Serving Size:
1
Amount Per Serving:
Calories:

83
Total Fat:

6g
Saturated Fat:

1g
Trans Fat:

0g
Unsaturated Fat:

4g
Cholesterol:

4mg
Sodium:

99mg
Carbohydrates:

8g
Fiber:

3g
Sugar:

3g
Protein:

3g
Nutritional information is calculated automatically using the Nutritionix database. Nutrition information can vary for a recipe based on factors such as precision of measurements, brands, ingredient freshness, serving size or the source of nutrition data. We strive to keep the information as accurate as possible but make no warranties regarding its accuracy. We encourage readers to make their own calculations based on the actual ingredients used in your recipe, using your preferred nutrition calculator.