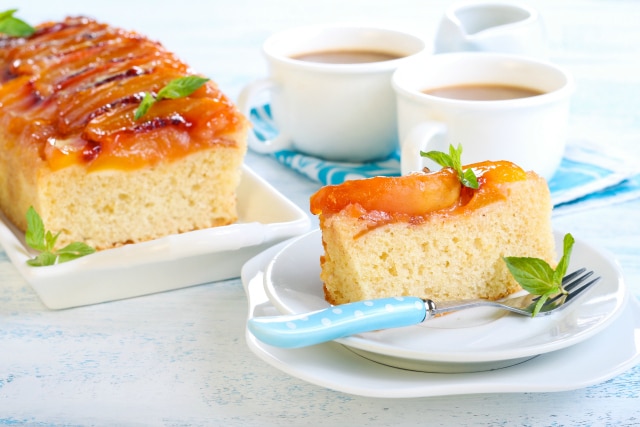 This scrummy cake is a little different to the usual butter cake with icing. Use fresh peaches if they are available, or tinned. If you're using tinned, keep the syrup to add to the cake.
I created this cake by taking a basic vanilla cake recipe, making some adjustments, and incorporating some ideas from a few other recipes.
I've always read that you have to be precise when baking, but I haven't found this to be the case yet. If the mix doesn't seem right, I add a little extra moisture or a little extra flour.
Caramel Peach Upside Down Cake
Ingredients
125g butter
3/4 cup sugar
1 tsp. vanilla
2 eggs, lightly beaten
2 cups self-raising flour/ sifted
1/2 cup milk (substitute part of the milk with the syrup from the tinned peaches if using)
2 – 3 peaches, peeled and sliced or a tin of peaches, drained
50g butter, melted
1/3 cup brown sugar
Method
Preheat oven to 180°C. Grease and line a cake tin.
Beat butter and sugar until creamed. Add vanilla and eggs and beat until well combined.
Add the milk and self-raising flour a bit at a time, alternating between the two, mixing well until all combined.
Alternatively, throw everything in the mix master or food processor and give it a wiz.
Pour the melted butter over the base of the cake tin and sprinkle the brown sugar evenly over the top. Line the tin with the peach slices.
Top the peach with the cake batter and bake for approximately 45 minutes or until a skewer comes out clean.
Leave to cool completely in the tin so that the caramel sets otherwise it runs everywhere.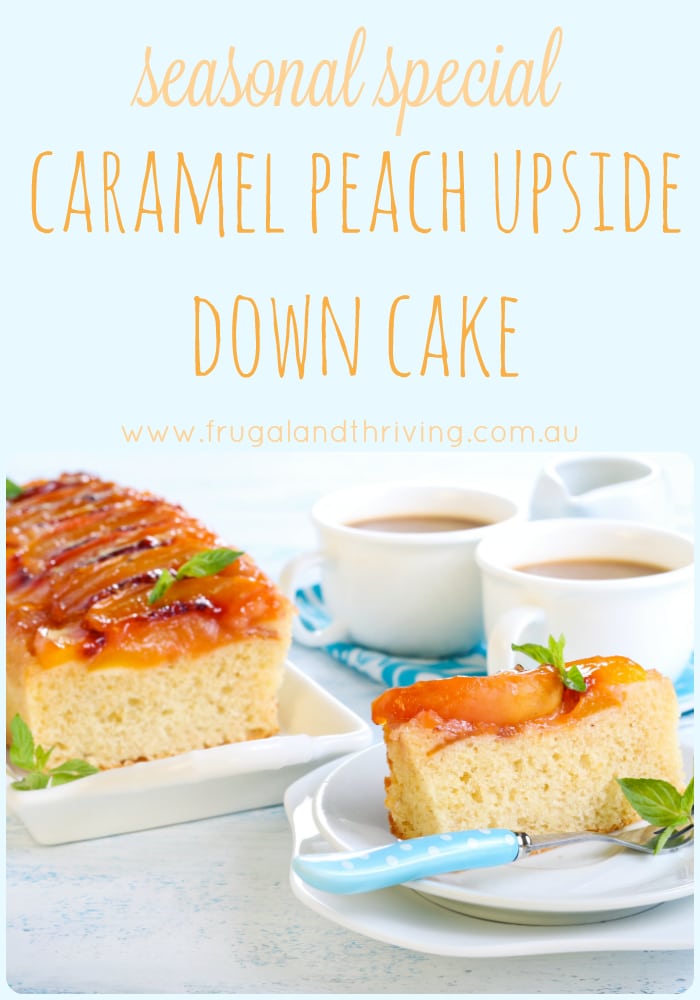 Melissa Goodwin is a writer and the creator of Frugal and Thriving who has a passion for living frugally and encouraging people to thrive on any budget. The blog is nine years old and is almost like her eldest baby. Prior to being a blogger and mum (but not a mummy blogger), she worked as an accountant doing other people's budgets, books and tax.