Eat More Vegetables: 8 Ways to *Easily* Swap Grains with Vegetables
This website may earn commissions from purchases made through links in this post.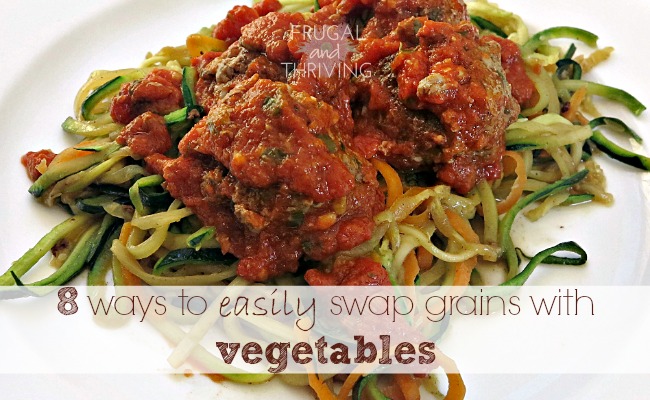 Grains, particularly wheat flour, are the predominant food staple in the western diet. Toast for breakfast, bickies for morning tea, a sandwich for lunch, pasta for dinner…but now we're told to make vegetables the centre of our diet.
If we're eating 6 serves of grains a day, where are we going to find room for seven serves of vegetables?
Not all of us do so well on grains. For myself, a bowl of pasta will see me doubled up in pain and soon after, fast asleep. Bread has a similar affect. I still eat it sometimes (ah, fresh French stick with butter….), but I'm better off if I don't.
Vegetables have the benefit not only of extra nutrients but they also don't leave those of us who get sick on grains feeling terrible. Quite the opposite.
The question is, what's going to have for lunch if not a simple sandwich?
While grains might be losing their dominance over the food pyramid, old habits die hard. A sandwich is quick, easy and what we know.
While there are lots of ways to eat more vegetables, here are 8 ways to take the old grain standbys we know and love and swap them out with easy vegetable substitutes.
1. Cauliflower 'rice' for Rice or Cous Cous
Cauliflower rice is really easy to make and surprisingly tasty (well, I love cauliflower, but I'm surprised my kids eat it).
Simply blitz it in the food processor for a few seconds, and sauté in a pan with a little coconut oil until tender to your liking. Season with a little salt and pepper and serve instead of rice or couscous. It's also nice with some butter.
I blitz a whole lot at once and keep in the fridge, ready for when I need it. Saves time and washing up.
I made my easy fried rice with cauliflower and you could hardly tell the difference. I've also served plain fried cauliflower rice as a side to butter chicken and curry without too much complaint.
But my favourite way to eat it is in homemade sushi.
Fry your cauliflower as usual. To make cauliflower rice sticky enough for sushi, stir it through some mashed avocado. Add your favourite toppings and roll.
(Tip: if the avocados are too expensive, use cream cheese to mix through the cauliflower or brown rice if you prefer).
Iodine deficiency is quite high in Australia – a regular dose of seaweed (like nori) along with fish goes a long way to topping up your iodine levels. Some homemade cauliflower sushi, with plenty of vegetables, avocado and fish, makes a healthy, veggie-packed lunch.
If cauliflower is expensive, then you can make broccoli 'rice' the same way, or a mixture of both. Broccoli rice sushi is delicious.
2. Lettuce wraps for Bread Wraps
Large Cos/Romaine lettuce leaves can be substituted for bread when making a wrap.
We all know we're supposed to eat plenty of 'dark, leafy greens', Cos lettuce, which is more nutritious than the old standby Iceberg lettuce, counts as a dark leafy green.
Any of your favourite wrap fillings can go in a lettuce wrap, but my particular favourite is a burger with 'the lot' on a lettuce wrap.
3. Vegetable Noodles for Pasta
My kids are very much normal, everyday kids who don't like zucchinis (or any vegetable really), but will slurp up a whole plateful of zucchini noodles. I received one of these awesome little Spiral Slicers* for Christmas and making vegetable noodles is now super quick and easy.
To cook, simply boil or steam for a minute or two or better yet, sauté the noodles in a little oil or butter until cooked to your liking.
Any firm vegetable can be made into noodles: zucchini, parsnip, carrot, sweet potato (like gnocchi but as noodles and without all the fuss).
For a simple lunch toss through some pesto. For a meal, serve with meatballs and tomato sauce (pictured above), top with your favourite pasta sauce, serve as a side or any other way you would use pasta.
4. Flat mushrooms for Burger Buns
Technically not a vegetable but close enough, mushrooms are a nutritional powerhouse and for this reason, are considered a 'superfood'. They are a good dietary source of Vitamin D, as well as a whole host of other nutrients and minerals and they help boost your immune system.
Flat mushrooms can be grilled, roasted, barbequed or fried to replace the bread buns in burgers (meat or vegetarian).
5. Vegetable Fritters / Hash Browns for Toast
A good fried egg for breakfast can feel lonely and be lacking without a piece of toast underneath it. Fritters or hash browns are a satisfying substitute for toast.
Hash browns or rostis are quick and simple to make: grate a potato, squeeze out the excess moisture, stir through a little melted butter or oil and fry in a pan until golden on both sides. You can use sweet potato instead of white.
Vegetable fritters are similar but may need a little starch and/or egg to bind. If you're going completely grain-free, try some tapioca flour or almond meal to help bind the fritters.
6. Crudités for Crackers
Carrot, snow peas, capsicum, celery… these little vegetable batons are a healthy alternative to crackers when eating dips, pate and cheese.
Pre-cut your batons and place them in a container of water in the fridge for quick and easy access. Aside from dipping, these crudités can also be placed on your homemade sushi.
7. Homemade potato chips for corn chips
Finely slice some potatoes or sweet potatoes (a mandolin works wonders here), dry well and toss in a little coconut oil and seasoning and then bake at 150°C for 10 minutes or so each side until golden (watch that they don't burn).
Of course, you can eat these just as they are. Healthier than store bought chips and just the trick when you're wanting some carb-laden comfort food.
Or you could use the cold crisp chips instead of corn chips under nachos. Vegetarian nachos really pack a veggie punch. Eating cooled potatoes will also put back into your diet some resistant starch – this may be a good thing.
8. Beans or chickpeas for flour…in cake
If you're following a strict Paleo diet, then beans and chickpeas are off the menu, but for the rest of us, they are a great way to sneak in more vegetables and reduce flour intake.
Who would have thought you could make a delicious chocolate dessert with chickpeas? If you're not convinced, check out my flourless chickpea brownie recipe, or Google bean brownies. They are totally delicious.
You can also make a flourless chocolate cake with potatoes, sweet potatoes and beetroot while smuggling in carrot, zucchini and pumpkin. Vegetable cake sure makes it easier to get your seven serves of veggies a day.
JOIN THE NEWSLETTER