Lunchbox Rescue: Easy, Cheap and Healthy DIY Trail Mix
This website may earn commissions from purchases made through links in this post.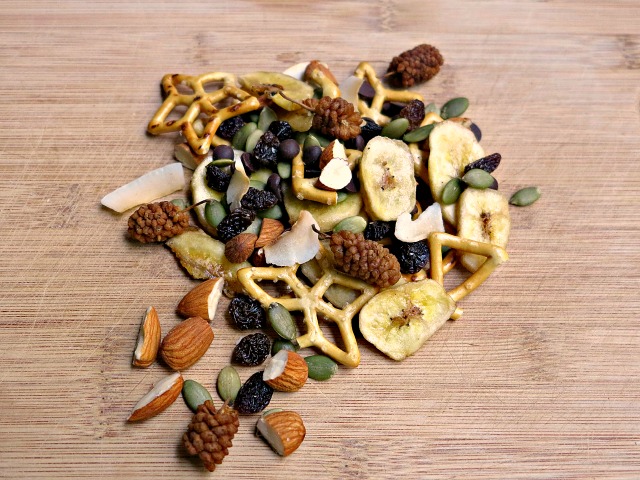 Looking for an easy lunchbox snack to satisfy hungry kids?
(Or even hungry adults?)
I'm always on the lookout for new snacks to feed my voracious hoard.
Which brings me to trail mix.
Trail mix is an easy, infinitely variable high energy snack.
You can buy cute little packets of trail mix from the supermarket (or so-called "clean" or "Paleo" ones from the health food store), but they are expensive and use a lot of plastic waste.
Or you can whip up a batch of trail mix in just a few minutes and save a whole lot of money.
When you make DIY trail mix, not only do you save money, you can adjust the ingredients to suit your tastes. In fact, you can just use what you already have in the pantry – easy snack, no extra money spent.
I happened to have some dried mulberries that a friend gave me, so they went into our current trail mix (pictured).
To save money on ingredients, you can buy them cheaply in bulk from Aldi or keep an eye on the supermarket catalogue specials and stock up when ingredients go half price.
Alternatively, if you prefer to go no-plastic, you can get all the ingredients you need from the bulk bins at Coles or a bulk-food store.
Either way, you have ingredients on hand to quickly whip up a batch whenever you need.
[Further Reading: 6 Things to Do on Sunday to Start the Week off Right.]
There are ingredient ideas below, but because trail mix is so flexible, you can put in whatever you like.
Nut-free policy?
Swap out the nuts with seeds and/or whole grains.
Looking for something ultra-healthy?
Leave out the optional 'fun' extras.
A quick note on healthy and serving size: nuts and dried fruit are high-energy (read calorie-dense) foods, so unless you're actually hiking, a little goes a long way.
About ¼ of a cup is a good serving size. Pre-measuring out servings can help you stick to a healthy serving size, and it means you have a ready-made snack to grab and go when you're in a hurry.
For packing, we have little containers that go in the kid's lunch boxes, which make perfect snack-size.
A convenient waste-free alternative is reusable snack bags.
[Further Reading: Make Packing a Healthy Lunch Easy.]
Trail Mix Ingredients
Pick and choose the ingredients that best suit your tastes, budget, what's on sale and what you have on hand.
Nuts
Leave these out if your school has a nut-free policy. The healthiest nuts are raw and unsalted and without additives like oil or sugar.
Cashews
Almonds
Peanuts
Walnuts
Pistachios
macadamias
Seeds
Pumpkin seeds
Sunflower seeds
Shredded Coconut
Dried Fruit
Sugar is concentrated in dried fruit, so a little goes a long way. Look for dried fruit with no added sugar.There are a whole variety of dried fruits available, here are just a few ideas:
Banana chips
Freeze dried berries
Sultanas
Diced dried apricots
Dried apple
Diced dried mango
Dried pineapple chunks
Grains
Whole grain Cereal / Muesli / Granola (I found quinoa flake cereal at half price – it's a nice addition)
Pretzels
Small wholemeal crackers
Popcorn
Puffed rice
Optional Healthy Extras
Some fun optional additions. Just add a little:
Soy Crisps
Vege Chips
Edamame
Dried peas
Cinnamon
Curry powder (for older kids and adults)
Optional Sweet-Treat Extras
Because the salty-sweet combo tastes amazing.
Dark Choc chips/carob buds/cocoa nibs (I found these cheap at Aldi)
Mini marshmallows
Yoghurt covered raisins
Depending on what you put in your trail mix, it also makes a nice yoghurt topper. In the picture below I used up the leftover bits (the kids devoured the banana chips and pretzels first) on plain yoghurt with some berries for extra deliciousness.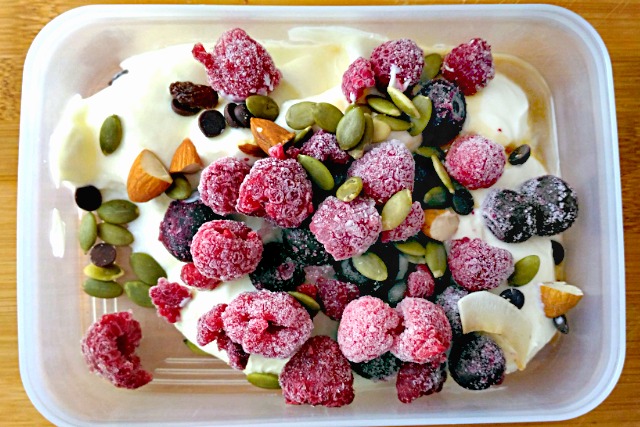 There is a huge variety of snack options in supermarket these days, but most of them are unhealthy, expensive or come with loads of plastic. Create your own healthy DIY trail mix snack based on what you like to eat and save money.
Looking for more snack ideas? Try: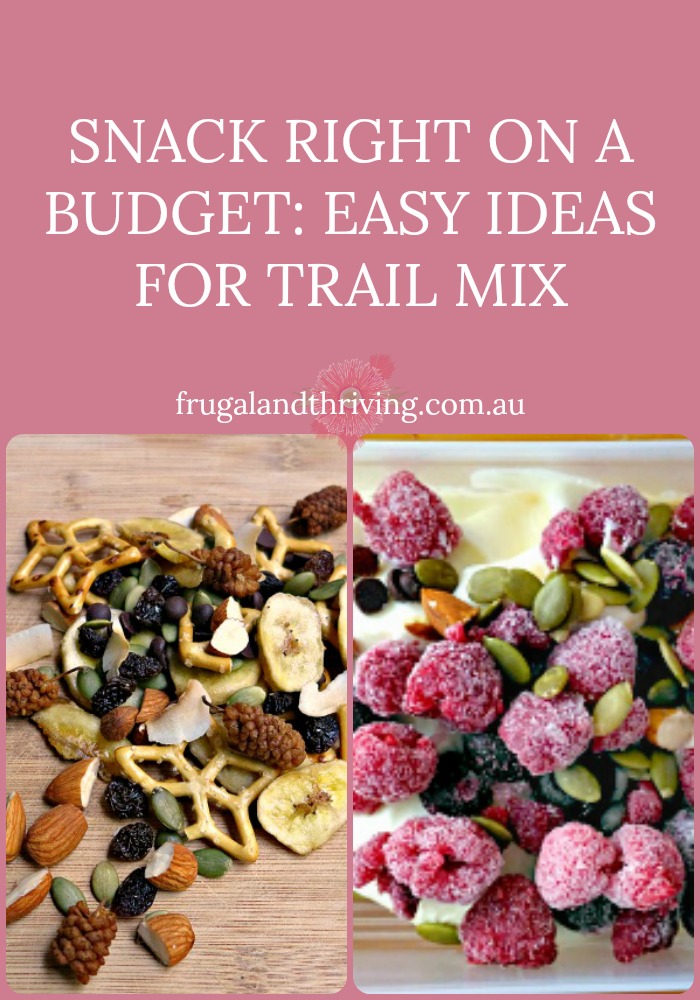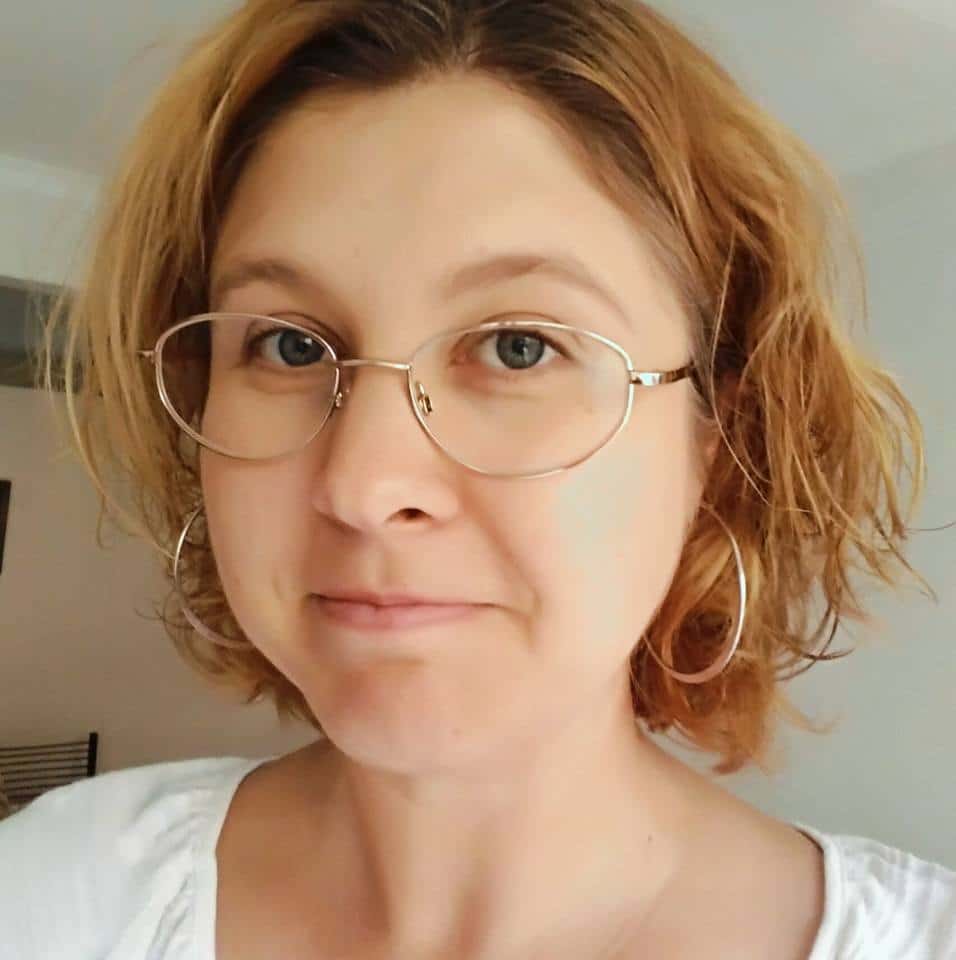 Melissa Goodwin has been writing about frugal living for 10+ year but has been saving her pennies since she first got pocket money. Prior to writing about frugal living, Melissa worked as an accountant. As well as a diploma of accounting, Melissa has an honours degree in humanities including writing and research and she studied to be a teacher and loves sharing the things that she has learned and helping others to achieve their goals. She has been preparing all her life to write about frugal living skills.
JOIN THE NEWSLETTER