Gamer Gift Basket for Under $30 – Great Gift For the Gamer in Your Life
This website may earn commissions from purchases made through links in this post.
Give a gift the gamer in your life will love by putting together a gift basket full of the things they will enjoy during a good gaming session.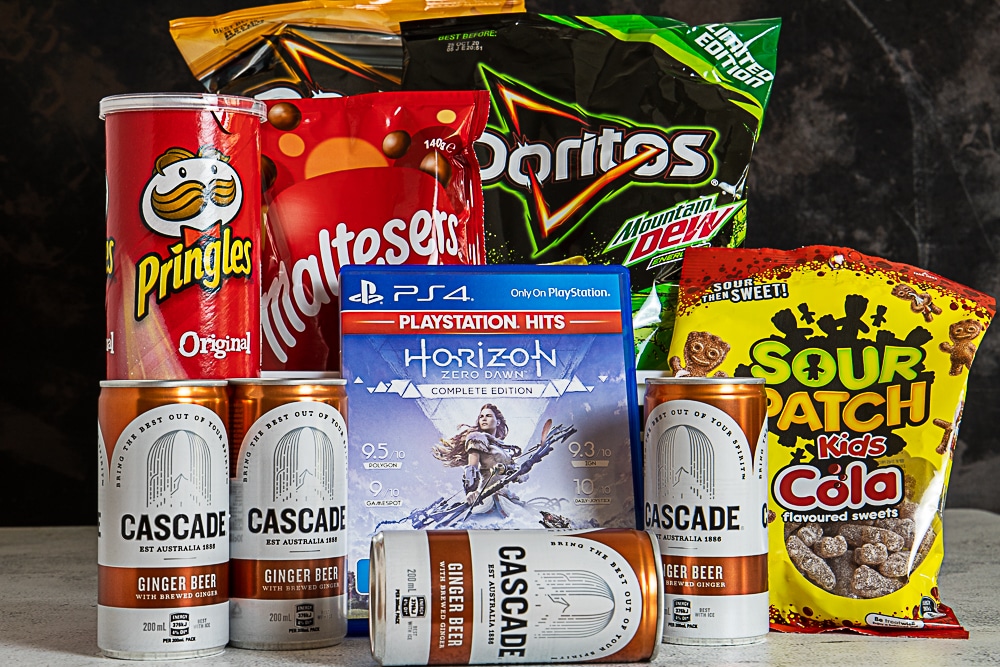 I realise I've recreated a bit of a stereotype in this article.
Although so has Doritos with their Mountain Dew corn chips, which apparently is a gamer 'thing'.
But in my defence, my husband picked out all the items photographed – it's stuff he likes – and he is a gamer.
If you're looking for a gift idea for the gamer in your life, a gamer gift basket might just be the thing.
Fill it with things they can use and consume while gaming and they will love it.
Below is some ideas for a gamer's gift hamper.
What to Put in a Gamer Gift Hamper
A gamer gift hamper that isn't too expensive includes one focal item like a game (see below for ways to save money on games) and a few cheaper items like snacks.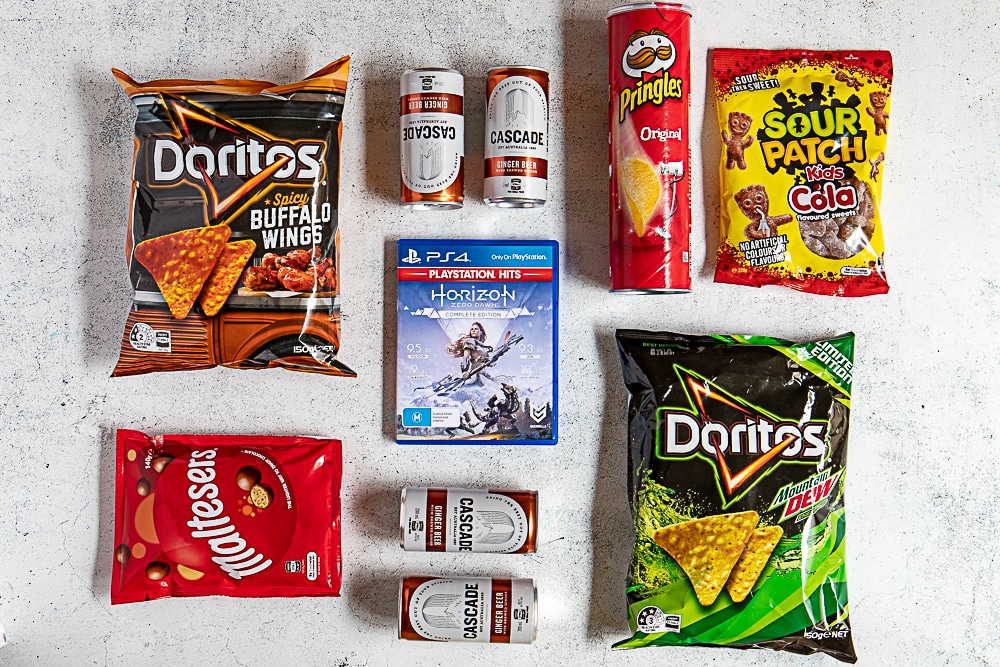 Pick your one focal item (doesn't have to be a game, maybe some headphones instead) and some cheaper items to round out the hamper.
Here are some ideas for what you can put in a real-world gamer loot crate. You don't need to include all of them:
a video game (see below for money-saving ideas)

or

a gift card for a video game store
chips
lollies
soft drink or energy drink
coffee
beef jerky
fingerless gloves
can cooler (stubby holder)
mouse pad
game magazine
throw rug
hoodie
headphones (this is really a present for you if you live in the same house)
wall poster
useful favourite game merchandise (like socks or t-shirt or books)
eye drops for dry eyes
How to Save Money on Video Games
Video games can be super expensive, so how do you make up a gamer hamper for under $30?
There are a few ways to save money a ton of money on games so there's plenty left in the budget for snacks.
First, keep an eye out for game sales both in-store and online.
Games can also be purchased for direct download via online stores and this can save you a ton money. I've seen games for up to 90% off the original price!
Just make up a little gift certificate in a Word document to print out for your gift hamper.
The second option is to purchase a preowned game for significantly less than brand new. You can purchase preowned games from video game stores second-hand stores or pawnshops like Cash Converters.
If you don't know which game to get, you can get a gift card for your recipient to put towards a game of their choice. PC, PlayStation and Xbox gift cards can all be purchased in supermarkets and stores like Big W and Target.
You can also buy gift cards online through places like Steam if you happen to have an account too. Gift card amounts can be as little as $5, so you can choose exactly how much you want to spend to keep the cost of your hamper down.
Keep an eye out for free games on the Epic store (available in 2020). Downloading a free game can be a great option for someone in your household. Again, do up a voucher in a Word document to put in their gift hamper to let them know about their new game.
To save money on the food items in your video game gift basket, keep an eye out for when items go on sale – even better if you can pick them up for half-price.
Also look for sales at discount stores that also sell snack foods.
What to Pack A Gamer Hamper In
The traditional wicker basket doesn't really suit the theme of a gamer gift box.
Instead, a crate, either wooden, bamboo or plastic, is a good choice for packing your hamper for two reasons.
The first reason is that the crate can be reused to store games in, which is a handy upcycle.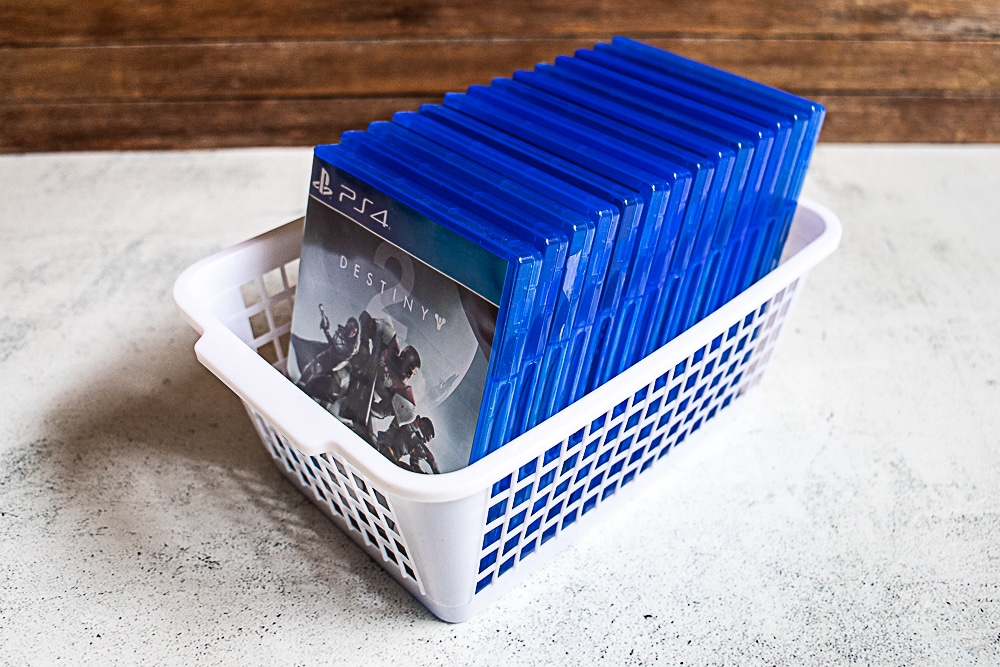 Not only that, gamer loot crates are a virtual 'thing' so packing a real-world gamer loot crate is thematically appropriate and your gamer will get the reference.
You can pick up crates cheaply at places like Kmart, Big W, Bunnings and discount stores. The storage crate above was $2, keeping the cost of the hamper low.
For tips on how to put together and wrap your hamper, check out the article how to make a personalised gift hamper for any occasion.
And for more gift basket ideas check out Easy DIY Hamper Ideas for Gifts Under $40.
Themed hampers are a great way to give a gift that's a little bit more special and exciting than just another game, but without spending a ton of money. And a gamer gift basket can be the perfect gift for the video game lover in your life.
You might also like: