save time, money and sanity with a gift stash
This website may earn commissions from purchases made through links in this post.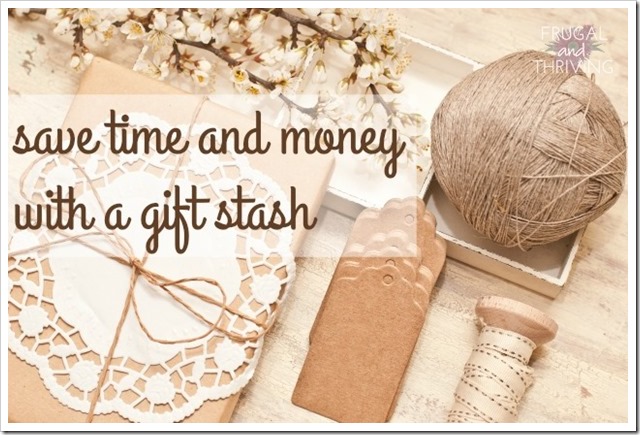 When I worked in retail, I saw countless people running around stressed and angry, looking for last minute gifts.
'Oh, that will do, let's just grab it and go, we're running late!'
I swore I'd never leave gift purchases to the last minute.
Famous last words.
I've done the Saturday morning shopping dash more times than I'd like to admit.
Organised people don't leave gift purchases to the last minute. They have a clever little stash of gifts from which they can just grab an appropriate present.
And they haven't paid full price for anything in the stash because they have given themselves time to plan ahead and shop around. They are able to give nice gifts for a fraction of the cost.
The potential hazard of starting a gift stash is buying a whole heap of rubbish that you never use or nobody ever wants. This can happen if you fill your gift stash with generic gifts that don't have a specific recipient in mind. A few generic gifts can save the day in a pinch, but a little planning can save you time and sanity without wasting money and space.
Here's how to build a gift stash that works to save you time, money and sanity.
HOW TO BUILD A GIFT STASH THAT SAVES YOU TIME AND MONEY
1. WRITE A MASTER LIST OF OCCASSIONS, RECIPIENTS AND GIFT IDEAS
While it can be useful to have a few generic gifts for teacher presents, kid's birthday parties and hostess gifts etc., it's better to try and plan for specific occasions so that you're not overbuying gifts that never get used.
And by having the recipient in mind, you're getting gifts that are personal and thoughtful.
Start by writing a list of occasions or potential occasions you'll need to buy gifts for this year, who you'll be buying for and potential gift ideas.
Your time of stage of life and friendship group will determine your gift stash. Are you at the age where everyone is getting engaged or having bridal showers? Or when everyone is having babies? Or when your children are attending dozens of parties? Plan ahead for these events now and you won't need to do a mad rush to the shops for a last minute gift.
Keep your master list on you, either in your purse or in Evernote on your phone. That way, when you're out shopping, you can refer to your list.
2. GIFTS ON A BUDGET
Planning ahead means you can take advantage of sales and get a great gift without breaking the budget.
Use the sales cycle to your advantage. Buy stationary during back to school sales, kid's toys during the July toy sales, baby gifts during the baby sales. If there's a particular item you want to buy, sign up for the stores email promotions so you're notified when that item goes on sale.
Other ways you can save on gifts is to keep an eye on clearance stock, look for second-hand gifts, use coupons or gift cards or check out deal websites.
3. TIME FOR HANDMADE
Planning ahead gives you time to make gifts yourself, which can not only save you money, but it can add a personal touch that money just can't buy.
Despite good intentions, I've regularly found myself up half the night trying to complete a handmade gift in time. Avoid the stress by starting early.
Filling your gift stash with handmade goodies is also a great way to use up remnants, leftovers and offcuts. Don't let the remnants go to waste or gather dust at the bottom of the cupboard. Fashion them into cute little gifts that are finished long before they're needed.
3. GIFT WRAP
Along with your gifts, don't forget a stash of wrapping paper, cards, tape and other gift wrap supplies you like to use. If you're anything like me, you leave wrapping the gift at the last minute and then find there's no appropriate wrapping paper.
Happy Birthday! Oh, ignore the 'It's a Boy!' paper.
Some nice 'generic' paper is a must for emergency gift wrapping.
Discount stores are the best place for cheap gift wrapping supplies. It's also a good idea to keep an eye out after Christmas for super cheap wrapping paper that can be use at any time of the year (like plain gold paper). And to be frugal (saving you money and the environment) recycle wrapping paper and gift bags.
Cards are also cheap at the discount store, but it's even cheaper and more personal if you make them yourself.
Plan a crafting session for a wet Sunday afternoon and make a year's worth of cards to keep in your stash.
This can also be a great school holiday activity for the kids. Let them make a bunch of cards for their school friends' parties. Save money and fill in a few long hours of the holidays at the same time.
4. KEEP YOUR GIFT STASH ORGANISED
Your gift stash isn't going to be much help if it's a mess and you don't know what's in it. Keeping an inventory will make using your stash a whole lot easier.
You can keep a list of what's in your gift stash, along with potential recipients for each gift in Evernote or in your planner or household binder.
The easier cheats version (and the one I would take) is lay your gift stash out on the bed, take a photo of it and store it in Evernote for easy reference.
Once a year, assess your gift stash and then start the process all over again.
IDEAS FOR YOUR GIFT STASH
Kids
Art Supplies / Craft kits
Puzzles
DVD
Small Lego
Doll's clothes
Books
Sticker books
Board games/travel games
*Avoid fad items that may go out of popularity before you can gift them
Sports goods
Tweens and Teens
Baby Shower Gifts
Onesies or other clothes in bigger sizes
Nappies
Bedding / blanket
Singlets
Special teddy
Baby book
Essentials basket (thermometer, dummy, nappy cream, nail clippers etc.)
Baby bath towel
Hostess gifts
Wine
Pot (for a plant)
Candles
Hand cream
Tea towels
Napkins
Teacher gifts
Book
Coffee
Tea
Mug
Notepad
Hand soap
Gift card
Scarf
Generic gifts
Wine
Photo frames
Candles
Serving accessories (like a wine stopper or cheese knife)
Towels
Fridge magnets
A little planning ahead of time can save a whole world of stress and time when it comes to buying gifts. It also allows you to find the more thoughtful gift (not a last minute one) while still saving money.
Do you have a gift stash? How do you manage your gift stash and what gift ideas to you squirrel away? Let us know in the comments below.