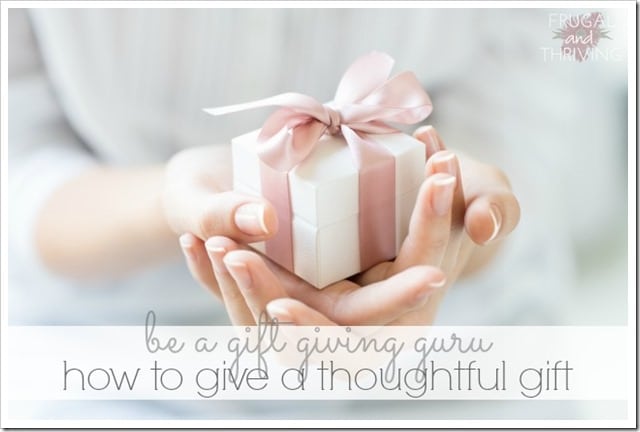 "It's not the gift, but the thought that counts." Henry Van Dyke
A thoughtful gift is not an expensive one.
There is no correlation between value to the recipient and the cost to you. A gift can be free, and still be thoughtful.
A thoughtful gift is not one you've agonised over.
Spending hours looking for that perfect something does not make it a thoughtful gift. Because it's not the gift that counts.
Gift giving should not be an obligatory chore.
It should not be a perfunctorily dispatched exchange of items of equal monetary value.
A thoughtful gift should be a joy, deliciously anticipated by both the receiver and the giver.
A thoughtful gift isn't about the gift; it's being thoughtful about the person you're giving the gift to.
A thoughtful gift is one that your recipient wants, will like and will find joy in.
"The heart of a gift lies in its purpose: to show love." [source]
You've probably heard of the 5 Love Languages. It's a way of understanding how we like to express and experience love. If you want to express your love for someone, the best way is to do so is in a way they like to experience it.
The same goes for giving gifts.
A thoughtful gift is not a gift that you would like, nor is it a gift you think someone should like, it is one your recipient will actually like.
How do you know what your recipient would like?
Well, you could just ask them, as boring as that seems.
Just as we ask kids what they would like Santa to bring, it makes sense to ask family and friends what they would like.
Or you could ask their spouse / parent / partner / sibling / friend for ideas.
But if asking straight out isn't the etiquette in your family, then you can go covert and have strategic conversations to gather gift ideas.
"So, have you read the latest book from…? Oh, it's on your wish list, is if?"
If that's not possible, then consider the person's likes, interests and hobbies. Check out their Facebook, Pinterest and Instagram pages to get ideas of what they might like. Give them something they will find useful, that they will enjoy.
Look at the pages your recipient likes and follows on Facebook. That will give you an idea of their tastes. Have a look at their Pinterest boards. If you're lucky, they will have a 'products I love' board, otherwise you'll have to do a little digging.
If worse comes to worse, give a gift card. But even gift cards should be tailored to your recipient. My mother lives in a small town and has been given gift cards to stores she has to travel hundreds of kilometres to buy from. Not the most well-thought-out gift. To snazzy up gift cards, look here or here for ideas.
You don't want to give them a gift that will end up in the charity store by New Year, just as much as they don't want to receive that kind of gift.
In our consumer society we're all weighed down with useless clutter. Let's not add to that clutter this gift giving season.
Let's give, because giving gifts is fun and a way of showing love, but give thoughtfully, giving gifts that our friends and family will genuinely appreciate.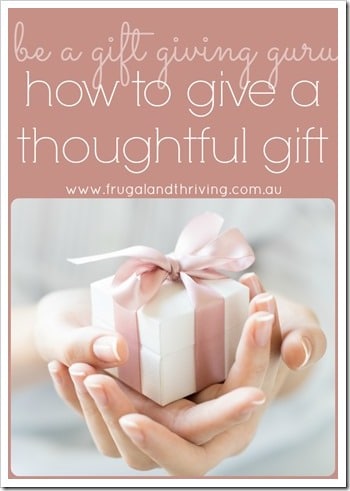 Melissa Goodwin is a writer and the creator of Frugal and Thriving who has a passion for living frugally and encouraging people to thrive on any budget. The blog is nine years old and is almost like her eldest baby. Prior to being a blogger and mum (but not a mummy blogger), she worked as an accountant doing other people's budgets, books and tax.