Mince and Vegetable Bake with Rice or Pasta
This website may earn commissions from purchases made through links in this post.
This mince bake recipe incorporates brown rice and plenty of vegetables, making it a frugal, filling and healthy one-dish dinner.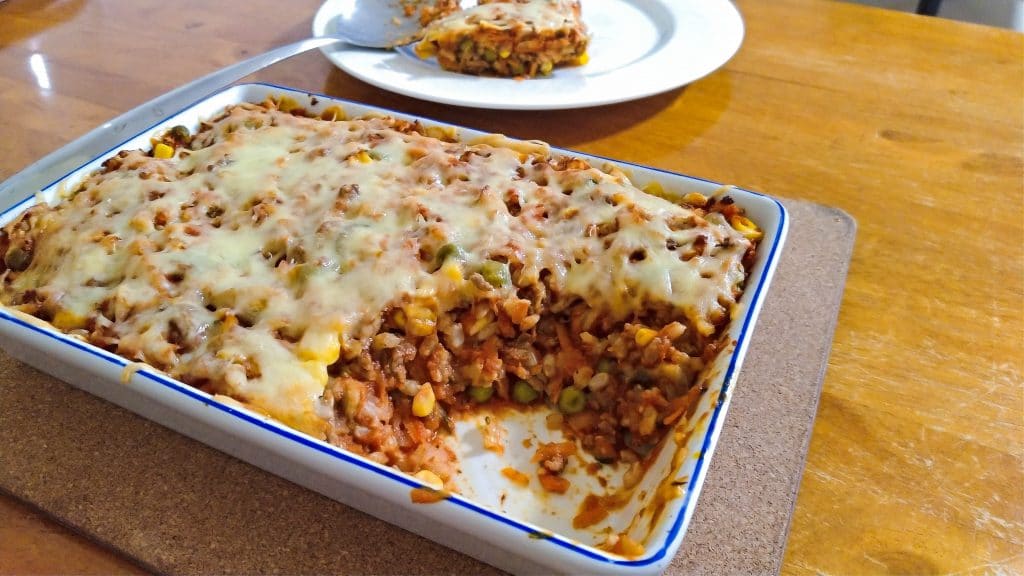 A cross between a spaghetti bolognese, a lasagne and a casserole, this mince bake (or ground beef casserole for US readers) is filling, frugal, and full of goodness.
It's an almost one-dish meal, but you can serve it with a side salad, which is nice in summer, some crusty bread or even some garlic bread.
The great thing about this dish is you can make a big batch and freeze half, saving you time and money later on.
What's In Mince Bake
Like many recipes here on Frugal and Thriving, this meal is meant to be flexible, so you can use up whatever ingredients you have on hand.
Frugal cooking is all about using what you have and reducing waste!
So you can use beef mince (ground beef) or lamb, pork, or chicken.
I photographed a mince and rice bake, but we often substitute the rice with pasta.
And the veggies?
It depends on what you have on hand. Onion and garlic are good, but you could use onion and garlic powder instead.
Both fresh and frozen vegetables are suitable for this dish. You can add mushrooms, zucchini, carrot, peas, corn, capsicum (bell pepper), spinach, cabbage, broccoli, cauliflower, cannellini or kidney beans.
How to Cook Mince Bake
To cook, start by putting the rice or pasta on to boil. Brown rice usually takes around 40 minutes to cook, but you can save time using leftovers. A rice cooker can make this step super easy.
Meanwhile, brown the mince, then add the aromatics like onion and garlic.
Cook off the harder veggies like carrots, then add the passata or bottled pasta sauce.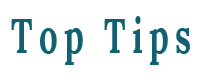 Passata is a tomato puree made by cooking tomatoes with salt and then straining them. It gives this dish a rich tomato flavour. Instead of passata, you can use tinned tomatoes with a dash of tomato paste or your favourite bottled pasta sauce. Passata is found next to (or under) the pasta sauces in the supermarket. You can freeze leftovers for later use if you don't need the full jar.
Let it all simmer so the vegetable cook and the flavours all nicely meld together. Don't worry if it's a little liquid – we still have to add the rice.
Once the mince mix has simmered, add the cooked rice or pasta and stir through.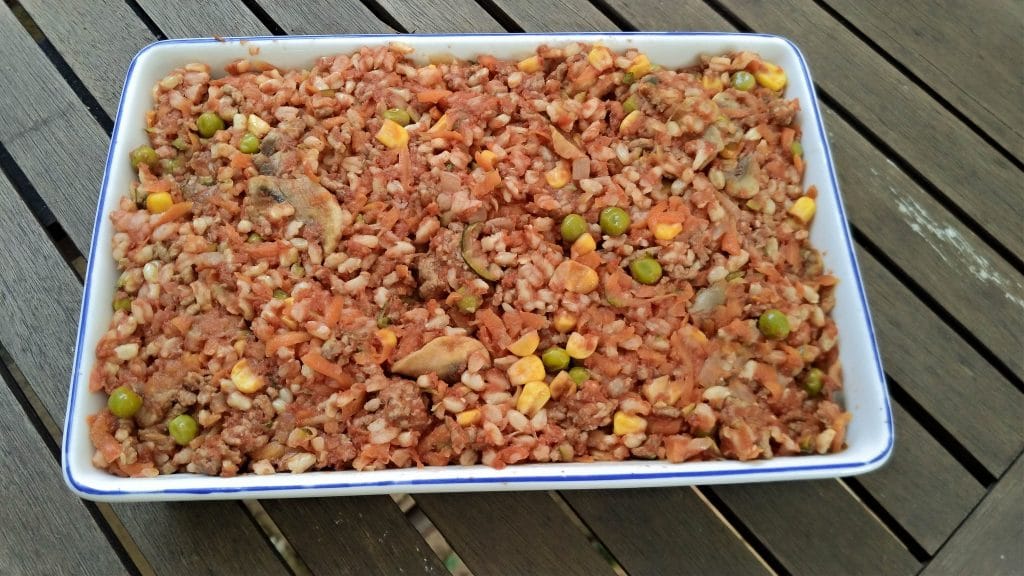 At this point, you can divide your mix into batches and freeze for later.
If you want to eat now, spoon the mince mixture into a casserole dish. Then top with plenty of tasty cheese.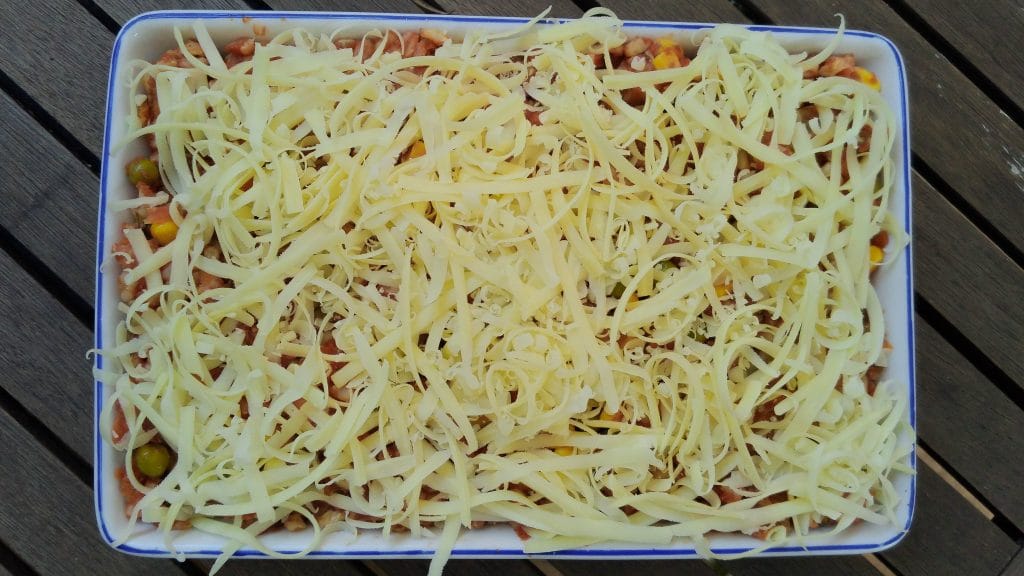 Bake in the oven until the cheese is nicely melted and golden.
Enjoy!
Double the recipe and save time
I love this dish so much (besides the fact that the kids will eat it without complaining) because I can double or triple the recipe easily and freeze it for easy meals in the coming weeks.
For a super-frugal version, you can double the rice and vegetables without doubling the mince. Meat can be the most expensive ingredient in a meal, and stretching it out with extra vegetables and maybe even some beans save money.
For us, the recipe as is, without doubling, will give us three meals. That's a family of four with two middle school children.
How to freeze mince bake
To freeze, make the mince bake up to step six in the recipe below.
Divide into meal-size batches and put in the fridge to cool.
You can freeze the mince bake in either freezer-safe containers or zip-lock bags or silicone zip-lock bags.
Don't forget to label your container before placing it in the freezer! Everything has a tendency to look the same once frozen.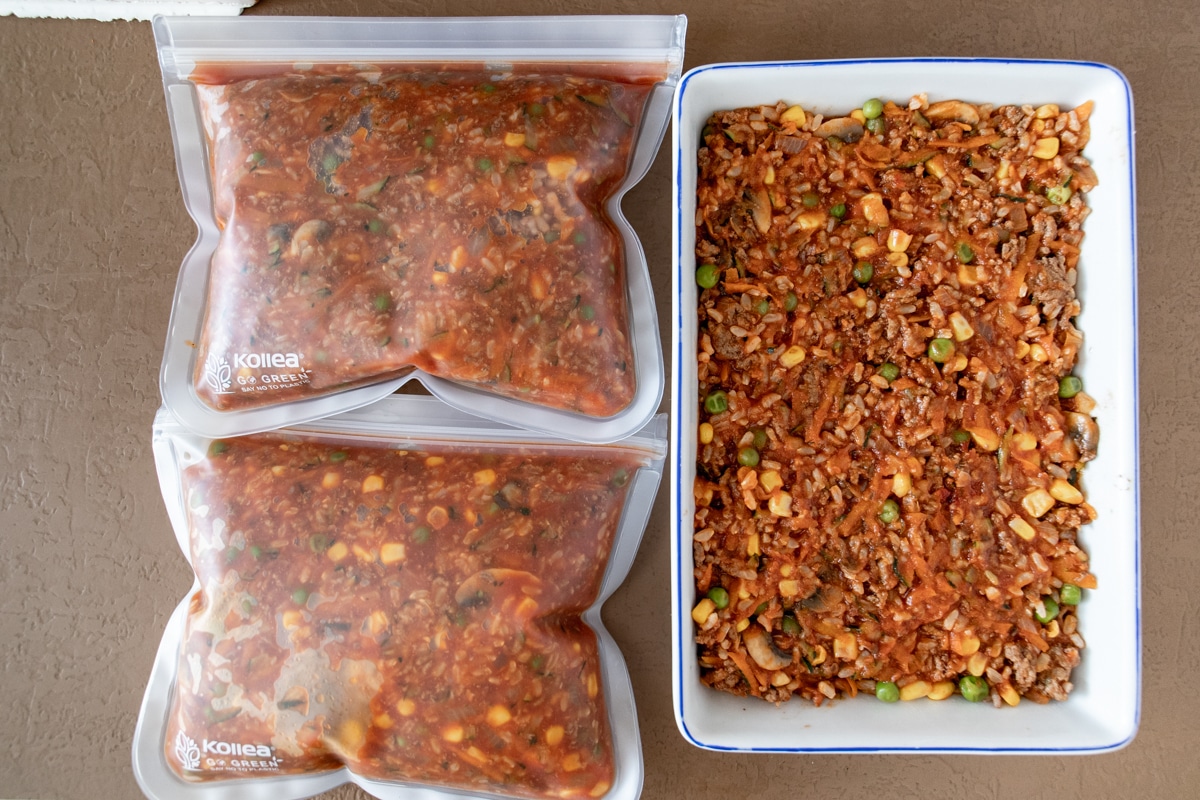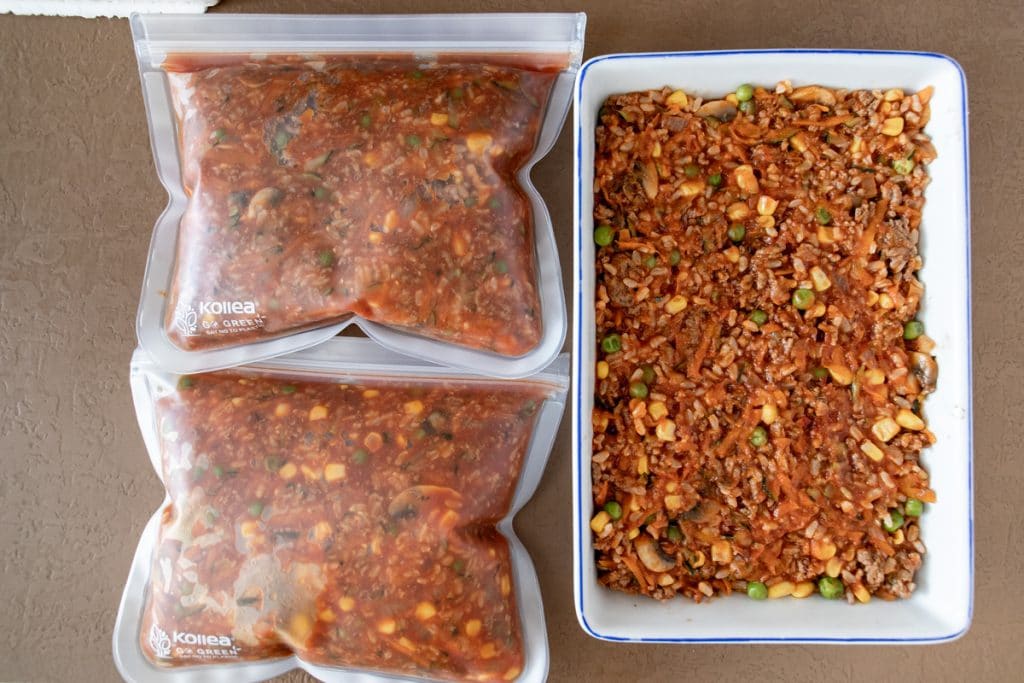 If you use zip-lock bags to freeze your mince bake, flatten them out and place them on a baking tray. Place them in the freezer until frozen. The frozen meals can then be stacked or placed upright in a basket, saving you space in the freezer.
To cook, defrost the mince bake and place in a casserole dish. Cover with cheese and then reheat at 180°C until the cheese is melted and golden and the mince is steaming hot in the middle, approximately 30-40 minutes.
What to serve with Mince and Vegetable Bake
Because this dish is full of meat, veggies, and carbs, you can serve it as is, without any sides.
However, if you would like to add a side, some good options include:
a green salad
crusty bread
garlic bread
Beef Mince Bake with Brown Rice and Vegetables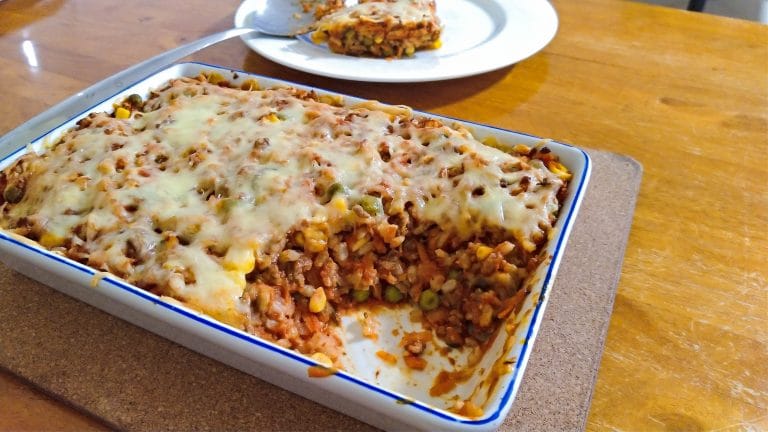 Beef mince casserole with brown rice, vegetables and crushed tomatoes.
Total Time
1 hour
10 minutes
Ingredients
1 cup brown rice, uncooked
500g ground beef (mince)
1 Tbsp. olive oil for frying
1 onion, diced
1 garlic clove, crushed
1 carrot, diced or grated
1 zucchini, diced or grated
1/2 cup frozen peas
1/2 cup frozen corn
5 button mushrooms, sliced
1/2 capsicum, diced
1/2 tsp. each of dried oregano and basil
1 700g bottle tomato passata*
salt and pepper to taste
1 cup grated cheese
Instructions
Boil rice according to packet instructions (This can be made ahead of time).
Meanwhile, heat half the olive oil in a large fry pan over medium heat. Brown mince. Remove from pan and drain in a colander if needed.
Add the remaining oil and sauté the onion and garlic until translucent.
Add the carrot. zucchini and mushrooms and cook for 5 minutes.
Return mince to the pan and add peas and corn and stir in the tomato passata, herbs, and salt and pepper. Add approximately 1/2 cup of water to the passata bottle, give it a shake to get the rest out and pour that into the mix.
Simmer for 15 minutes until reduced slightly and the vegetables are cooked.
Stir in rice. (Cool and freeze at this point if freezing).
Pour into a casserole or baking dish and top with cheese.
Bake at 180°C (375°F) for 30 minutes or until the cheese is melted and golden.
Notes
Instead of passata you can use an 800g tin of crushed tomatoes and (if you like) a tablespoon of tomato paste.
Nutrition Information:
Yield:
4
Serving Size:
1
Amount Per Serving:
Calories:

611
Total Fat:

36g
Saturated Fat:

14g
Trans Fat:

1g
Unsaturated Fat:

17g
Cholesterol:

139mg
Sodium:

400mg
Carbohydrates:

28g
Fiber:

4g
Sugar:

6g
Protein:

45g
Nutritional information is calculated automatically using the Nutritionix database. Nutrition information can vary for a recipe based on factors such as precision of measurements, brands, ingredient freshness, serving size or the source of nutrition data. We strive to keep the information as accurate as possible but make no warranties regarding its accuracy. We encourage readers to make their own calculations based on the actual ingredients used in your recipe, using your preferred nutrition calculator.
Looking for more mince recipes?
While some may think of these as poor man's steak, these beef rissoles hold their own by being full of flavour. You can also hide a few veggies in them too, great if you need your kids to eat more veg.