School holiday boredom buster ideas.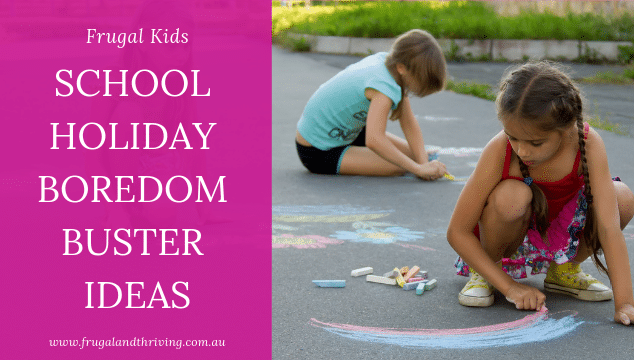 The holidays are here and it's time to get out the comfy pants and relax.
Throw out those alarm clocks; school is out.
No schedule to stick to. No taxi-ing the kids around. No fighting for a park at school drop-off.
And for three whole days, it's awesome.
For three whole days, you can lounge around, read a book, drink iced tea while the kids are running riot in the back yard. For three whole days, everyone's happy.
Then you wake up to a sound that is one hundred times more annoying than the alarm clock you threw out the window.
Muuuummm, I'm boooorrrrred!
Why is it that kids find annoying each other the most entertaining thing to do?
Of all the things you could do, you chose to continuously flick your sister in the ear for fun?!
It's not long before everyone is going a little bit crazy and it's time for Plan B.
What's Plan B?
It's not Looney Tunes (although as a Plan C, some days screens can be a lifesaver).
Plan B is having a loose –very loose – plan for your day during the holidays. Activity ideas and suggestions. A few outings to balance at home time with getting out and about.
I'm not a fan of overscheduling kids. There's a lot to be said for long, lazy days. And boredom is good for a child. You absolutely do not have to entertain your child every waking moment!
But having a loose outline for the day and a plan for when things go troppo keeps everyone sane, especially when the kids start aggravating each other to pass the time.
Kids (and adults) thrive on routine. Not a minute by minute schedule, but a loose structure to the day will help the day flow.
And having some activity ideas in the back of your head for when the kids are just stuck and need some inspiration is a good idea as well. Boredom is healthy, but we all need a little inspiration or a change of scenery sometimes.
Today I'm sharing some great ideas written by other mums in the trenches on how they make the school holidays awesome. And there are a few posts from the Frugal and Thriving archives as well.
School holiday tips
And articles from Frugal and Thriving:
What are your tips for staying sane during the long summer school holidays?
Melissa Goodwin is a writer and the creator of Frugal and Thriving who has a passion for living frugally and encouraging people to thrive on any budget. The blog is nine years old and is almost like her eldest baby. Prior to being a blogger and mum (but not a mummy blogger), she worked as an accountant doing other people's budgets, books and tax.