7 Tips for Teaching Children to Cook
This website may earn commissions from purchases made through links in this post.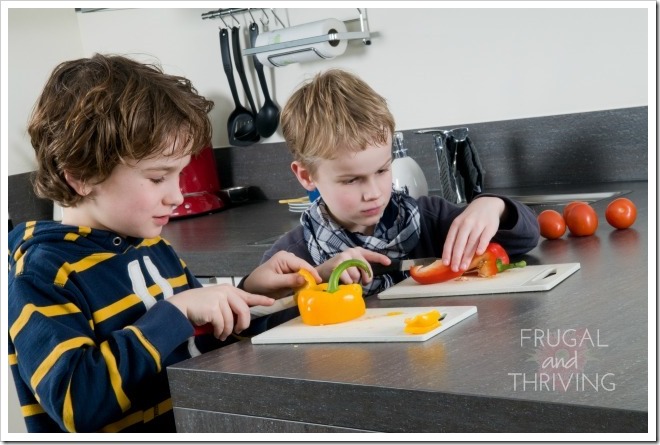 Learning to cook is one of the most important life skills every child should learn.
But while young kids have been cooking round the fire for thousands of years, nowadays we're a lot more cautious. We're not so sure how to introduce them to cooking, when to allow them to use a sharp knife or at what age it's safe for them to use the stove.
Or more often than not, we're not sure when we'll find the time!
Below are 8 tips I've found useful so far when teaching my own children to cook and an amazing resource we've used during our learning process.
8 REASONS WHY KIDS SHOULD BE IN THE KITCHEN
Learning to cook is an essential life skill
Learning to cook empowers kids to be more independent
Cooking is an outlet for creativity.
Cooking encourages healthy eating. They are more likely to eat what they've had a hand in preparing.
Cooking introduces kids to a variety of fresh foods and interesting ways of preparing and cooking those ingredients
Cooking teaches language skills (cooking vocab like sauté and simmer), maths (measuring, weighing, fractions), and science (by mixing bicarb and acid and heat, the cake rises).
Kids learn how to read and follow step by step instructions.
It's fun!
TIPS FOR TEACHING KIDS TO COOK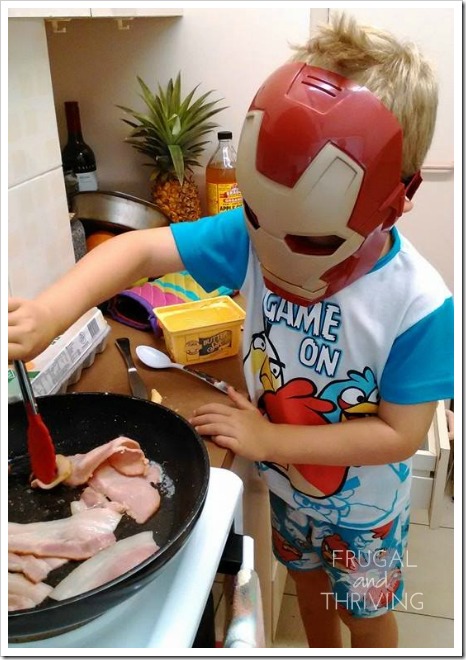 Cooking bacon in a splatter proof mask. Age 4.
1. SLOW COOK – HOW TO MAKE TIME FOR COOKING
Life is busy. It can be hard to find time (or the energy/patience) to teach kids to cook.
My son loves to cook the scrambled eggs and toast for breakfast, but on a school day…there's no way it's going to happen. Mamma just ain't up to it.
But the weekends or school holidays are perfect for slowing down and letting kids cook.
2. TEACH HYGIENE AND SAFETY
Hygiene and safety are important skills to learn alongside the more practical cooking skills – no one wants food poisoning or burns as part of their cooking experience.
Show children how to wash their hands before cooking and after touching raw meat. Make a no running (jumping, dancing, skidding) in the kitchen rule. I also have a no fighting in the kitchen rule. If your kids are using a sharp knife or the stove, tell them they have to focus on the task or try again another day.
3. ACCEPT THERE WILL BE MESS
I'm not a fan of the mess that results from children in the kitchen. It comes a pretty close second to fighting over who gets to do what.
But mess will result when kids are involved. Embrace the mess as part of the process – accept that mess has a 100% likelihood of occurring – and the stress levels go down for everyone.
And then arm them with a cloth and a dust pan and brush so they can help tidy up afterwards! Another important skill.
4. USE REGULAR UTENSILS
There's no need buy special kid's utensils, although an Iron Man mask apparently helps with bacon splatter.
For most things, children are quite capable of using regular cooking utensils.
Apart from a knife and fork for eating (for toddlers), kid's cooking utensils are usually an unnecessary expense, they clutter up the kitchen and kids quickly grow out of them as their competence increases.
5. GIVE THEM AGE APPROPRIATE TASKS
'Age appropriate' can mean different things to different kids, depending on their interests, maturity, coordination and strength.
I've learned that some tasks I though were easy, like peeling a carrot, require more strength than little hands can muster, even when they have the coordination.
Your comfort zone also plays a role in what you'll allow them to help with.
When you think your child is ready to help in the kitchen, generally around the age of 2-3, start with easy tasks that they can accomplish like washing, stirring, mashing, spooning, rolling, kneading and tearing.
You can also let them start chopping soft foods like a banana with a butter knife.
As they get older, teach your kids weighing and measuring, spreading, whisking, cutting harder foods with a small sharp paring knife, breading (crumbing), peeling, grating and simple cooking tasks like cooking toast or scrambling eggs.
6. LET YOUR KIDS CHOOSE RECIPES
Letting children choose the recipe to cook makes them feel like they are making an important contribution to the family, and again, they are more likely to eat it if they've had a say.
You don't need child-friendly recipes, although it's a good idea to offer a selection of recipes to choose from that include skills at your child's age level so they can have a go without it being too hard.
7. GIVE THEM IMPORTANT TASKS
Children know when they're getting the brush off. By giving them important tasks during the cooking progress, they gain a sense of accomplishment. There's nothing like the satisfaction of saying "I made this!".
If children are an integral part of the whole cooking process, from planning to preparing and cooking they not only learn more and gain competence and confidence in the kitchen, they have the satisfaction of a job well done.
A great way to give them responsibility is to allow them to make their own breakfast. Something like soaked oats or toasted muesli and fruit is an easy but still healthy breakfast to prepare while you get to sleep in. Everyone's a winner!
And it won't be long until they're cooking entire meals for you.
Take the
free

#mykidsmadethis Challenge this May

Katie Kimball from Kitchen Stewardship is hosting a free challenge to help teach your kids cooking skills. The challenge includes a plan for getting kids in the kitchen, age appropriate tasks, a child-friendly recipe book, printables, tips, shopping lists and more.

You can sign up for the challenge here.

The material for this challenge comes from her Kids Cook Real Food eCourse, which I've done with my own kids, and we all learned a lot and loved it.

Cooking is an essential life skill for kids and the best place to learn is alongside the cook in the kitchen. If you're unsure where to start, or not feeling confident about teaching your kids to cook, take the #mykidsmadethis challenge.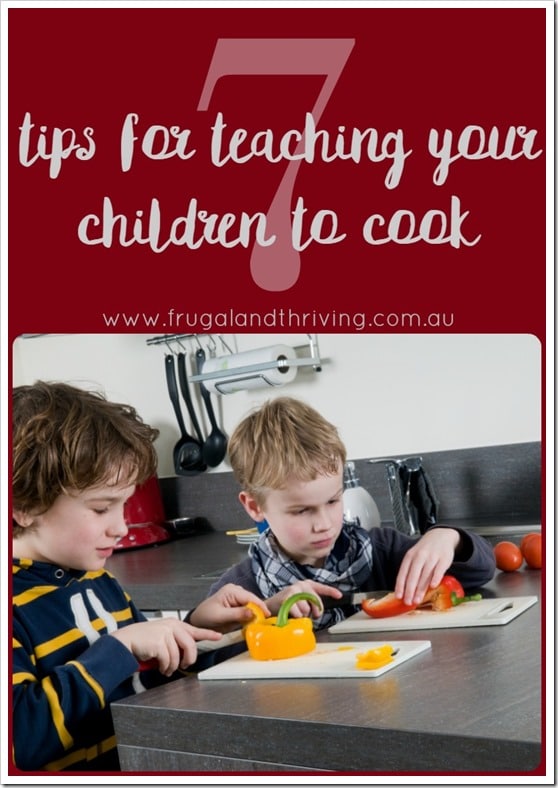 JOIN THE NEWSLETTER