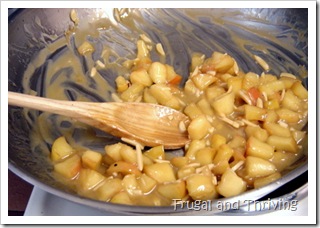 Apples are in season at the moment, and this recipe is a decadent way to enjoy them. We enjoyed these caramelised apples on our Sunday morning pancakes for something a little special and out of the ordinary, but they would also make a lovely dessert, served with a little cream or ice cream. The total cooking times is about 8 minutes, making it a very quick and easy dessert.
The caramel sauce has a few little twists to the usual mainstay. Instead of using cream I added yoghurt – the tartness gives a nice balance to the sweetness of the sugar and apple. The almonds give the sauce a little crunch, contrasting nicely with the softness of the apple and the hint of cardamom gives the whole dish an exotic undertone (something a little different from the usual cinnamon and apple pairing) without overwhelming it. Just remember, a small amount of cardamom goes a long way.
I didn't actually measure any ingredients, just threw them in, so the measurements below are guestimates. Taste and add a little more or less sugar or yoghurt or cardamom to suit your own tastes.
Ingredients
2 apples, cored and roughly chopped
40 grams butter
2 Tbsp. brown sugar
pinch of cardamom
2 – 3 Tbsp. Greek or plain yoghurt
2 Tbsp. slivered almonds
Method
Melt the butter in a pan, add the apples and cook over medium heat for a few minutes until softened to your liking.
Add sugar and cardamom and cook stirring for another minute or two. Turn the heat to very low and add the yoghurt and almonds and stir for another minute until sauce is thickened slightly.
Serve over pancakes or ice cream.
Melissa Goodwin is a writer and the creator of Frugal and Thriving who has a passion for living frugally and encouraging people to thrive on any budget. The blog is nine years old and is almost like her eldest baby. Prior to being a blogger and mum (but not a mummy blogger), she worked as an accountant doing other people's budgets, books and tax.