Host a Delightful High Tea at Home on a Budget – Great for Mother's Day
This website may earn commissions from purchases made through links in this post.
From tableware to high tea menu ideas and recipes, a planning timeline and saving tips, here's everything you need to know to host a delightful high tea at home. Great for Mother's Day.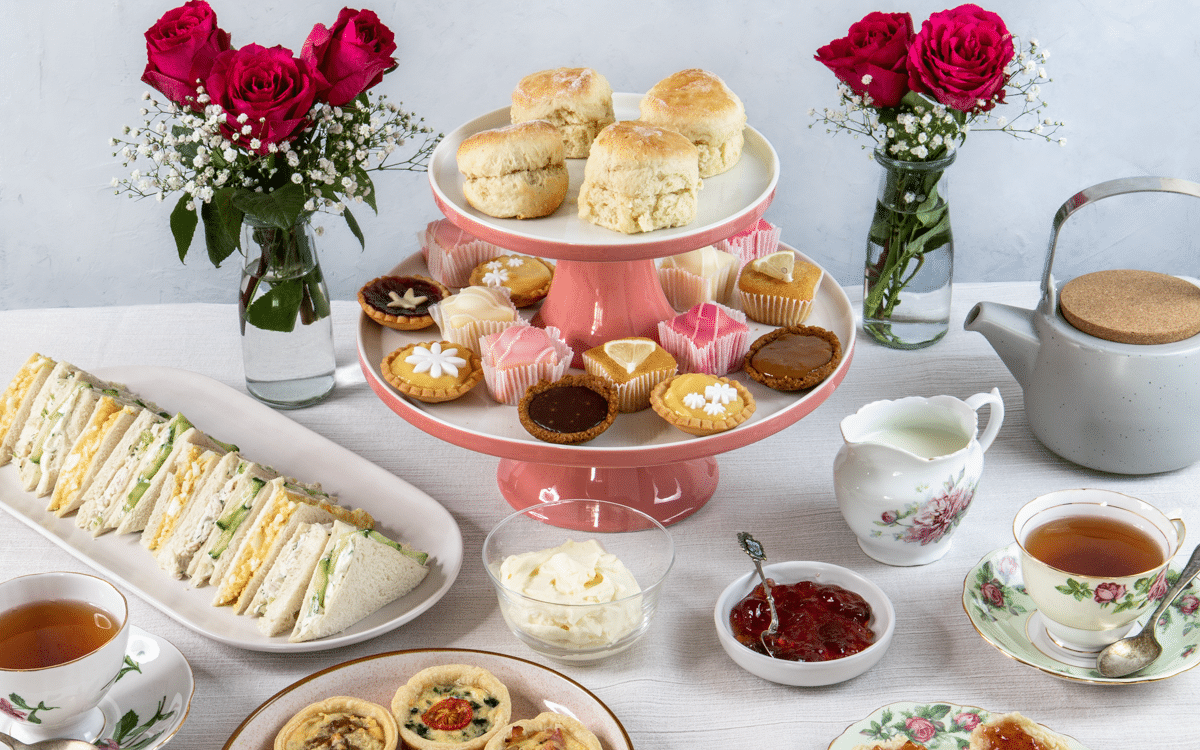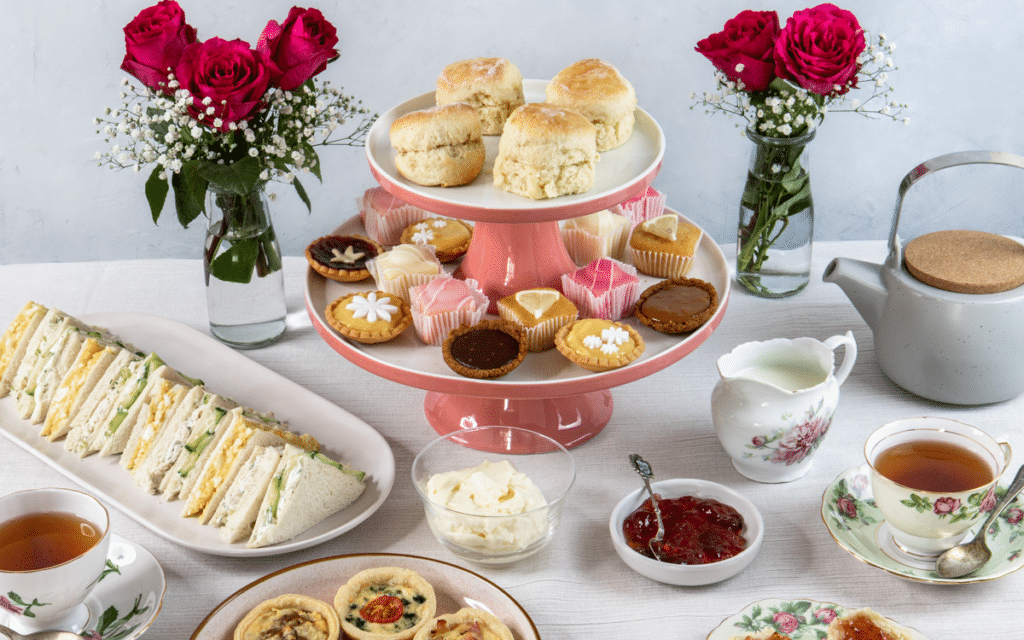 With a tempting spread of delicate finger foods and bite-size morsels, a high tea party is a refined way to celebrate a special occasion or enjoy an afternoon with friends.
Many cafes and restaurants offer high tea, but the cost can start from $40 per person and climb as high as $100 per person, depending on where you go.
By hosting a homemade high tea, you can save a lot of money, choose your favourite foods, and relax, knowing you can sit around chatting all afternoon if you wish, without worrying about an imposed time limit that some restaurants have.
High tea is a great way to celebrate:
Mother's Day
Birthdays
A baby shower
A bridal shower
A hen's afternoon celebration
A tween/teen girl party
A relaxed catch-up with friends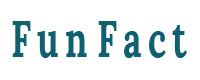 Hat-tip to the language purists: What many of us call 'high tea' today is traditionally known as an English 'afternoon tea'.
High tea, in fact, was the name for the meal that factory workers ate at the end of the day and would usually include hot food like cottage pie. It is what we might call dinner, although my mother still refers to dinner as 'tea'. It was served at high tables, hence the name.
But language changes and evolves, and 'high tea' is now commonly understood (at least in Australia) as the fancy cakes and tea of the 'afternoon tea' tradition.
Planning a High Tea at Home
When hosting a high tea, you can offer the full spread of traditional foods (see below) or just a selection of sweet treats and tea.
What food you offer will depend on preferences, the time of day you plan to host your tea party and how long you plan to have the party (for example, all afternoon v an hour or two).
Decide on a High Tea Budget
You can enjoy a homemade high tea on a budget while still feeling like it's a special treat, and I'll share tips below to keep costs down.
Deciding beforehand on your budget will inform your choices when it comes to food, table settings, and decorations, if any.
How many guests are you inviting?
You'll want to know how many guests you intend to invite so you can decide on the venue, how much food, and how many chairs, tea cups etc., you will need.
How Much Food to Serve Per Guest
For a traditional afternoon tea, plan to serve:
1-2 cups of tea
1 scone per guest with jam and cream
3-4 sandwich triangles, rounds, or fingers
2-3 petite fours/bite-size cakes
(Optional) 2-3 savoury canapes (i.e. mini quiche)
This is a fair amount of food per person and could easily replace a whole meal. This is what we ate for lunch, and we were all stuffed by the end!
For something less extravagant, you could make some sandwiches and cakes. Or just serve cakes. Or just serve scones.
Consider Dietary Requirements
If you have anyone on your guest list with food allergies or varying food preferences, then you will want to make sure you cater for them.
That's the great thing about having a DIY high tea – you don't have to stick to the traditional fare – you can make it vegan, dairy-free, gluten-free or any other combination to suit your guests.
Sit-Down or Buffet-Style
A traditional afternoon tea is a sit-down affair, which is perfect for a small number of people.
For a larger number of people, especially if they are moving around and mingling, you can serve your tea on a large table as a buffet so that people can help themselves.
Decide on the Venue
You don't have to just have tea at your dining room table. You can take the tea out into the garden, on the patio or deck, or in the lounge room and serve from the coffee table or side table as they did in the drawing room in ye' old days.
If you're more adventurous, you could enjoy your high tea at the park, garden, or a scenic lookout. For this option, you will need a blanket or table, cushions or chairs, flasks for hot and cold beverages, and possibly a tea service that is more robust than your fine china so it doesn't break in transport.
If you're hosting a large gathering (I once organised a morning tea for 100 mums for Mother's Day), consider a community centre, events centre, school hall, or church hall for your venue.
Send out Invitations
If you're hosting a special event, you might want to go 'all out' and send paper invitations. You can make stunning and professional invitations for free using software like Canva (which is an Aussie company, so yay!).
Or you can send the invitation digitally as an attachment.
Of course, a message or FB event is all you need for an informal tea.
Decide on the Menu
Below you'll find traditional afternoon tea food ideas, including sandwiches, scones, sweet treat ideas and hot savoury items if you want to serve them.
When deciding on the menu, you'll want to consider food preferences and dietary needs.
Do you need to cater for someone who is gluten-free, dairy-free, vegan, etc.?
You will also want to decide what you'll be buying and what you'll be making yourself.
Do you have time to bake beforehand? What do you have time to make, and what would be better purchased?
What You Will Need for a Glam High Tea at Home
Here is everything you will need for your high tea. You probably already have a lot of these things (use what you have, borrow, or buy second-hand to save money.)
Setting the Table for High Tea
To serve the high tea, you will need:
One tiered cake stand per 4-6 people or a cake stand and/or selection of serving plates
Teapot if serving tea
Milk jug
Sugar bowl
Serving bowl for the jam (if having scones)
Bowl for the cream (if having scones)
A tea strainer if your teapot doesn't have one, or a bowl for the used tea bags
Each person will need:
A cake plate (or bread and butter plate)
A tea cup and saucer or coffee mug
A teaspoon for stirring
A napkin (fabric or a pretty paper one – you can get these at $2 stores in the party supply section)
Optional extras, depending on what you serve, include:
Serving tongs
Cake forks
Cake slicer/server (if you're having a bigger cake)
Water glasses
A water jug
An urn (for large parties)
Setting the Scene for the Perfect Event
To set the scene, you might also like to consider:
A tablecloth
Flowers
Bunting or other decorations
Place/name cards
Will you have music playing in the background? If so, what music?
Will there be party games if it's a special occasion like a baby shower?
High Tea on a Budget – Ways to Save
High tea doesn't have to cost a fortune. Here are some ways to keep the costs low.
1. Use what you already have. If you have a tiered plate stand, great! But you don't have to have a tiered stand. A selection of plates works just as well.
2. Raid your grandma's tea service. My mum has not one but two tea services that have sat in a display cabinet unused for the best part of half a century. What a waste! If you know someone with a tea service, ask to borrow it. It's better than sitting in a cabinet gathering dust forever.
3. Check out second-hand stores. Charity stores are a great source of teaware, tablecloths, glasses, plates, forks, teapots, and vases. Mismatched teaware is fashionable, so it doesn't matter if you don't have a set.
4. Plan ahead and shop the sales. By planning ahead, you can keep an eye out for on-sale cakes, sandwich fillings, tea etc. All the cakes we purchased were half-price.
Also, I bought the cake stands heavily discounted at Myer. The small one cost $5, and the large one cost $7.50. Similar ones were actually more expensive in second-hand stores. So if you know you'll be hosting a high tea in the near future, keep an eye on clearance items at the various department stores.
5. DIY decorations. You don't have to have any decorations, but for something special on a budget, make your own bunting, pick flowers from the garden, use some fabric scraps to sew napkins, or make a tiered cake stand.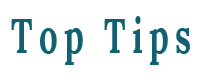 While you don't have to have a tiered cake stand, you can get an inexpensive 3-tiered cardboard cake stand from Kmart for $5. Alternatively, you can make your own (there are many tutorials on YouTube).
Traditional High Tea (Afternoon Tea) Menu
The traditional high tea (afternoon tea) menu comprises three layers:
Sandwiches
Scones served with jam and cream
Cakes and petit fours.
All accompanied by a pot of tea.
You can deviate from the traditional as much as you like – that's the beauty of making a high tea at home – you can customise the spread.
Don't like tea? Feel free to serve coffee instead. Gluten-intolerant? Swap out the scones and cakes for your favourite gluten-free alternatives.
High Tea Food Ideas
Below are some traditional and non-traditional menu ideas and links to the recipes I used when putting together the photographed spread.
High Tea Scones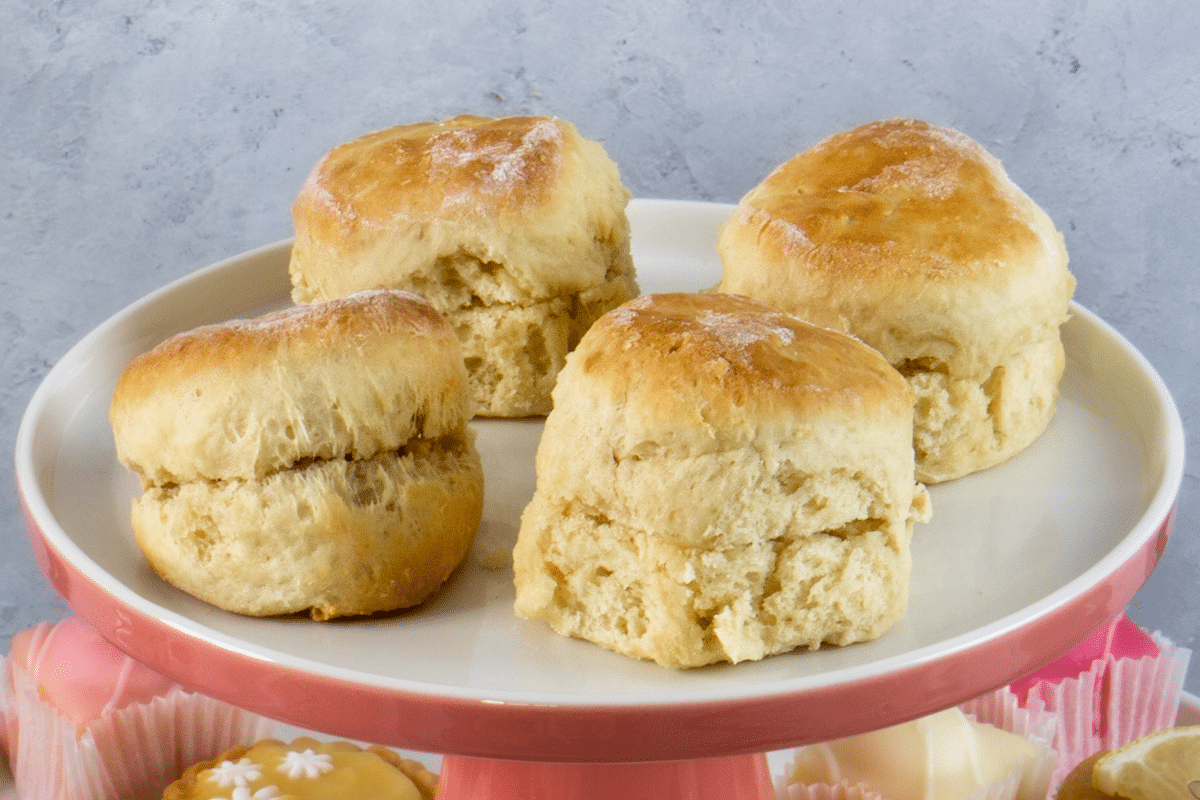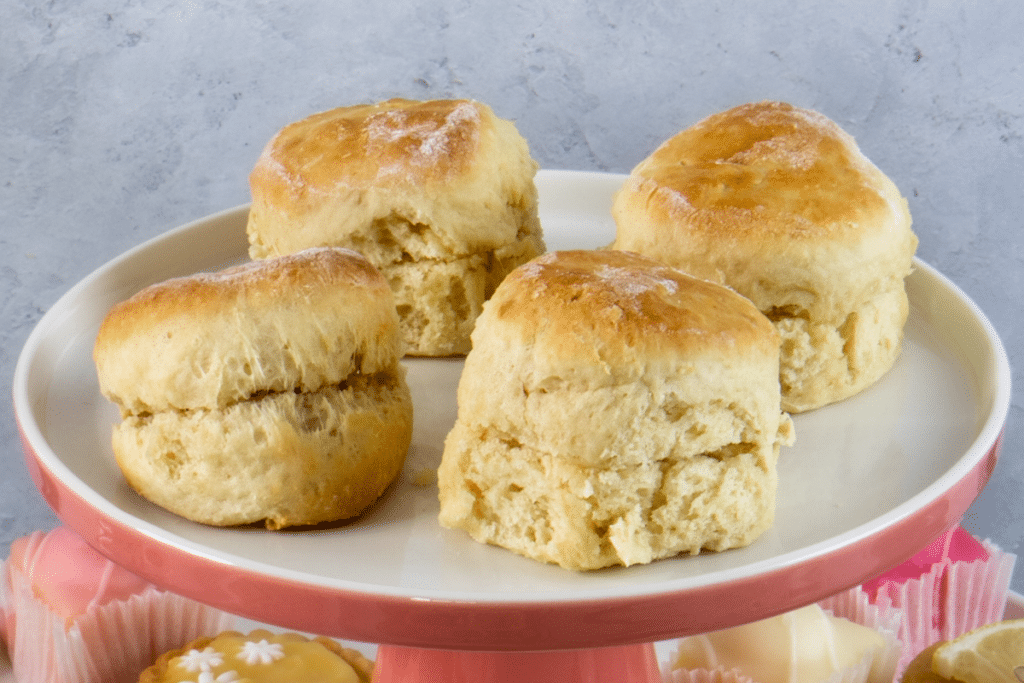 For our high tea, I forwent my grandmother's traditional scone recipe to recreate the soft, fluffy scones you get in cafes.
I used this recipe from Taste.com.au (Perfect Scones), and they turned out as promised: perfectly, very light and fluffy. Heads-up: it's quite a wet, sticky dough.
For a traditional, sugar-free recipe, you can't beat a Women's Weekly recipe. Or you could try pumpkin scones or date scones.
Serve your scones with jam and double-thick or whipped cream in separate little bowls with serving spoons. You can sweeten the whipped jam with a little icing sugar if preferred.
Strawberry jam is traditional, but other ideas include blueberry, raspberry, blackberry, plum, or apricot jam.
High Tea Sandwiches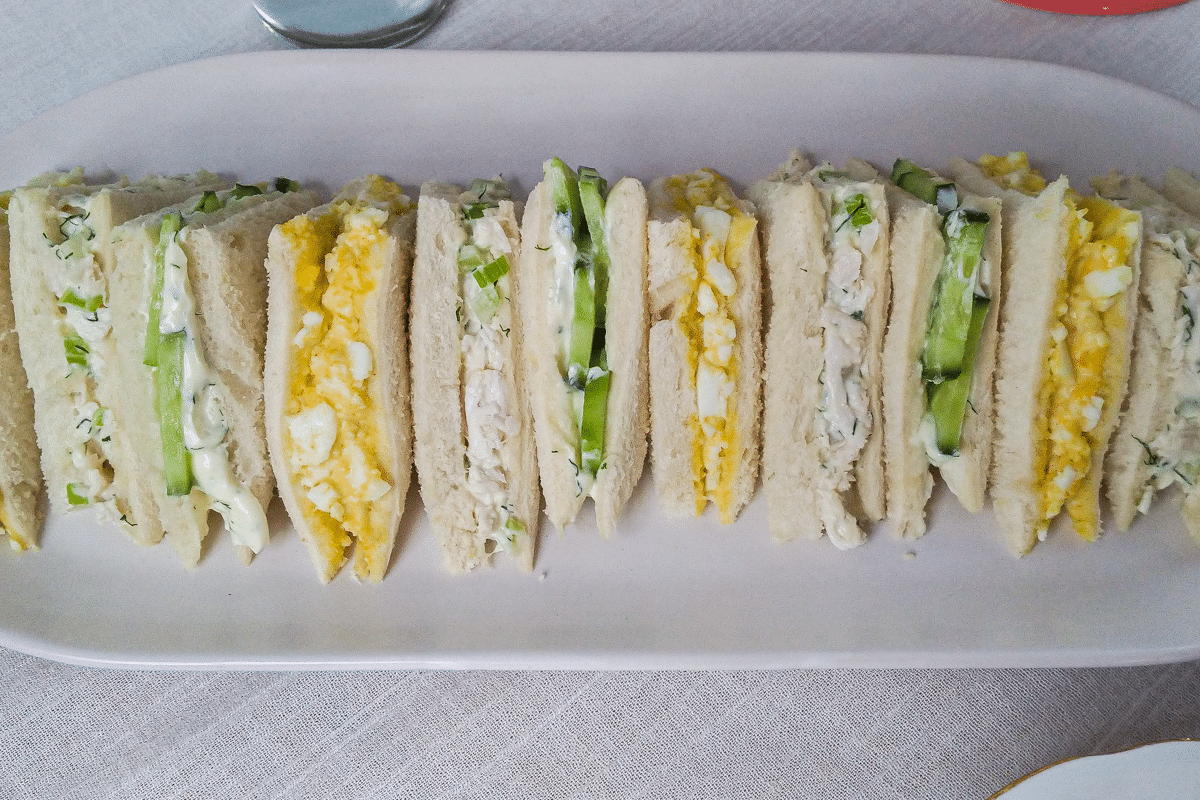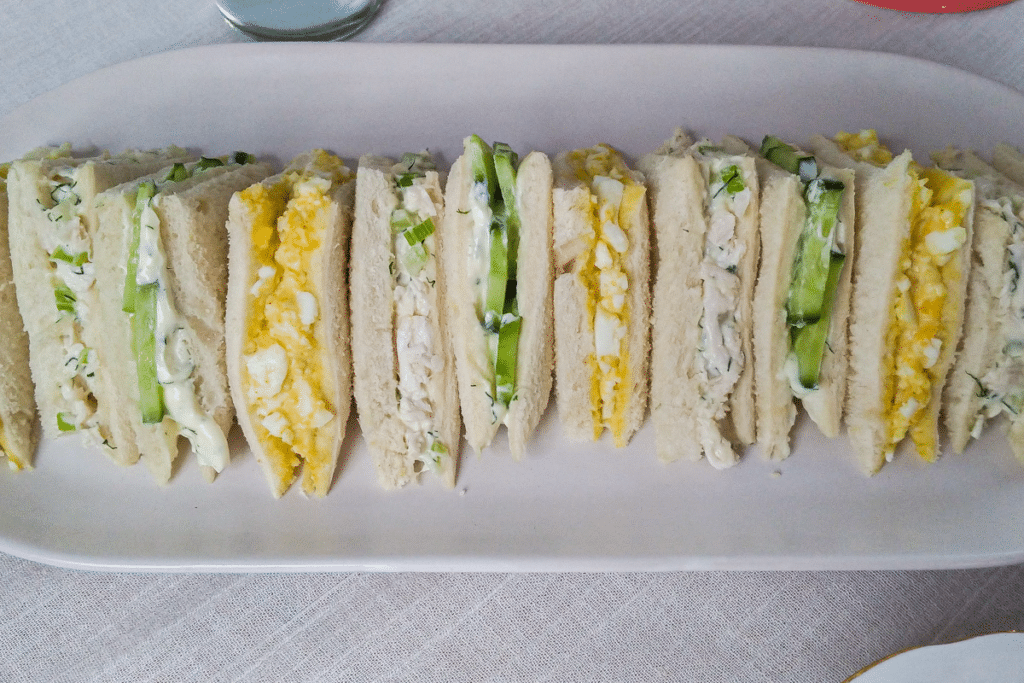 Cucumber sandwiches are so traditional, they're cliche (but also delicious). But there are lots of other options when it comes to the sandwich selection.
For our high tea, we chose three sandwiches, including:
This chicken sandwich recipe from Recipe Tin Eats (although I left out the walnuts and dill pickle because we didn't have any)
Curried egg sandwiches (mashed boiled eggs, enough mayo to get the consistency you like, and enough Keen's curry powder to get the taste you like – add a little, taste, add a little more)
And this cucumber sandwich recipe from Belly Full.
Other options include:
Ham and mustard
Smoked salmon and cream cheese
Cheese and avocado
Roast beef and cress.
Tips for making high tea sandwiches:
For light, fluffy sandwiches, use fresh, soft white bread, preferably purchased on the day of.
Fillings can be prepared ahead of time, but make up the sandwiches close to serving so they don't go stale or soggy.
Use a sharp knife to cut the sandwiches; a sawing motion without pressing down will keep the edges looking fluffy, not flat.
Keep the sandwiches wrapped in the fridge until serving.
High Tea Cakes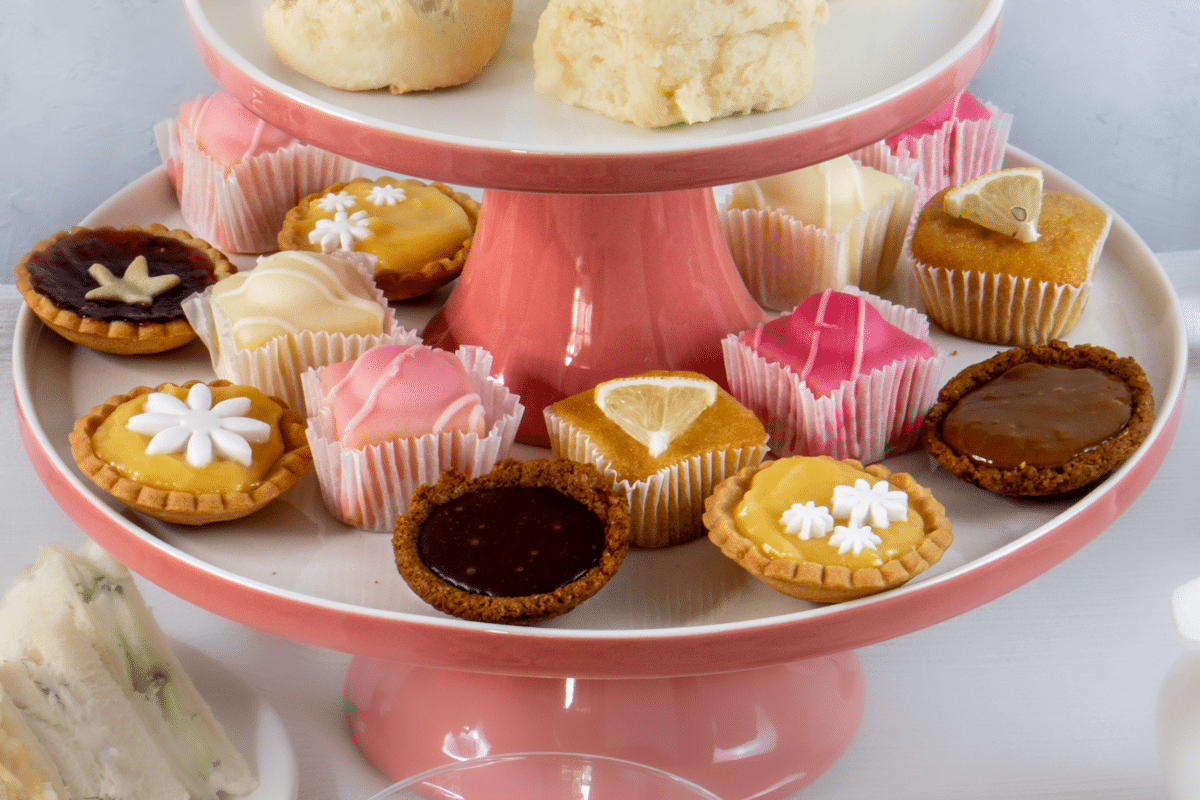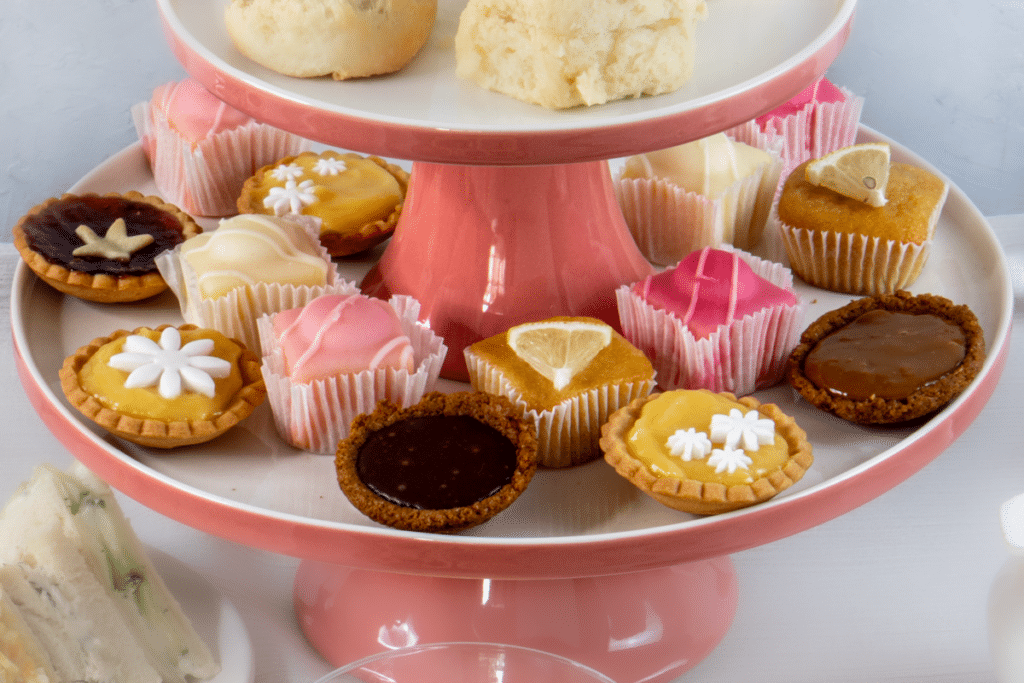 For the cake selection, you can either make or buy the cakes (or both).
Buying cakes can save you a lot of time and effort, and you can get a wide selection of petite fours from the supermarket or bakery. You can also buy larger cakes and cut them into bite-sized pieces.
On our platter above, I made the mini tarts and purchased the Mr Kipplings mini-cakes and the mini lemon cakes (Mr Cake brand) at half-price from the supermarket.
Sweet treat ideas for your high tea include:
Mini cakes
Cupcakes
Mini muffins
Mini slices or pieces of slice
Mini cheesecakes
Mini sponge cakes
Brownie bites
Lamington fingers
Cake rolls (swiss rolls, sliced)
Macarons
Shortbread
Cookies
Biscotti
Cake balls
Truffles
Chocolates
Mini tarts
Chocolate eclairs
Profiteroles
Danish pastries
A fruit platter
Strawberries and chocolate
Chocolate fondue.
You don't need to go overboard – a selection of two to four types of cake or sweet treats will be sufficient, especially if you're serving sandwiches and scones.
Other High Tea Food Ideas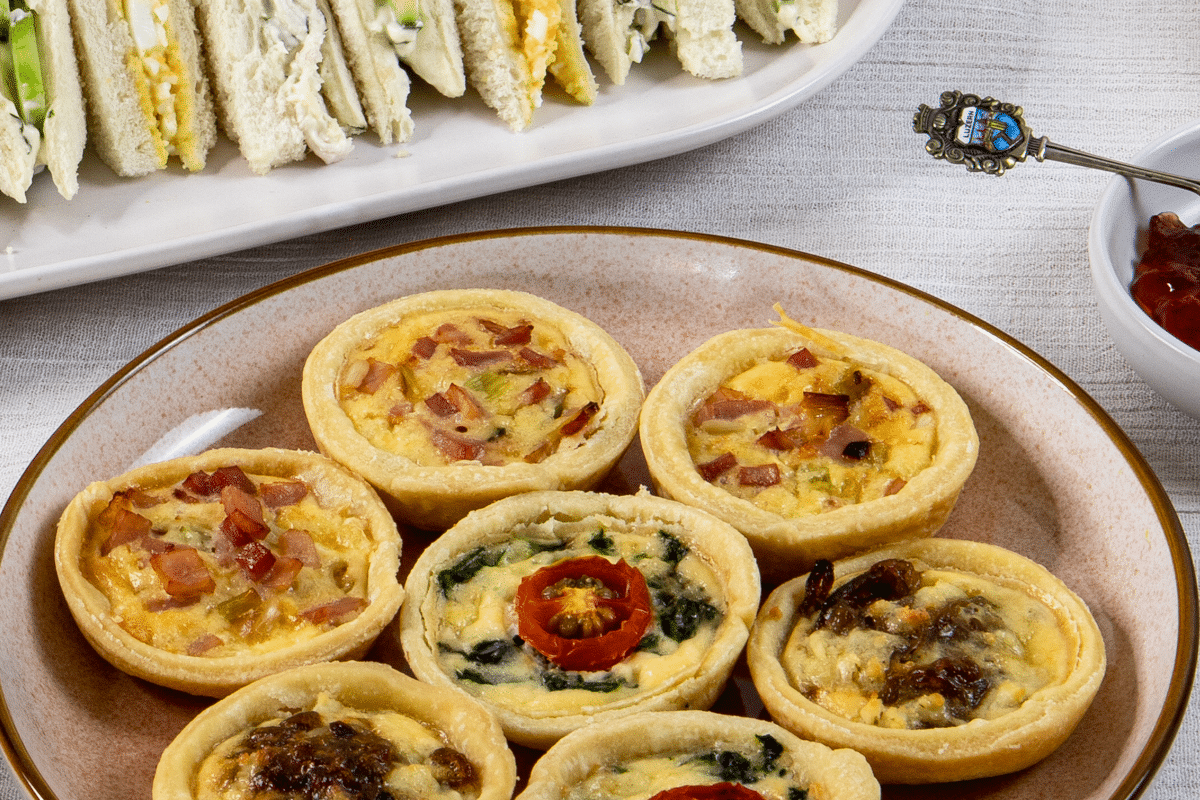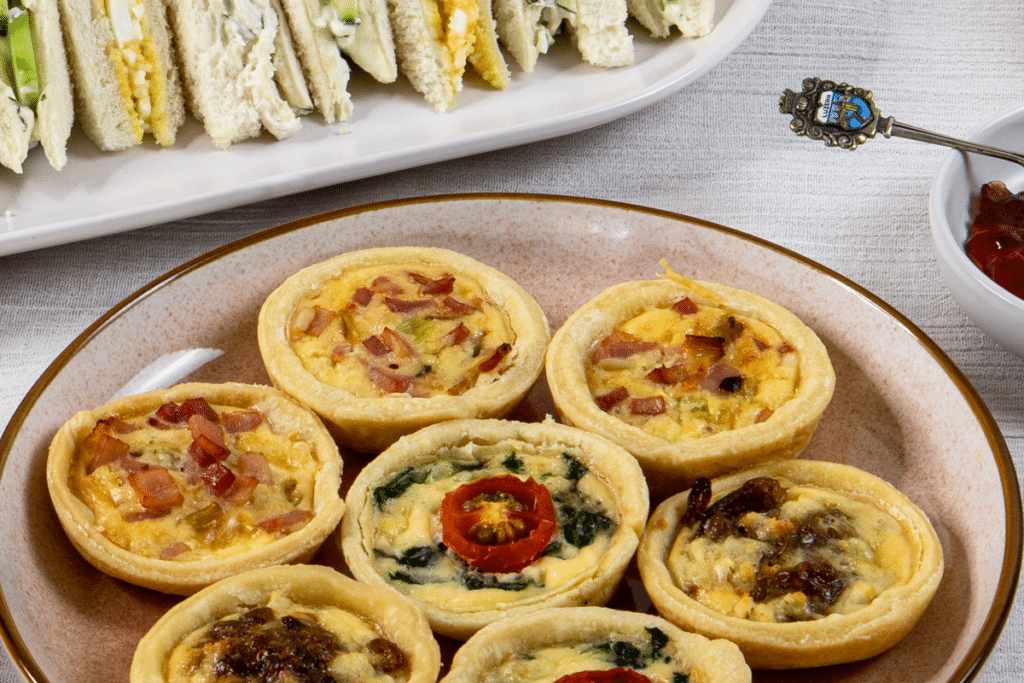 If you're serving tea as a brunch, lunch or light meal, you may like to include hot food like mini quiches or sausage rolls.
Keep in mind that this is a lot of food, especially for morning or afternoon tea, so one or two options will usually be sufficient.
Some hot food ideas include:
Mini-quiches
Sausage rolls
Mini pies
Spring rolls
Dumplings
Blini (mini pancakes, often topped with smoked salmon and cream cheese).
Many of these foods can be found in the supermarket's freezer section. Buying them can save you heaps of time.
High Tea Drinks
The traditional drink of afternoon tea is tea, of course!
Serve in a teapot with a sugar bowl and milk jug on the side, and you've got all the trappings of a delightful afternoon cuppa.
Tea varieties include:
Black tea
English breakfast tea
Earl Grey
Darjeeling
Australian afternoon tea
Alternatively, you can offer a selection of tea bags so everyone can drink their tea of choice. If you still want a teapot at the table, fill it with plain boiling water so people can pour it over their tea bags.
Keep an eye out when the little Twinings tea boxes go on sale for half price. They have a large selection of black and herbal teas.
What if you or your guest don't like tea?
Alternative drink options include:
Plunger coffee
Flavoured coffee sachets
Iced tea
Herbal tea
Campagne
Juice
Punch
Preparation Timeline
Yes, you can totally throw one of these together in under 24 hours, especially if you already have a tea service, you purchase all or most of the foods served, or you are hosting a small afternoon tea.
But if you're cooking things yourself, time is tight, and you're on a budget, a bit of planning and preparation won't just save you time and stress; it will also save you money.
Here's a rough timeline for planning your high tea party.
Up to one month before
Decide on the budget, guest list, venue, date etc.
Invite your guests
Decide on the menu
Write out a complete grocery list for your menu
Keep an eye on the supermarket specials to save money on food
Check out second-hand stores for any serving ware you might need
Up to one week before
Purchase all remaining ingredients you will need and any pre-prepared foods
Make anything that can be made a few days ahead of time (for example, I made the pastry cases for our tarts and quiches a few days ahead of time and stored them in an air-tight container)
Dust off your tea service, clean any items that need cleaning, iron your tablecloth, find the vase at the back of the cupboard, and get out extra chairs if needed.
Consider mozzie coils, fly covers, tablecloth weights, etc., if you're having the tea party outdoors
Have an indoor backup plan if you're having the tea party outdoors
On the day before
Bake cakes and other sweet desserts you plan on serving
Prepare sandwich fillings that can be prepared ahead of time
Whip the cream if using
Tidy and clean the area where you're hosting the tea party
On the morning of
Clean the bathroom
Buy fresh bread for the sandwiches
Assemble and cut the sandwiches
Bake the scones
Cut or buy flowers if using
Set the table
Fill the bowls with jam and cream, the sugar bowl with sugar, and the milk jug with milk
Place the food out just before your guest arrive
The great thing about a tea party is once your guests arrive, your only job is to pour the tea and enjoy their company – all the work is done beforehand.
This article covers everything you need to know to host the perfect high tea, but remember, you can make it as extravagant or simple as you like.
Years ago, I did my Girl Guide hostess badge. T pass, I had a random lady over for tea to judge my hostess skills. This was back in the 80s in a small country town, so things were still pretty old-fashioned back then.
I made scones and set the kitchen table with a cloth. Then I poured tea, Pride and Prejudice style, while making small talk about the weather. You can keep it that simple: tea and a few bought cakes. A doily or two.
But if you want to, you can also go all out with a full traditional afternoon tea with all the trappings, and it will still be much cheaper than going to a fancy restaurant.