Low-Waste Gift Ideas for Kids for All Budgets
This website may earn commissions from purchases made through links in this post.
Christmas doesn't have to mean a huge pile of plastic and waste! Here are some low-waste gift ideas for kids inspired by what my own children have enjoyed receiving.

Christmas is a magical time. It's a time of giving and of family.
But Christmas can also produce a ton of waste.
In this post, I've shared some low-waste gift ideas that my own kids and friend's kids have enjoyed receiving over the years. Picking up some of these things second-hand at op-shops or garage sales is a great way to save money and keep things out of landfill!
Low-Waste Gift Ideas for Kids
There are heaps of options for gifts that aren't all plastic and covered in excessive packaging. I've included a variety of gift ideas for different budgets.
Go Low-Waste with Experiences
Experiences are a great gift idea if you don't want to buy 'stuff'. If you're on a tight budget, make coupons for experiences like 'movie night with popcorn' or 'picnic at the park'.
Other experience ideas include:
A local zoo pass
A pass to the museum
Sports lessons
Art classes
A trip to the aquarium
A horse riding lesson
Eco-Craft Gifts
Playdough
Make your own playdough from what you have in your pantry for a frugal, low waste gift. Put a variety of colours in recycled jars and pair with a small rolling pin and a selection of cookie cutters. These are also great in kid's baking gift baskets!
Colouring-in book
There are some amazing colouring books on the market these days. A nice colouring book can be matched with a good set of colouring pencils or for younger kids, some natural beeswax crayons. To stay low-waste, steer clear of markers.
Pavement chalk
Save on paper by letting the kids draw on the pavement with pavement chalk.
Sunprint Kit
Make photographic prints using nature and the sun! I loved these as a kid.
Expand Your Home Library Books
A recent study reported in the Guardian found that growing up in a house full of books (at least 80!) improves children's' literacy as well as numeracy and technology skills.
The best books are those based on your child's interests; both fiction and non-fiction are excellent. I tend to borrow fiction from the library and buy non-fiction unless it's a fiction book we want to read over and over.
If you're looking to expand your library with some fascinating books that are educational and can keep kids entertained for many hours over the holidays, here are a few books we love:
Pretend Play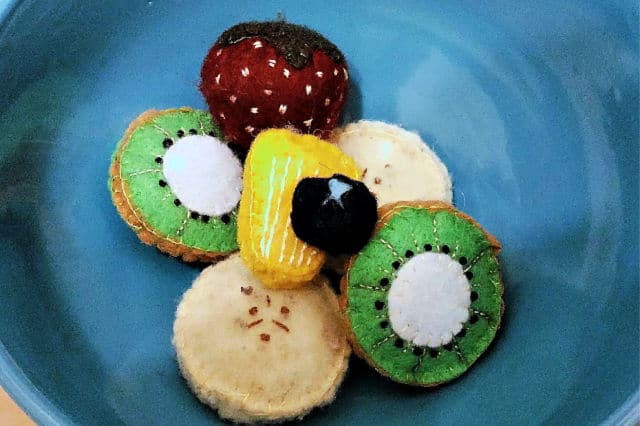 Felt food
I've made all our felt food and it gets played with almost every day. If you're crafty, you can check out felt food tutorials on my Felt Food Pinterest board. If you don't sew or don't have time, support a home business and get your handmade felt food via Etsy. Here's just one example of what you can find there.
Dress ups
A selection of clothes from the second-hand store is frugal, low-waste and kids LOVE dress-ups! Don't forget large square scarves that can be reinvented into a hundred different games.
Play Kitchen Stuff
To go along with felt food, think about play kitchen pots and pans. You can get a lovely wooden set like this one or look at second-hand stores for smaller pots and pans for a frugal and waste-less option.
Construction Toys
Lego
Lego can last several lifetimes. My mum kept my brother's lego for him to pass onto his sons when they are older. While there a bazillion different Lego sets, I find my kids come back again and again to basic blocks to make their creations. A classic block set will be loved for years – possibly even generations.
Wooden Blocks
Wooden blocks are great for young kids and even though my kids are nearly 9 and 7, they still build stuff with their wooden blocks. A basic set like this one is a great option. If you're crafty, you can make your own 'tree blocks' or you can check out the handmade tree blocks on Etsy.
Games and Puzzles
Board games
Board games and card games can keep kids amused for many years to come. Classic games are best when it comes to low-waste because they don't come with a whole bunch of plastic pieces. For example:
One game that our kids play all the time that you may not have heard of is Camelot Jnr by Smart Games. This is a one-player logic game with wooden pieces. This game has had SO much use over the years in our house and because it's wooden, it can be passed on in excellent condition when the kids grow out of it.
Puzzles
Puzzles are another great low-waste option. I love this Dinosaur puzzle, which comes with a booklet with information on all the various dinosaurs in the puzzle. A great learning resource for the dino lover! I've bought second-hand puzzles for the kids – if you find one, do the puzzle first to make sure it has all the pieces!
Outdoor Games
Cricket set
A cricket set is perfect a perfect Christmas gift to enjoy hours of Summer fun. In the backyard, at the beach or in the park.
Quoits
A wooden game of quoits is a classic game that can be enjoyed by all ages and is great for small spaces if you don't have the room for games like cricket!
Crossbones
Something a bit different! Crossbones is an Australian invented game made with wooden throwing 'bones'. An outdoor game for 2 to 12 player.
Useful Low-Waste Gift Ideas for Kids
Flashlight
A flashlight is great for getting rid of monsters under the bed, reading at night when you shouldn't be and making trips solo trips to the loo in the dark.
Binoculars
Binoculars are great for birdwatching, nature spotting, hiking and a whole host of other games. Avoid cheap plastic ones, a good (but inexpensive) pair will be useful for years.
Fishing rod
A kids fishing set is a great way to get kids into fishing.
Apron
My mum got aprons for my children last Christmas. They protect clothes from stains and kids really like looking the part when helping out in the kitchen. It helps that I also wear an apron. If you want to make your own, here is an apron tutorial.
School Supplies
Get a head start on the back to school rush with a lunchbox, new backpack and water bottle.
Kid's Gardening Tools
Are you a gardener? Or hoping to encourage the kids in the garden? A kid's gardening set can get them out in the dirt. Couple it with some seeds to get them started in the garden and possibly start a life-long passion for growing things.
Candy Jar
Bulk-buy lollies or chocolate and present them in a nice jar – either recycled or picked up from a discount store. This is a cheap gift that is sure to please.
There are tons of low-waste gift ideas for kids that they will actually enjoy receiving.
For more low-waste gift ideas, check out the low-waste gift page.
Other Posts You Might Like:
JOIN THE NEWSLETTER