Budget DIY Spa Gift Basket Ideas For Women
This website may earn commissions from purchases made through links in this post.
Create a luxurious gift hamper on a budget with these DIY spa gift basket ideas for women.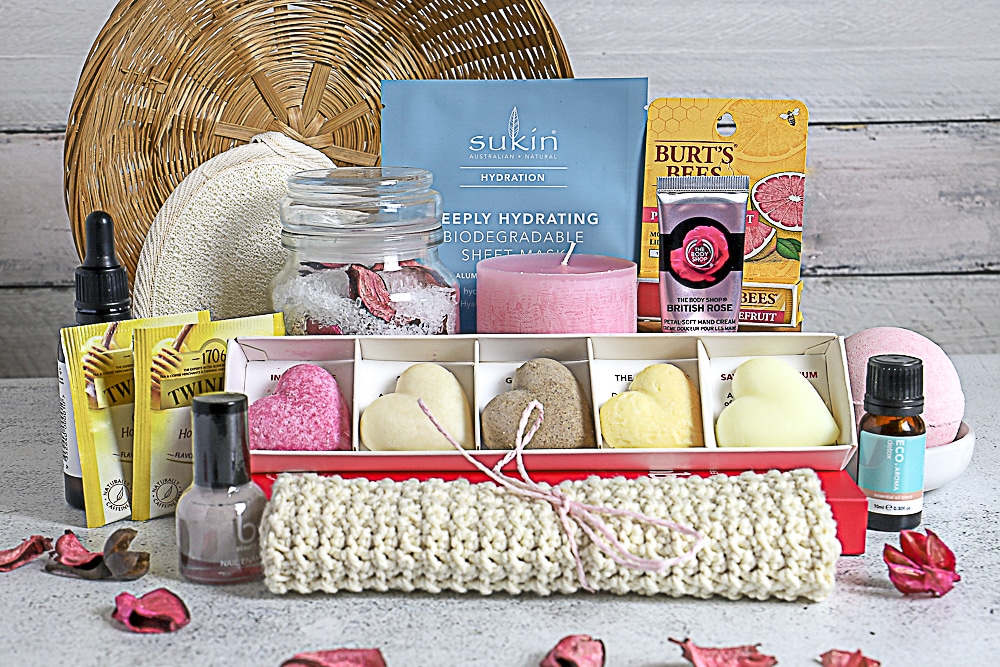 A spa hamper is a great gift for a friend or female relative. Fill it with everything needed for a beauty treatment at home.
Below are ideas for what to put in the basket as well as tips on making up a gift basket.
Spa Gift Basket Ideas for Women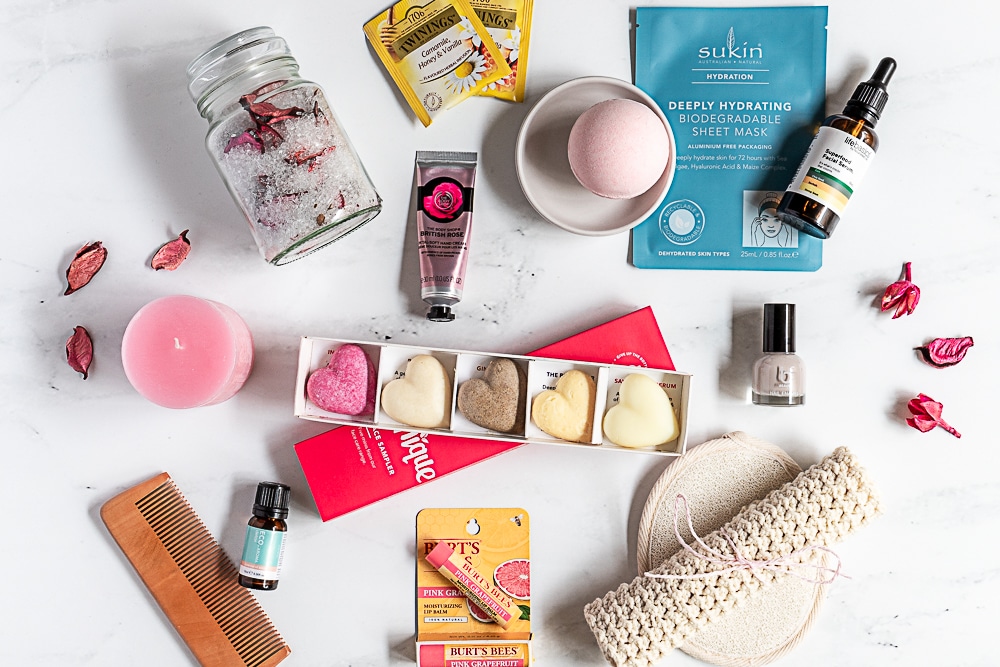 There are lots of things you could put in a spa gift basket. The idea is to pick a few things your recipient will like.
If you're looking at the picture above and thinking that it doesn't look very budget, think again!
All of the items (apart from the DIY ones) were purchased on sale, which is how you can get really nice stuff for a fraction of the cost. And the DIYing items will also save you money.
Here are some ideas for what to put in a spa gift basket:
face mask
cleanser and or scrub
face serum or moisturiser
nail polish
nail file and other nail tools
hand cream
bath bomb
bath salts (you can DIY bath salts easily and save money)
candle
essential oils for burner
comb
lip balm
knitted face washer (here's how to make your own)
loafer, sponge or body brush
eye mask
foot scrub
foot soak
body butter (here's a DIY recipe)
hair towel
soap or body wash
herbal tea
champagne
chocolates
massage tool
For even more ideas, check out the with ideas from the relaxation gift basket.
If you like natural beauty products, check out the Australian online store Nourished Life. They often have sales and discounts, which makes natural products more affordable – I purchased the face sampler and serum on sale there. They also sell samples which can be great additions to a hamper. The essential oils are from Eco Modern Essentials.
How to Save Money on a Spa Gift Hamper
The great thing about making up a gift hamper yourself is you can collect small things on sale and then put them together to make a really nice gift that doesn't cost a fortune.
All of the items pictured in the hamper above were purchased on sale for at least 40% off. It pays to plan ahead, think of things your recipient would like and keep an eye out for when items go on sale.
Places to look for spa items on sale include:
supermarket catalogues
chemist catalogues
discount stores like Big W, Kmart and Reject Shop
online sales
cosmetic stores
department stores
Keep an eye out for clearance shelves at all of the above places which can save you up to 90% on the original ticket price.
Sometimes you can find gift sets heavily reduced because of damage to packaging or someone else has stolen an item out of the set (obviously I'm not encouraging criminal behaviour for a discount). These can be a great bargain for you, however, and it will make a nice gift if you repackage the remaining items with other things you buy on sale.
If you're shopping online, look for sale and clearance items there too.
Another way to save is to DIY the spa items. Fancy bath salts can cost a fortune but are easy to make yourself with supermarket items.
For lots of DIY recipes, check out the article Handmade Bath and Beauty Gift Ideas.
How to Put Together a Spa Gift Basket
Once you've gathered your spa items, the next decision is what to pack your hamper in.
You don't just need to opt for a traditional basket. You can use a box, a storage crate, a gift bag or a cosmetic bag.
If you use a basket, you will also need some filling. Recycled paper is a good option as it reduces waste but you can also buy fill from discount stores.
Add the fill to your basket and place the items on top of the fill. Put the larger items at the back and arrange the smaller items in the front. You can use extra fill to prop items up or use some strategically placed sticky tape to keep things upright. Consider removing smaller items from their packaging to scatter around the gaps.
Finally, wrap your spa gift basket with cellophane and tie with a ribbon.
For more information on how to put together a hamper check out the post How to Make a Personalised Hamper for Any Occasion.
A spa gift basket full of lovely beauty things can be a nice gift to receive. It doesn't have to cost a fortune if you keep an eye out for sales and clearances.
Looking for more gift hamper ideas? Check out Easy DIY Hamper Ideas for $30 or Less.
You might also like:
JOIN THE NEWSLETTER