Budget Entertaining: Host a Fun, Frugal Taco Party
This website may earn commissions from purchases made through links in this post.
Looking for budget entertaining ideas? A taco party is a fun, easy entertaining option that will save you money.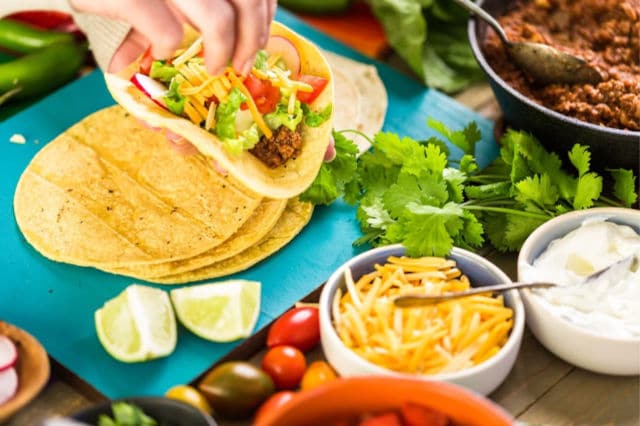 As the weather warms up, the clocks are turned forward and the holiday season approaches, the entertaining season also begins.
And while a good old backyard barbie is always a winner, here's something that's cheap, fun and just a little bit different (at least in Australia).
The taco bar.
This has to be my favourite entertaining option, especially if I'm looking for a low-budget, low-fuss party. We have taco bars for kids parties. We pack our taco fillings in containers for taco parties on the beach or at the park. And a taco bar also makes a great adult entertaining option.
This article shares everything you need to consider to host your own taco party.
For more summer entertaining ideas, check out:
What is a Taco Bar?
A taco party is a super casual party where DIY tacos are the food selection.
The beauty of a taco party is that the guests make their own tacos from a selection of pre-prepared options, set out buffet-style. Hence, the taco 'bar'. That means you're not slaving over a hot barbecue or in the kitchen. Instead, you're outside relaxing with your guests.
6 Reasons Why a Taco Party is Awesome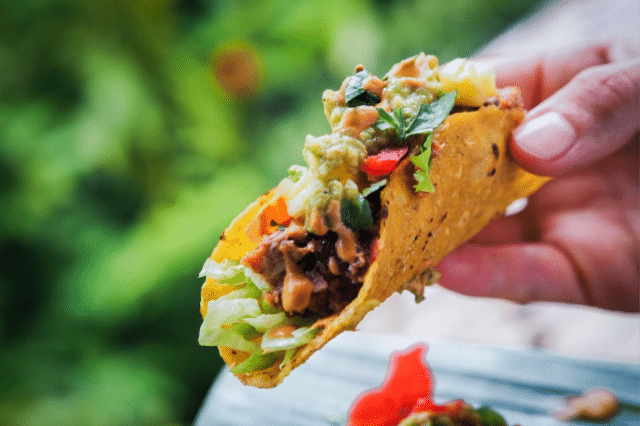 Tacos are cheap.

Forget barbequing slabs of steak, tacos are a great way to stretch small amounts of meat. Vegetarian options available too!

Tacos are a crowd pleaser.

Because each guest can fill their tacos with whatever they like, everyone is happy. What about people on restricted diets? Keep reading for catering options below.

Tacos are easy to prepare.

Most of the ingredients can be prepared ahead of time so you have no work to do on the night! Sit back and enjoy your party with minimal work. The minimal cooking is also perfect for Summer entertaining – no cooking in a hot kitchen!

Tacos are fun.

And casual. And messy. But mostly fun. Because they're messy.

Tacos are healthy

. Worry less about your waistline this holiday season and serve tacos with plenty of salad, beans and minimal meat. There's even a low-carb option below.

Taco bars are portable.

Pack all your ingredients in containers and enjoy your taco party at the beach or park.
Planning Your Taco Party
When planning your taco party, you'll need to think about:
How many people are coming?

What ingredients you're going to provide (see below).

When you'll buy the ingredients.

When you'll prepare the ingredients (most can be prepared a day or two ahead of time and kept in the fridge.

What you'll serve them in. Do you have enough serving plates and bowls? If not, consider borrowing some from friends to keep the cost and waste down.

Plates and cutlery. Ideally, you'll use the plates and cutlery you already have to keep costs and waste to a minimum. But if you're looking at disposable options, consider compostable

palm-leaf plates

, made from naturally shed palm leaf sheath. Don't forget napkins too – tacos can get messy.

Do you have a table to serve as a buffet?
Do you need to set up close to a power outlet or do you have an extension cord? Serving the meat in a crockpot keeps it warm.
How much food should you buy?
Here is a handy little catering calculator to help you plan how much you should buy to feed your crowd. As a general guide, plan for three tacos per person and about 150g of meat per person plus other fillings.
How to do a Taco Party at Minimum Cost
Think ahead and keep an eye on the supermarket catalogues. Taco shells and kits regularly go on sale at half-price, so stock up then for less!
Also, keep an eye out for other specials on non-perishable ingredients like salsa or ingredients that can be frozen like meat.
Make further savings by doing as much of the pre-work you can yourself. For example, instead of buying shredded cheese, grate a block of cheese yourself. Make your own slaw (if using). Slow-cook a leg of pork in the slow cooker and shred for pulled pork. This is also a great time-saving ingredient.
What Ingredients to Include in Your Taco Party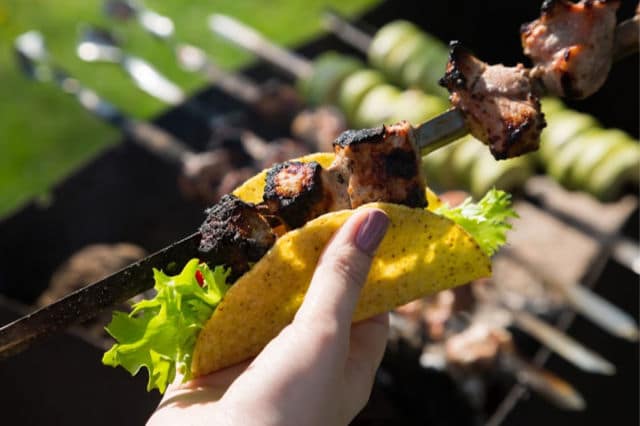 Here's a list of suggested ingredients for your taco bar.
You don't need to serve all of the suggestions below. Choose one or two types of meat, a selection of traditional taco fillings and a few gourmet additions if you like, depending on your budget.
A taco bar can be super cheap, or you can snazzy it up as much as you like. If you're hosting a kids party, keep the ingredients simple.
Meat
Pick one or two meat options for your tacos. For a vegetarian option, see the Mexican beans recipe below.
Mince. The traditional taco filling. This can be cooked in the slow-cooker saving you time and preventing a hot kitchen.
Chicken. A BBQ chook is my go-to for super-simple, no-cook tacos. But if you want to cook the chicken from scratch, here's a recipe using chicken thighs.
Pulled pork. Cook in the slow-cooker for an easy and delicious taco filling. Here's my recipe for slow cooker pulled pork.
Steak. Cut strips or cubes of minute or flank steak and fry or barbecue. For more flavour, toss in Fajita dressing.
Tacos Shells
Choose one or two varieties of taco shell to keep things simple. For the gluten-intolerant, you can get gluten-free wraps at the supermarket. For the carb-avoider, keep aside a few lettuce leaves to make carb-free wraps.
Hard shells

Soft Shells (large and/or mini)

Corn chips for a nacho option

Cos/Romaine lettuce leaves (to fold into wraps)
Traditional Additions
Choose as many as you like. Just remember: the cheese and the tomato are often the first to be used up, so keep extra on hand!
Lettuce, shredded. Traditionally Iceberg lettuce, but I prefer Cos/Romaine.

Tomatoes, chopped

Cheddar or tasty cheese, grated (You can freeze the grated cheese that you don't use.)

Sour Cream

Bottled Salsa

Avocado / Guacamole

Beans

Sliced onion
Gourmet Additions
Optional. Pick a few according to your tastes and budget. Or swap out some of the more traditional taco additions for some more adult options. For example, I like to serve a Pico de Gallo instead of chopped tomato and a slaw instead of iceberg lettuce.
Fresh coriander (cilantro)

Refried beans (here's my

DIY refried bean recipe

that's delicious)

Mexican Beans (here's a recipe for

Mexican beans

. They are a great meat alternative for vegans and vegetarians.)

Pickled Jalapeno peppers (You can get these at the supermarket in the pickles section)

Pico de Gallo (this is a fresh salsa that's super easy to make and delicious. Here's an

easy recipe to check out

. For less heat, leave out the jalapenos)

Corn or

fresh corn salsa

. Fresh corn, chared on a barbecue is also nice.

Capsicum strips. Multi-coloured strips lightly sauteed or barbecued.

Black olives

Hot chilli sauce

Picked onion (

this recipe

is quick and easy)

Lime Wedges

Sliced cabbage or slaw (try Mexican Slaw below)

Grilled vegetables
Side Dishes
Tacos are a meal in themselves and don't really need side dishes, but if you would like to serve sides to go with your tacos, here are two ideas:
Mexican Slaw (You can get Mexican slaw in a bag-o-salad from the supermarket or make your own with

this recipe

.)

Mexican Rice (Here's a recipe from

Budget Bytes

.)
Adulting It: Nectarine Salsa Recipe
Mince and iceberg lettuce are great for the kids, but if you're looking for something a little bit more adult, a homemade salsa can hit the spot.
A fresh mango salsa, for example, pairs excellently with spicy pulled pork. Add a little fresh, crisp slaw on a soft taco and...taco heaven.
But for something a little different, try a nectarine salsa. Nectarines are peaches less hairy cousin. This under-appreciated summer fruit makes a delicious salsa that will take your tacos to the next level. It goes great with steak marinated in a smoky chipotle marinade.
Nectarine Salsa
Ingredients
3 nectarines, seeded and chopped
1 red capsicum, finely diced
½ red onion, finely diced
Juice of lime
Fresh coriander/cilantro roughly chopped, to taste
Salt and pepper to taste
Directions
Mix all ingredients together. Let sit for an hour.
Notes
*Add fresh chilli if you like the heat.
*Can be made 1 day ahead of time.
Setting up your taco bar
Most of the ingredients can be prepared a day or two ahead of time and kept in containers in the fridge. Cook the meat on the day. If you use a slow-cooker, you can put the meat on hours before your party and you'll be relaxed when the guests arrive.
Set up a table that has plenty of room for all the taco fillings. If you want to keep the meat warm in your slow cooker, set the table up near a power point.
Don't forget to put out plates, napkins and serving spoons, drinks and cups and you're good to go.
What to Drink with Tacos
The best budget option for a party is BYO drinks. But if you want to serve drinks, here are some options.
A non-alcoholic option that goes well with tacos is ginger beer or ginger cordial.
For a wine, you can't go past a crisp Sav or light Rosé. However, a cheaper option is to make a refreshing Sangria.
The best beer options are pale ales or lagers.
When it comes to cocktails Mojito or Margarita are traditional.
After Party – Keep The Leftovers
Don't leave leftovers to sit out and go bad. Once everyone has eaten, pack leftovers in containers and refrigerate for tomorrow's salad sandwiches, tacos or steak accompaniments.
I like to serve the ingredients in containers so that it's super easy to put the lid back on and put the food away. It's not Instagram pretty, but there's no fuss and no washing up, which is what you want at a party.
Reduce the cost of entertaining this holiday season by hosting a casual taco party. They're fun, frugal, healthy and a great way to relax with friends on a Summer evening.